Whenever we visit our favorite Chinese restaurant, for soup we always order Hot & Sour Chicken Soup. Its not the only soup we like but this is the family-favorite kind so it has to be this. Here I'm sharing home-made Hot& Sour Soup recipe which is definitely restaurant worthy! and will keep you warm through the winters.
Why I'm calling it restaurant worthy is because its very close to what you get at the restaurant and it tasted really really good. Although its not like the authentic Chinese Hot & Sour soup, as in this part of the world we've transformed the Chinese dishes according to our tastes and requirements. As the name suggests its Hot & Sour, here the 'Hot' comes from the chili and garlic paste and pepper whereas the 'Sour' comes from vinegar.
Many Hot & Sour Soup recipes include Mushrooms, bamboo shoots, Tofu etc. These ingredients may not be available in some areas or can be hard to find so with this soup you can include anything that is available i.e. your choice of meat or vegetables.
If you're a veggie lover and don't want chicken in your soup, you can always skip that part and follow the rest and enjoy Vegetable Hot & Sour Soup – it's that simple 🙂 To dress up the Soup it is served with different sauces that includes: Chili Sauce, Soy Sauce and Green Chilies and vinegar.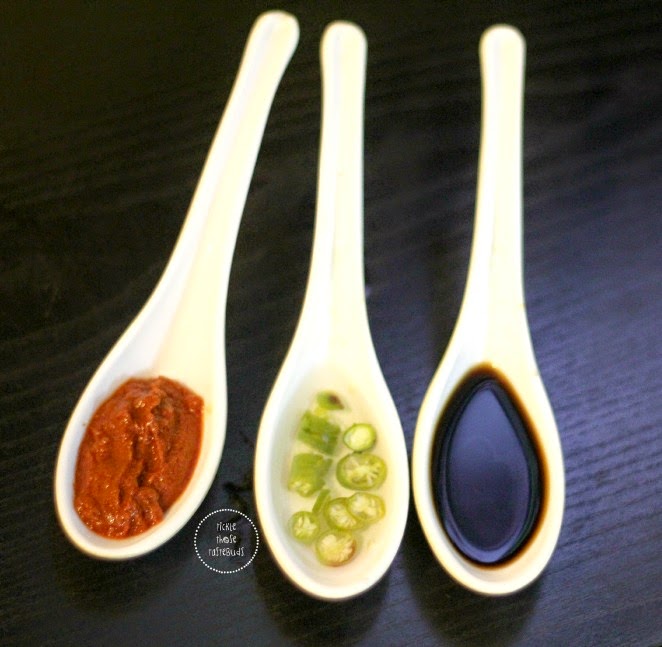 This recipe is very easy and I'm sure you'll be in love with this Hot & Sour Soup!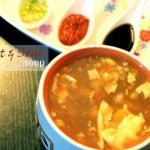 Print Recipe
Hot and Sour Chicken Soup
This Hot and Sour Soup recipe is truly Restaurant Worthy!- Make it to believe it
Ingredients
6

Cups

Chicken Stock

1

Cup

Chicken

(boiled (cubed or julienne))

1/2

Cup

Carrot

(diced small)

1/2

Cup

Cabbage

(shredded)

2

Tbsp

Soy Sauce

1

Tbsp

Red Chili sauce with garlic

1/2

Tbsp

Black Pepper Powder

2

Tbsp

White Vinegar

Salt to taste

1

Egg

3

Tbsp

Cornflour
Instructions
In a pot bring chicken stock to a simmer, add chicken, soy sauce, red chili sauce with garlic, simmer for a few minutes

Now add carrot,cabbage, salt, black pepper powder, white vinegar and bring to a soft boil. let simmer for 2-3 minutes. Do a taste-check here and adjust seasonings according to taste

Now mix cornflour in water and add to the soup while stirring till soup has thickened and reached desired consistency

Bring the soup to simmer and pour beaten egg in a thin stream in to the soup. Let stand for about 10 seconds and give it a stir. You can do this in 2-3 additions

Soup is ready! Serve hot with the soup dress-up sauces

Garnish with spring onions and serve with crackers, bread sticks or croutons
Soup Dress-up Sauces
For Red Chili Sauce: 1 tsp red Chili powder, 1/4 cup white vinegar and a pinch of salt. Mix all these ingredients together into a sauce

For Green Chili & Vinegar: 2 Green Chilies, sliced, 1/4 cup white vinegar. Add green chilies to vinegar to serve with soup
Tips
For Preparing Chicken Stock: Take 2 Chicken breast pieces, add these to a pot of water along with salt, black pepper corns, garlic cloves and sliced onion. Let chicken cook, once tender remove the pieces from stock and strain the liquid. Chicken stock is ready. You can even use chicken carcass for preparing stock

For a bit crunchier vegetables don't cook them for long

Consistency of the soup can be thick or runny you can adjust that by increasing or decreasing the amount of cornflour+water mixture

For Vegan version of the soup: Use Vegetable broth instead of Chicken broth, Omit Chicken and egg