We've all heard the phrase " Your eyebrows can make you or break you" which is quite true. While we all struggle for the perfect eyebrows, the changing eyebrow shape trends make it difficult to follow since not all of us are blessed with a perfect pair. But that doesn't mean we can't make a perfect pair, how we do it? We do it with Essence Eyebrow Gel.
I've been on a struggle to have a perfect pair of eyebrows until recently, though at occasions I have tried using pencils and powders for defined eyebrows and to fill in thin and sparse eyebrows but not as a routine. Recently, I came across Essence Eyebrow Gel and thought of giving it a try.. I mean who doesn't want beautiful, defined, lust-worthy brows? Your eyebrows actually are the focal point of your look and really define your face.
While the trends will continue to change there will always be the need for mastering the technique to get fuller brows. Achieving bold brows was never too easy, a little grooming and with the right product you can WoW your Brows! and when the product is budget friendly its a great deal.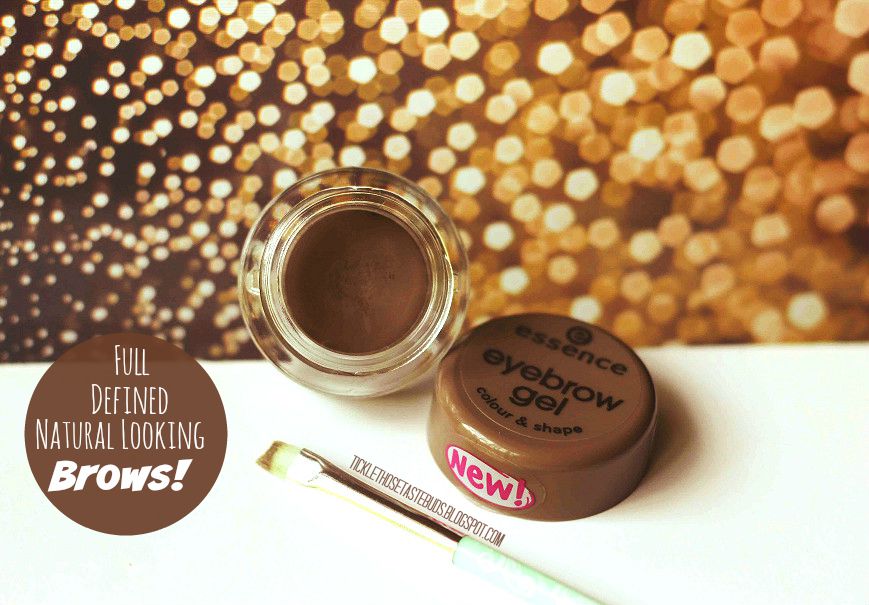 This eyebrow gel from essence in shade brown (01) is a perfect color to suit all types of brows. It comes in a small glass pot and as it says Color & Shape, this gels helps tame unruly brows, emphasizes and defines the brow shape, helps fill in sparse areas for a fuller brows that are also natural looking.
The formula is light and non-sticky, its quick dry with a powdery finish that hold unruly brows in place and offers long-lasting results. It's quite easy to apply too, I use Essence Precise Eyeliner Brush to apply this gel. The eyeliner brush is angled and has soft bristles that makes it easier to define the eyebrows and as its soft so you can always build up and apply product to you satisfaction.
How to Apply?
Here are some very basic steps to achieve full, defined and natural looking brows using Essence Eyebrow Gel
Step 1: Outline the shape of your eyebrows using the eyebrow gel (or make an outline of desired shape, for a natural look follow your natural brow shape)
Step 2: Starting from the center of the brow to the end start filling sparse areas on your brows in the direction of your natural hair line to smooth stray hair and to keep them in place
Step 3: Work in the same way on the inner (start) of the brow, following the direction of the hair line. Run the product one more time with the brush on the entire brow to smooth it precisely and to even out the look.
That's it, you have achieved WoW brows that are well-defined, full and perfectly natural-looking. Wasn't that easy? I bet it is.
For a person like me who is new to brow gels, this Essence Eyebrow Gel is a great product to begin with. It's budget friendly, priced at Rs. 560 and easily available at cosmetics stores and online makeup stores.
Eyebrows had been a neglected part of my makeup routine but not anymore. I'm loving this budget-friendly, delivers-what-it-says kind of a product by Essence.
You can check out their products on their website here and Facebook page here
Have you tried this eyebrow gel? What's your favorite product for WoW brows?