Finally I've got myself to write the recipe for one of my most favorite meat dishes Beef Stew. This recipe comes from my mother who happens to be an amazing cook (so you know this runs in the family). I so love this dish that every time she asked "what to cook for Lunch/Dinner"? I'd always say Beef Stew.
This is my 100th post on the blog and I'm pretty excited about that. And I couldn't think of a better way to celebrate, so I'm sharing my favorite favorite favooorriitee recipe with you all today. I know you'll thank me for it later because- its just so good!. The succulent beef pieces in a blend of aromatic spices, soft, juicy and cooked to perfection. This goes best with Naan (oven-baked flat bread) or Chapati (wholewheat flat bread) but of course you can have it with anything you like, a dinner roll maybe. I like mine with Naan fresh from the tandoor (clay oven) with a side of lemony sliced onions. A truly pleasing desi experience.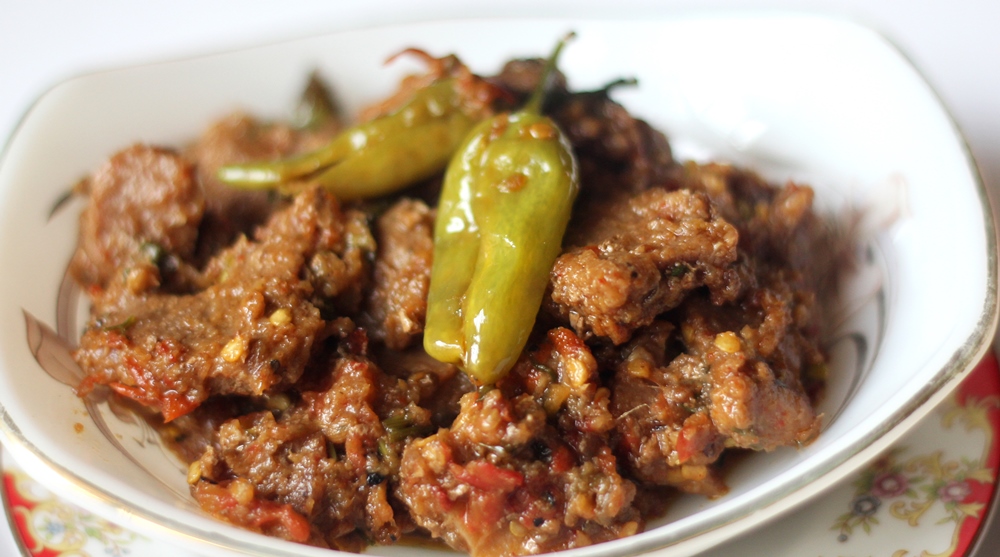 If you're thinking why the name stew, as it doesn't appear to have any gravy whereas stews generally have soupy/thick gravy consistency? Well, this dish is a No-Gravy Beef Stew or Masala Beef Stew hence no gravy. The dish tasted best if prepared in beef however you can make it with your choice of meat (mutton or chicken) as well.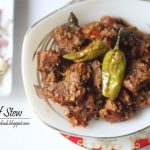 Print Recipe
Pakistani Beef Stew
Pakistani Beef Stew – Succulent beef pieces cooked in a blend of aromatic spices. A flavorsome and pleasing desi experience
Ingredients
2

Lbs

Beef

(1 Kg boneless, stew cut beef cut into 1″ cubes)

2

Onions

(medium)

1

Garlic Bulb

8-10

Dried Red Chilies

2

tsp

Coriander Seeds

(Whole)

1

tsp

White Cumin

(Zeera)

8-9

Cloves

2-3

Black Cardamoms

3-4

Cinnamon Sticks

(2 inch)

10-12

Black Peppercorns

(whole)

1/2

tsp

Salt

(or to taste)

1

Cup

Yogurt

3-4

Tomatoes

(chopped)

1/2

Cup

Oil or Ghee

1/2

liter

Water

3-4

Green Chilies

Ginger Sliced

Coriander for garnishing
Instructions
Place the pressure cooker on medium heat, add beef, water and all the spices except yogurt and tomatoes

Let it cook on medium heat for about 30 minutes until the meat is tender and the water dries completely. Remove the pressure cooker from heat, let the pressure subside and open the lid

Again place the cooker on heat, add ghee and cook the meat until its brown and the oil separates from the masala.

Add tomatoes and lower the heat. When the tomatoes are soft add yogurt to it and continue mixing and cooking on medium heat. Add ginger slices, green chilies and coriander leaves. Cover with the lid and let it cook on low heat for about 5-10 minutes

Garnish with coriander leaves and serve with Naan, Chapati or dinner roll
Notes
This dish can be made without a pressure cooker as well, the cooking time will increase You can use your choice of meat as well mutton or chicken