I love pasta in all shapes and sizes and with all kinds of sauces and cheeses (umm..ok not all kinds but yes most of it). I mean, you can never go wrong with a pasta dish and it's such a quick fix. Just throw in a few ingredients add any type of pasta (available at hand) and there you have it a delicious meal.
This time around, I made Rotini pasta with a rich and flavorful, full of spices meat sauce. It had loads and loads of cheese so when you dig in it, those stretchy Mozzarella cheese threads tickles those tastebuds. And guess what? It was an instant hit my place and was gone in a jiffy. So now you know how amazingly delicious this easy pasta dish is, let's get cooking!
But before that let me tell you that the best thing about this dish is that you can use any type of pasta you have on hand or the one you love. For this dish I liked using Rotini, and ofcourse you can use spaghetti, elbow macaroni, penne or any other type that will hold the sauce well.
As for me, it's Rotini.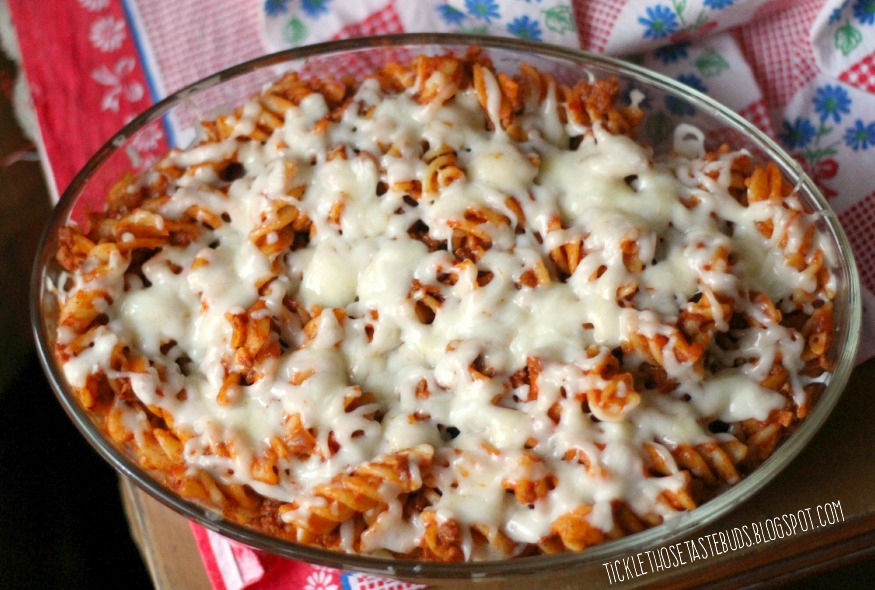 While this pasta is amazingly delicious and really quick and easy, there's another secret to it. This pasta recipe makes a wonderful make-ahead meal. Now isn't that cool? Prepare it on the weekend and refrigerate it and use whenever you want around the week. I'm sure it'll be a rescue meal for those busy days and you'll thank me for it!
For my vegan friends, don't be disappointed I've got you covered too. You can enjoy the very same recipe with your favorite veggies. Please read the notes below.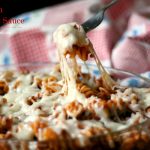 Print Recipe
Rotini with Spicy Meat Sauce
Rotini Pasta with Italian seasoned spicy meat sauce topped with cheese. A fast track recipe bursting with flavors and ready to eat in just 30 minutes!
Ingredients
For Spicy Meat Sauce
2

Cups

Minced Meat

(Chicken, Mutton or Beef)

1

Medium Onion

(chopped finely)

4-6

Garlic Cloves

(chopped finely (I used about)

2

Tbsp

Tomato Puree

1

Cup

Pizza Sauce

1/4

tsp

Mixed Italian Herbs

1/2

tsp

Crushed Red Chilies

1

tsp

Salt

(or to taste)

1

tsp

Black pepper powder

(or to taste)

1/4

tsp

White pepper powder
For Rest of the Pasta
2

Cups

Rotini Pasta

(or any pasta of choice)

1

Cup

Mozzarella Cheese

(grated)

1/2

Cup

Cheddar Cheese

(grated)
Instructions
For Spicy Meat Sauce: In a heavy bottom pan, add minced meat over medium heat. Stir it around until the meat is all cooked and browned. Add to it chopped onions and garlic, give it a nice stir and let onions turn a bit translucent. Now add salt,black pepper powder and crushed red chilies along with 1/4 cup of water to cook the onions. Stir this around for a few minutes over medium heat until onions become soft. Then add in mixed Italian herbs,tomato puree and white pepper. Mix it all together Now add to it Pizza Sauce,mix it around for a moment and bring to a light boil.Lower the heat to simmer while you do the rest of the preps!

Prepare Pasta: Get a pot of water boiling, add 1 tsp salt and pasta and let cook until it's done. Drain it and add a tsp of oil, give it a mix. While the pasta is boiling, grate the cheese

By this point the sauce should be done, so turn off the heat. Do a taste check and adjust seasonings according to taste. Add pasta to the prepared meat sauce and mix well so that its all well coated

Preheat oven to 350 degrees. Take out the pasta in an oven-proof dish and top it with grated cheese. Bake till the cheese melts. Serve hot to enjoy stretchy Mozzarella Cheese threads
Notes
Veggie Lovers can skip minced meat and add their choice of vegetables, capsicum, carrots etc. This can be made with any type of pasta and can also be made-ahead. Mushrooms, pepperoni, olives can be included too.
TTTB First Anniversary Giveaway is still Open! It's worth Rs. 45000 and includes fabulous items. If you haven't participated yet, click here and Enter Now. I'm sure you don't want to miss all the amazing stuff we've got for you. The giveaway will close on July 22nd. Participate and Win Win Win!