Hello February! The month when love is in the air and everyone is trying to celebrate it in their own special ways. We at Tickle those Tastebuds decided to celebrate this month and Valentine's Day with YOU! You have always filled us with so much love and support that we couldn't think of any better way to celebrate this day and make it a memorable one for both You and Us.
Because we love spreading happiness around and nothing makes us happier than seeing those beautiful smiles and gleaming eyes with love. So for this giveaway we collaborated with two awesome girls in our life, Faryal (photographer from Snapography) and Mehreen (the makeup artist) – both are super talented and are an excellent example of work-life balance as they manage their homes and hobbies side by side.
So this Valentine's Day you're getting the opportunity to create beautiful memories with people you love, adore and cherish in your life. As we bring you this Valentine's Day Giveaway filled with love!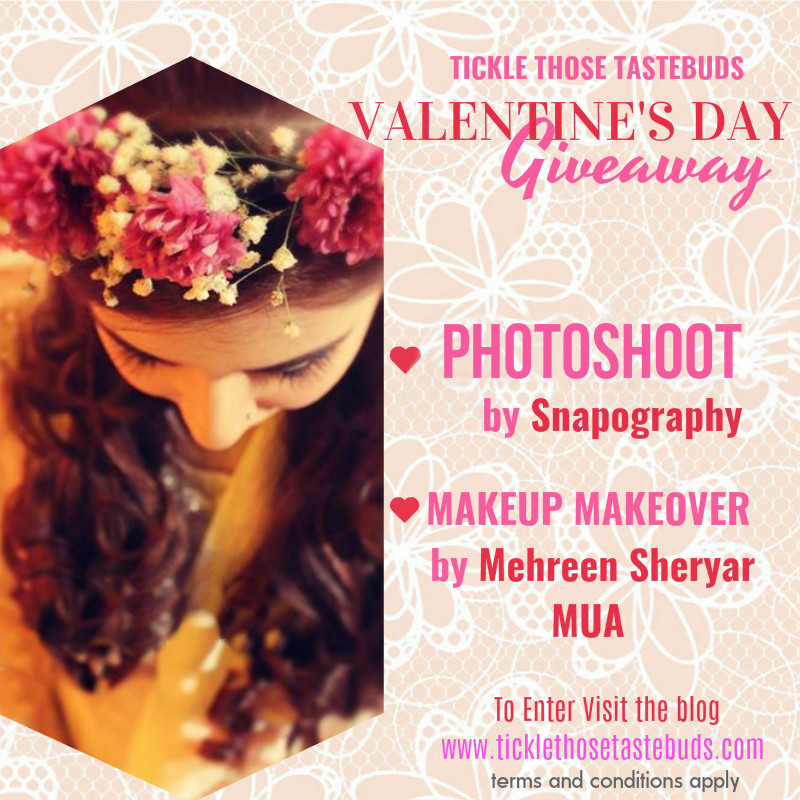 One lucky Couple/ friends will be getting a Free Fun Photo-shoot and One Free Makeup-Makeover! Isn't that exciting?
Ready to begin? Here are a few important things before you participate:
WHEN
The Shoot and Makeup makeover will be on the weekend right after 14th February. It will most likely be an afternoon shoot (around 2pm-ish) but we can adjust timing when you win.
WHERE
As both our collaborators are based in Lahore, so both photo-shoot and Makeup makeover will be in Lahore. If you can't make it to Lahore, we'll have to choose another winner. But think of it as an amazing opportunity for a day in another city to make memories and maybe a dinner at a nice restaurant?
Some Important Stuff
The contest has two steps, for the First Step you are required to complete a few actions and only then move on to the Second Step. The Second Step is administered by Gleam App and has all the terms and conditions listed. Please read the Terms and Conditions before entering. By participating in the Giveaway you agree to accept and are bound by all terms and conditions listed.
The Giveaway will open February 6th, 2017 at 6:00PM PST (Pakistan Standard Time) and will run for 1 Week. The Giveaway contest closes on February 13th, 2017 at 11:59PM PST.
For every action you complete you gain an entry point. So more the entry points, more the chances of you winning.
To begin participating you will need to login with your email account, facebook or twitter account. The points you gain will be linked to that account. If you're already signed in to any of your accounts log out and log in again to begin the contest.
You will be asked to provide your email address, through which you will be notified if you win the contest. Please make sure ticklethosetastebuds.h[email protected] is in your safe list, so that you receive the email.
If you have any trouble using the Gleam App or have any questions please comment below or inbox on the Facebook page here and I'll help you out.
Let's Begin!
Step 1
Tell us, in a short sentence something special about you as a couple or about each other
Follow Mehreen Sheryar MUA on Instagram here
Follow Snapography on Facebook here
Follow Tickle those Tastebuds on Instagram here
Follow Tickle those Tastebuds on Facebook here
Repost Giveaway Image on Instagram with hashtag #tttbvalentinesdaygiveaway and tag 5 friends
In the step below, for every Facebook and Instagram Page you visit, you have to Like that Page (mandatory)
Step 2
TTTB Valentine's Day '17 Giveaway
Any other questions, comments, etc. feel free to shoot me a message here on the blog, inbox on Facebook here or email me at [email protected]
Spread Love & Happiness – Good Luck!