Chinese Egg rolls and wraps are timeless appetizers or meal, a great evening snack or party finger food. The best part is that Egg rolls are so easy to make at home! These restaurant delicious Chinese egg rolls are loaded with chicken and veggies, smothered in Asian sauces all wrapped up in a crispy egg roll wrapper.
These Chinese egg rolls are packed with flavor and texture, they make the most delicious appetizer and can be served as a scrumptious crowd-pleasing meal. These Chinese egg rolls are freezer friendly (instructions below), making a fabulous instant/make-ahead meal, snack or appetizer. When I last made these egg rolls, my husband and I had them as a late lunch paired with a sweet chili sauce – the combination was heavenly!
What is the difference between Egg Rolls and Spring Rolls?
Do you often get confused about the difference between egg rolls and spring rolls? Well, yes there is a difference. In fact, the most prominent one is the wrapper used in making both the type of rolls. The egg roll is made using flour and eggs (as the name suggests), which gives it a sturdier texture and when deep-fried there are noticeable bubbles on it. It's crispy on the outside and slightly doughy on the inside. Whereas the Spring rolls have a thin flour wrapper with no eggs used in the making. It is very light, crispy and flaky, when fried it becomes delicately crispy and crunchy all the way through.
Also, the origins of Egg rolls are said to be from the 20th Century and it doesn't come from China, rather from New York City, where it is also considered a staple of the American Chinese cuisine. The spring roll, however, has much longstanding history in Chinese and Asian cuisine.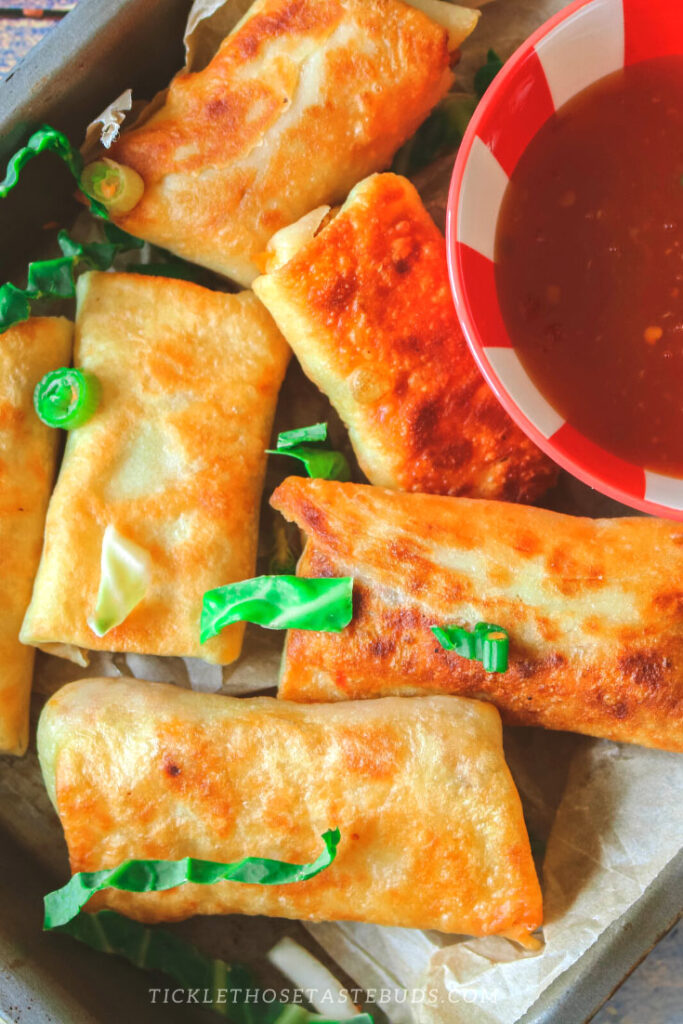 CHINESE EGG ROLLS RECIPE
I kind of have a thing for Chinese egg rolls. It's the taste and texture that I like the most, the crispier outside and soft inside. Doesn't everything just taste better in a crispy, crunchy shell? Well, these Chinese Egg Rolls sure do!
This recipe for the homemade egg roll has everything that you love about your favorite Chinese egg rolls. It's all made from scratch, the egg roll wrapper too and it's the best Chinese Egg Rolls EVER!
These Chinese egg rolls consist of stir-fried vegetables and chicken that is smothered in a few basic Asian sauces, that make the filling simple, yet outrageously delicious. It is even more delicious when delicately wrapped in the egg roll wrapper, fried or baked and devoured with the sweet chili sauce.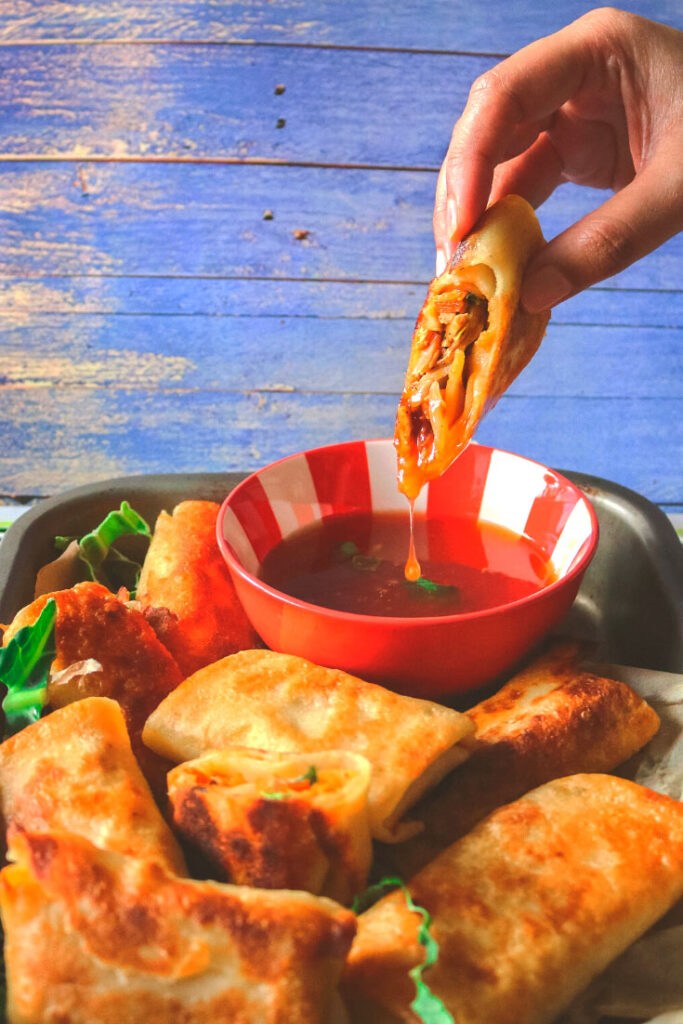 INGREDIENTS FOR CHINESE EGG ROLLS
The ingredients for the Chinese egg rolls are simple but flavourful and the recipe is deceptively simple too. These are made from basic, everyday ingredients that you can easily find in your pantry. You will need:
Egg Roll Wrappers – Homemade Egg Roll wrapper recipe below (video instructions) or you can easily buy these at your local grocery store
Cornflour Slurry – the binding agent to seal the wrappers, you will need 2 Tbsp Cornflour and water
The Filling – it is a combination of your favorite vegetables such as carrots, cabbage, capsicum, garlic, ginger, green chilies (for some heat) and boiled and shredded chicken.
A quick, no-cutting and easy way to make the filling is to use a store-bought stir-fried vegetable package. It will give you a nice variety of vegetables to add to the Chinese Egg Rolls. Alternatively, you can use your food processor to do the cutting-job for you.
You can easily customize the filling and use beef or shrimp instead of chicken. Don't want shredded chicken, replace it with mince – easy.
Asian Sauces – for that Chinese flavor
Soy Sauce – I used regular soy sauce you can use reduced-sodium for less salt content.
Asian Chili Sauce – use your favorite chili sauce, sriracha, Sambal Oelek or any other you prefer.
Oyster Sauce – the 'secret ingredient' that transforms the flavors
Sesame Oil – another 'secret ingredient' that adds a nutty flavor to the filling
Salt and Pepper – to enhance the flavors of the filling
Oil for Frying – I used vegetable oil to fry the egg rolls. These are great when deep-fried, but I shallow fried them and they turned out equally delicious.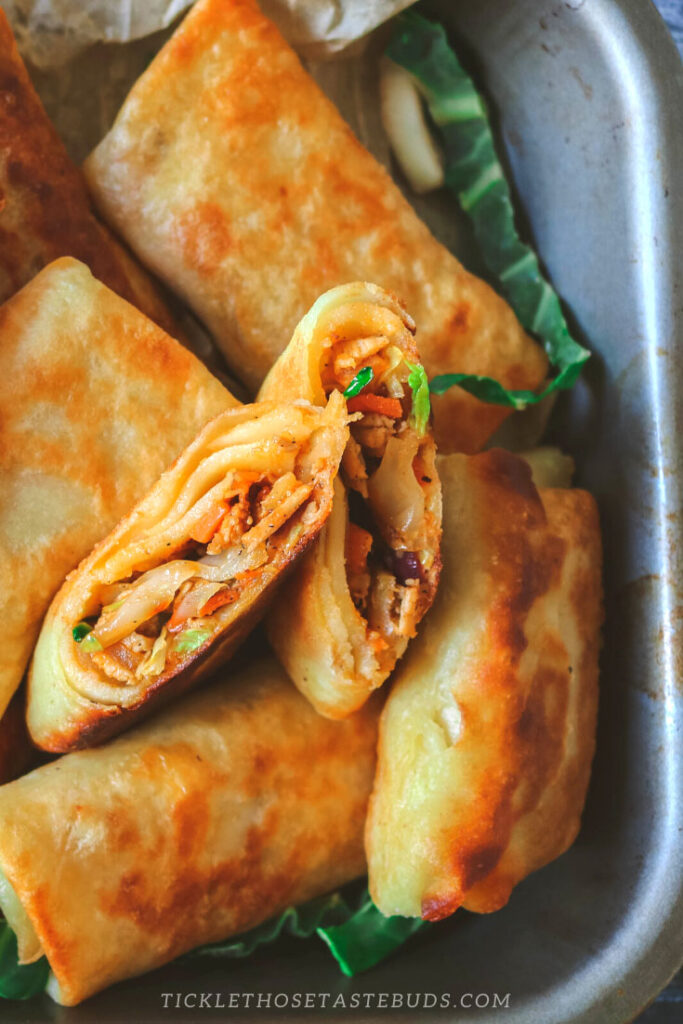 HOW TO MAKE EGG ROLL WRAPPERS (Sheets)
Egg roll wrappers can be made in different ways. It can either be made like a pancake (crepe) with a light batter or by making a dough and then making the wrappers.
In this recipe for Egg Roll wrappers, I have used the pancake (crepe) style method, which I find a lot more fun to make and it tastes exactly like those restaurant-style Chinese egg rolls.
To make the batter, mix flour, water, eggs, and salt together in a large bowl using a balloon whisk or you can even blend it in the blender. (Make sure there are no lumps in the mixture)
Heat a pan onto medium heat. Pour 1/2 a ladle of batter or use 1/4 cup on to the pan and quickly tilt it so that it covers the pan.
Cook it from one side only. (remove from pan when the sides begin to curl) and that's it – your home-made egg roll wrapper is ready.
EGG ROLL RECIPE VIDEO (SCROLL DOWN FOR PRINTABLE RECIPE)
WHY THIS RECIPE WORKS?
Family-friendly recipe: this recipe is family-friendly and a definite crowd-pleaser. Appetizing, delicious and customizable to your family's taste palate.
QUICK and Easy: It is literally just throw-everything-together kind of a recipe. Mix the chicken and the veggies together and that's it. You can totally use a food processor or store-bought stir fry mix to avoid all the chopping and cutting.
Few SIMPLE ingredients: this Chinese egg roll recipe uses very basic Asian sauces and simple seasoning that you can easily find in any grocery store. You might already have all these in your pantry.
Easily Customizable: Easily swap the chicken for beef, shrimp or mincemeat of choice, customize the veggies with your favorite one. You can even make these vegetables only by skipping the meat entirely.
Full of FLAVOR: these Chinese egg rolls are full of flavor, bursting with aromatic ingredients like ginger, garlic, soy sauce, oyster sauce, all beautifully enveloped in a crunchy shell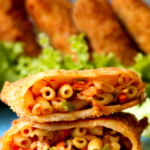 Print Recipe
Vegetable Macaroni Parcels
These crispy vegetable macaroni parcels are perfect for any celebration. Delicious vegetable and macaroni filling packed inside samosa sheets in the shape of a parcel. Golden and crispy these parcels are a show-stopping delight.
Ingredients
For the Filling:
1 1/2

Cups

Macaroni

(boiled)

3

Carrots

(chopped)

1/2

head

Cabbage

(chopped)

2

Capsicum

(chopped)

3

Garlic Cloves

(minced)

1

tsp

Ginger

(freshly grated)

3

Green Chilies

( finely chopped)

2

Tbsp

Soy Sauce

2

Tbsp

Chili Sauce

2

Tbsp

Oyster Sauce

1

tsp

Black Pepper crushed

(or according to taste)

1

tsp

Salt

(or according to taste)

2

Tbsp

Vegetable Oil
For the Parcels
1

packet

Samosa sheets

((samosa pastry, samosa wrappers))

2

Eggs

(whisked)

1

Cup

Plain flour

2

Cups

Bread Crumbs
For the Flour Paste
2

Tbsp

Plain Flour

1-2

Tbsp

Water

(or as needed)
Instructions
For the Filling:
Cook the macaroni according to package instructions until al-dente.

In a wok or a medium pan, heat oil. Add to it garlic, green chillies and ginger saute' for about 30 seconds. Add soy sauce and mix well

Add the vegetables to the mixture. Add the seasoning, salt, pepper and chilli sauce. Turn heat to medium-high and stir fry vegetables until the carrots have softened. Now add the oyster sauce and give it a good mix.

Now add the boiled macaroni to the vegetables and toss well. Take the mixture out in a bowl and allow it to cool completely.
For Flour Paste
In a small bowl, mix flour and water forming a thick paste. This will be used to seal the parcels.
To Make the Vegetable Macaroni Parcels
Take two samosa sheets. Place one sheet horizontally and the other vertically on top of it making a plus sign or a cross pattern. (Make sure to apply flour paste in the centre of the bottom samosa sheet so that both sheets stick together)

Now place the vegetable macaroni filling in the centre. Apply flour paste on all the four sides of the sheets.

Now lift the top side of the sheet and cover the filling by folding it on the top. Similarly, fold the left and the bottom sides of the sheet by wrapping over and finally the right side to make it in a shape of a parcel. (check the pictorial for easy understanding)

Prepare all the parcels in the same manner. Make sure the filling is tightly packed inside so it doesn't come out of the parcels. (Seal any holes on the corners by flour paste)

Prepare all the rolls in a similar manner, repeating the process.

Prepare the dredging station: In a shallow plate whisk eggs and season with salt and pepper. In another shallow plate add flour and in the third plate add the breadcrumbs.

Now coat the prepared vegetable macaroni parcels in flour, then in egg and coat with breadcrumbs. Then again in whisked eggs and coat again with breadcrumbs. Place in the refrigerator for 15 minutes before frying. (This breading/ coating step is optional, you can fry the parcels without coating them in flour, egg and breadcrumbs)

For Frying: Heat oil in a pan over medium heat and fry the vegetable macaroni parcels until golden and crisp from both sides. Drain on kitchen paper.

Serve hot with your favourite dipping sauce.
Notes
TO CUSTOMIZE:  These parcels are versatile and can be easily customized according to your liking.. Swap macaroni with chicken, meat or fish. Add your favourite vegetables, add mince meat, cheese, mushrooms or anything you prefer.  TO MAKE-AHEAD: You can easily make these vegetable macaroni parcels ahead of time and keep in the fridge. Fry when needed. I would suggest making a big-batch of the parcels and freezing them.  TO FREEZE: Place the vegetable macaroni parcels in a single layer onto a baking sheet; freeze until firm. Transfer to a Ziploc bag or a freezer safe container. These can be frozen up to 3 months. To fry from frozen, don't thaw  or defrost. Fry the parcels directly out of the freezer.  TO REHEAT: Parcels are the crispiest when eaten fresh, but if you want to reheat any leftovers, line the parcels on a baking sheet or tray and bake for 15-20 minutes at 350 degrees F or until heated through.
If you enjoy my recipes, I'd love for you to subscribe to my YouTube channel for Video Recipes
HOW TO SERVE CHINESE EGG ROLLS?
Chinese Egg Rolls are a perfect appetizer or a meal. It pairs perfectly with Asian dishes. Here are a few dishes it could be served with:
FOR YOUR PINNING PLEASURE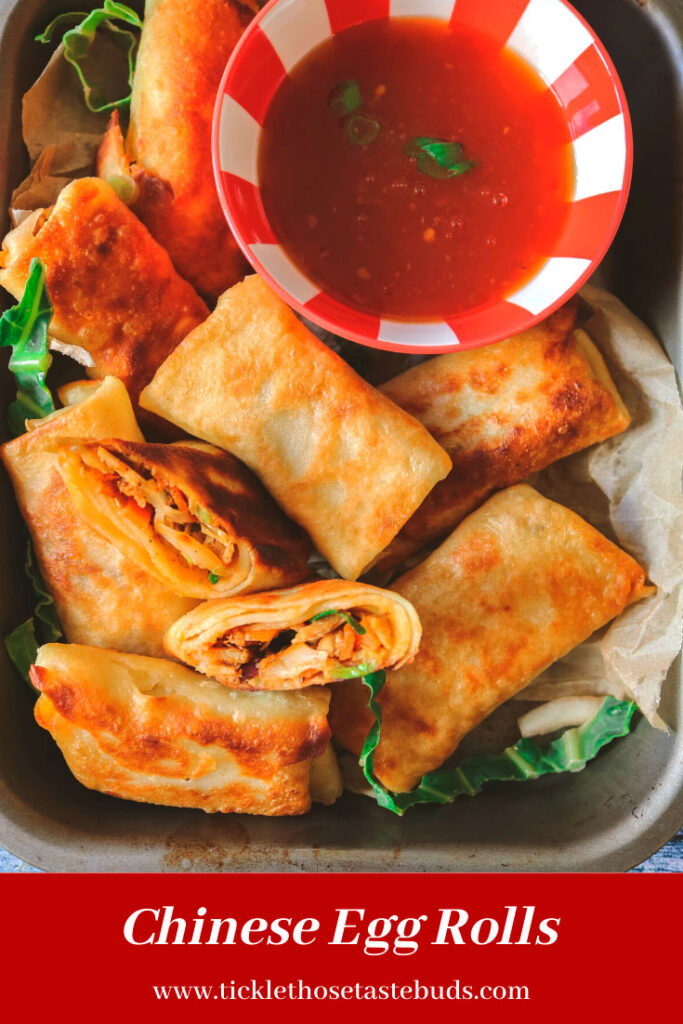 Updated: This recipe has been updated with new pictures, a recipe video, and detailed instructions from last published in July 2014.