Rice is the most-loved staple food across cultures. The popularity of this grain in different regions gives us a variety of ways to enjoy it with every dish being unique and delicious. So I decided to do a series of recipes with Rice bringing you creative, fun and delicious ways to make this everyday staple a little more exciting. Starting-off with a breakfast bowl and this ain't your regular breakfast bowl, it is a bowl of Creamy Brown Rice Porridge with Dark Chocolate and fruit.
There is something really comforting about a bowl of rice topped with your favorite gravy, meat, veggies or fruit. All items in a bowl sound so good and tastes even better. It's equally pleasing to look at. Just like this bowl of Creamy Brown Rice Porridge with dark chocolate, it looks so good and tastes amazing. Brown rice, a darling grain for the health conscious doesn't have to be boring and basic and when chocolate is involved, it just gets delicious!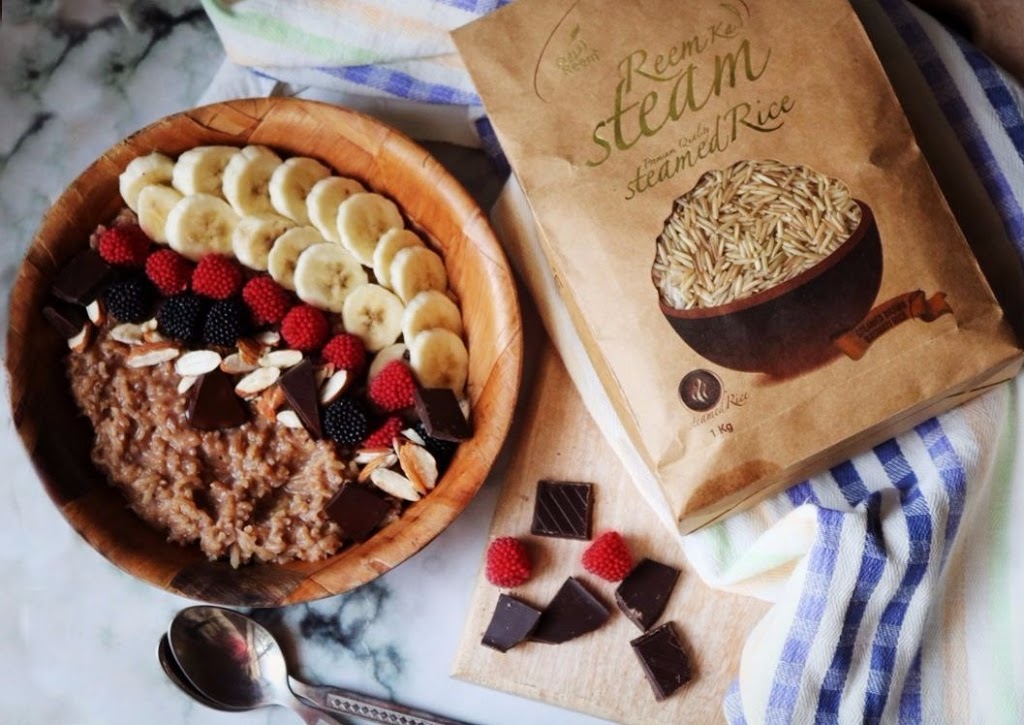 This breakfast bowl is really simple to make with only 5 ingredients and is packed with nutrients, flavors and energy to give you the perfect boost to start your morning. I tried Reem ka Steam RiceBrown Rice for this recipe and I was pretty much impressed with the quality of grains. I cooked the brown rice for the first time and they came out perfect and tasted good too unlike all the stories and experience I've had heard of that brown rice don't taste that good and all. These one's were easy to cook and tasted good too. For my clean-eating days I am now using Reem ka Steam Brown Rice and am pretty satisfied. I've found the best alternative to satisfy my rice cravings.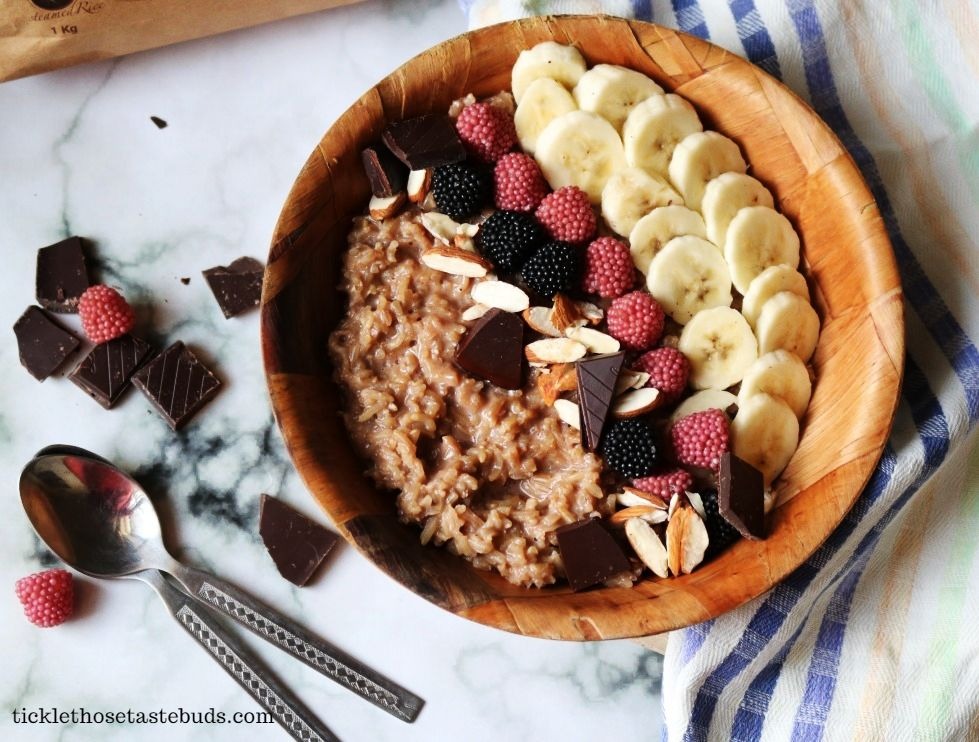 Satisfying rice cravings with something else can be hard but having brown rice as a nutritional alternative makes it easier. Specially when it's packed with proteins, fiber, magnesium and other health benefits! Starting the day with this? I can't think of a better way. Also, along with the nutrients from the Creamy Brown Rice, this breakfast bowl gets the sweetness from maple syrup and is also rich with antioxidants from the cocoa powder. Topped with fresh fruit and chocolate square, this breakfast bowl is breakfast deliciousness!
Bring out those fancy bowls and fill 'em up with this yummy and creamy Brown Rice porridge with Dark Chocolate.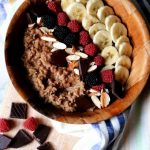 Print Recipe
Creamy Brown Rice Porridge with Dark Chocolate
Start your day with delicious bowl of creamy brown rice porridge. A healthy and tasty breakfast that's chocolaty, not too sweet, warm and filling.
Ingredients
1

Cup

Reem ka Steam Brown Rice

(cooked and cool)

1

Cup

Milk

(milk of your choice, low-fat, almond or any)

1

tsp

Unsweetened Cocoa Powder

2

tsp

Maple Syrup or Honey

(or according to taste)

1/4

teaspoon

vanilla extract

(optional)
To Serve
Mixed Berries

Sliced Bananas

3-4

Squares Dark Chocolate

(roughly chopped)

Slivered Almonds
Instructions
Cook Reem ka Steam Brown Rice according to package instruction. Best to prepare a day in advance

In a large sauce pan combine cooked Reem ka Steam Brown Rice and milk and bring to a boil. Reduce heat and simmer uncovered for about 20 minutes. Stirring frequently, until rice is soft and creamy.

Remove the pan from heat and add cocoa powder, honey and vanilla extract (optional). Stir to combine.

Taste check and adjust flavors as needed. Add more milk if you prefer thinner texture.

Serve the bowl of creamy rice porridge with dark chocolate, mixed berries, sliced banana and slivered almond.
For Your Pinning Pleasure