This creamy Turmeric chicken curry is packed with flavours and is a hearty dinner recipe in under 30-minute. The star ingredient of the dish is Turmeric, and it's super easy to make, full of flavours and totally dairy free.
At our home curry is a go-to lunch or dinner meal with just about anything, basmati rice or flat whole-wheat bread (chapati) and in Pakistani cooking, no curry is complete without Turmeric. Although other spices go into a regular curry for this Turmeric Chicken Curry, the star ingredient is Turmeric only.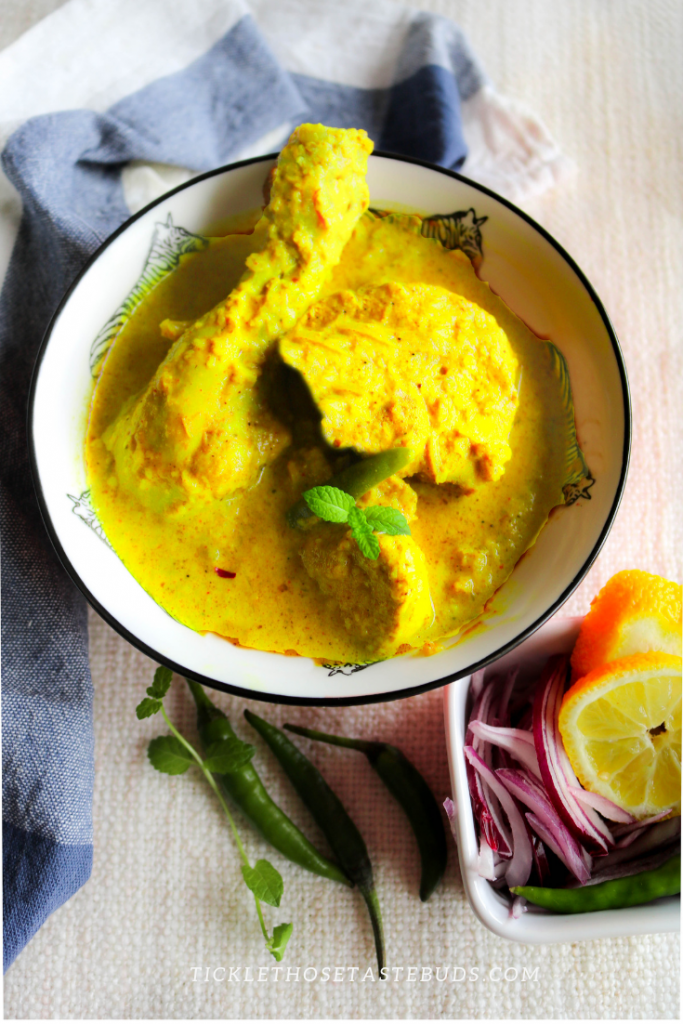 Turmeric comes from the root family (just like ginger) and usually is orange-yellow in colour and used in a powder form. It is very commonly available in the spice section of grocery stores. Turmeric adds colour and a subtle earthy flavour to food and is the main ingredient of curry powder that gives it a bright mustard yellow colour.
While using a fresh turmeric root is ideal, but due to its unavailability in many regions, there is not much choice but to use Turmeric powder. So, recently I happened to use Organic Turmeric powder from Buywholefoodsonline and was quite happy with how it added a beautiful bright colour to the curry and lent a subtle flavour to it too.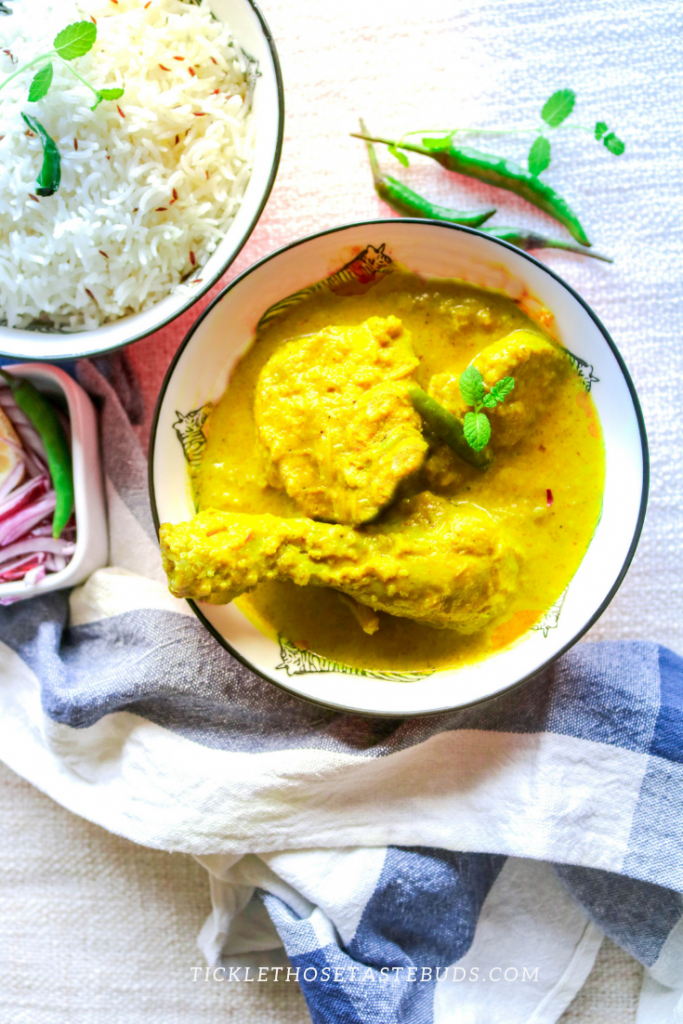 Benefits of using Turmeric
Why should you use Turmeric in recipes? Turmeric has a lot of significance in Asian and Mediterranean cooking and is known to have health benefits. Turmeric contains curcumin, which has anti-inflammatory properties and is also a powerful antioxidant. It is also used as an antiseptic to heal wounds and has bone-strengthening benefits.
Because of its medicinal properties, Turmeric helps to reduce the risks of diseases like cancer, arthritis, heart diseases and even brain diseases.
And, it's really easy to add it to everyday cooking just like this creamy Turmeric Chicken Curry or add it to milk and enjoy golden milk with lots of health benefits.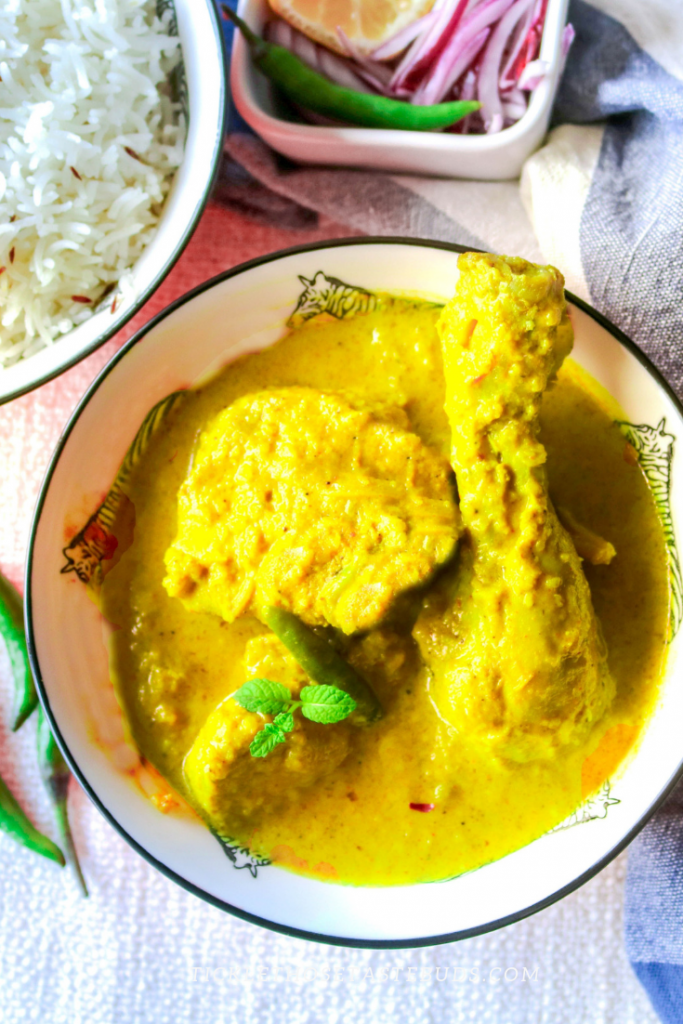 Why This Recipe Works
This creamy turmeric Chicken Curry uses a few ingredients and is ready in under 30 minutes, making it a quick lunch/dinner recipe
Marinating the chicken before making the curry makes it tender and flavourful
The combination of flavourful curry base with organic Turmeric, tender chicken and use of coconut flour makes it creamy and totally dairy free.
The dish gets its spice from fresh ground black pepper. Using black pepper with Turmeric makes it get absorbed in the bloodstream more quickly.
The curry gets a rich, creamy texture from coconut flour and a bright yellow colour from the Turmeric. The curry base is so delicious you'd want to wipe off every bit of it from the bowl.
Serve it with basmati rice, zeera (jeera/cumin) rice or flat whole-wheat bread and enjoy a delicious meal
You'll also like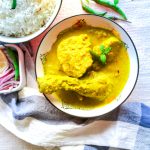 Print Recipe
Creamy Turmeric Chicken Curry
This Creamy Turmeric chicken curry is packed with flavors. With the star ingredient Turmeric, it's a hearty, dairy free meal, ready in under 30-minutes.
Ingredients
For the Chicken
1

whole

Chicken

( cut in 8-12 pieces or boneless chicken cubed)

1

small

onion

(finely chopped)

4

Garlic cloves

(finely chopped)

2

Green chilies

(finely chopped)

1/2

tsp

Salt

1

tsp

Turmeric powder

1/2

tsp

Black Pepper crushed

1/2

tsp

Garam Masala powder

1

tbsp

Ginger paste

2

tbsp

yogurt

2

tbsp

Oil

Juice of 1/2 lime
For the Curry
3

tbsp

Oil

2

Dried Red Chilies

((optional))

2

Bay Leaves

3

Green Cardamom

1

Cinnamon Stick

(small)

8

Black pepper corns

2-4

Onions

(sliced)

1

tsp

Turmeric

1/4

cup

Chicken stock

2

tbsp

Coconut flour

Water

((as needed))

2

Green Chilies

(slit)
Instructions
In a bowl add chicken along with all the marinade ingredients. Mix well, cover and keep in the refrigerator for 15 minutes.

Heat oil in a wok on medium heat and add dried red chilies, bay leaves, green cardamoms, cinnamon stick and black pepper corns. Fry for about a minute until they begin to sizzle.

Add the sliced onions and saute until soft and golden

Now add the marinated chicken to the pan and fry until golden from all sides. Add to it chicken stock, stir well to combine, cover the pan and let simmer on low heat for 10 minutes

In a bowl mix 2 Tbsp of coconut flour with 1/2 cup water. Add this to the pan and mix everything well. Add slit green chilies and let the curry cook on low heat for 10 minutes

Taste check and adjust seasoning, salt or pepper if needed

Remove from heat, garnish with fresh coriander

Serve with zeera (cumin) rice or wholewheat flat bread (chapati)
Variations
I've used bone-in chicken for the curry, swap it with boneless chicken breasts cut in 1-inch cubes or use shrimps
For an even creamier and rich curry use coconut milk or cream
Add in anything you like, chickpeas, potatoes, mushrooms, peas and make it a healthy veggie dish
By the way, if you enjoy my recipes, I'd love for you to subscribe to my YouTube channel for Video Recipes.
For your Pinning Pleasure