There are days when you crave for something crunchy, hot and filling. This happens mostly in winters (with me at least) when the temperature drops your body craves for warm, comforting food to keep those winter chills away. While these seasonal craving are unavoidable, one can simply not resist hot crispy chicken on any day specially when it's tender and spicy too – all in one bite.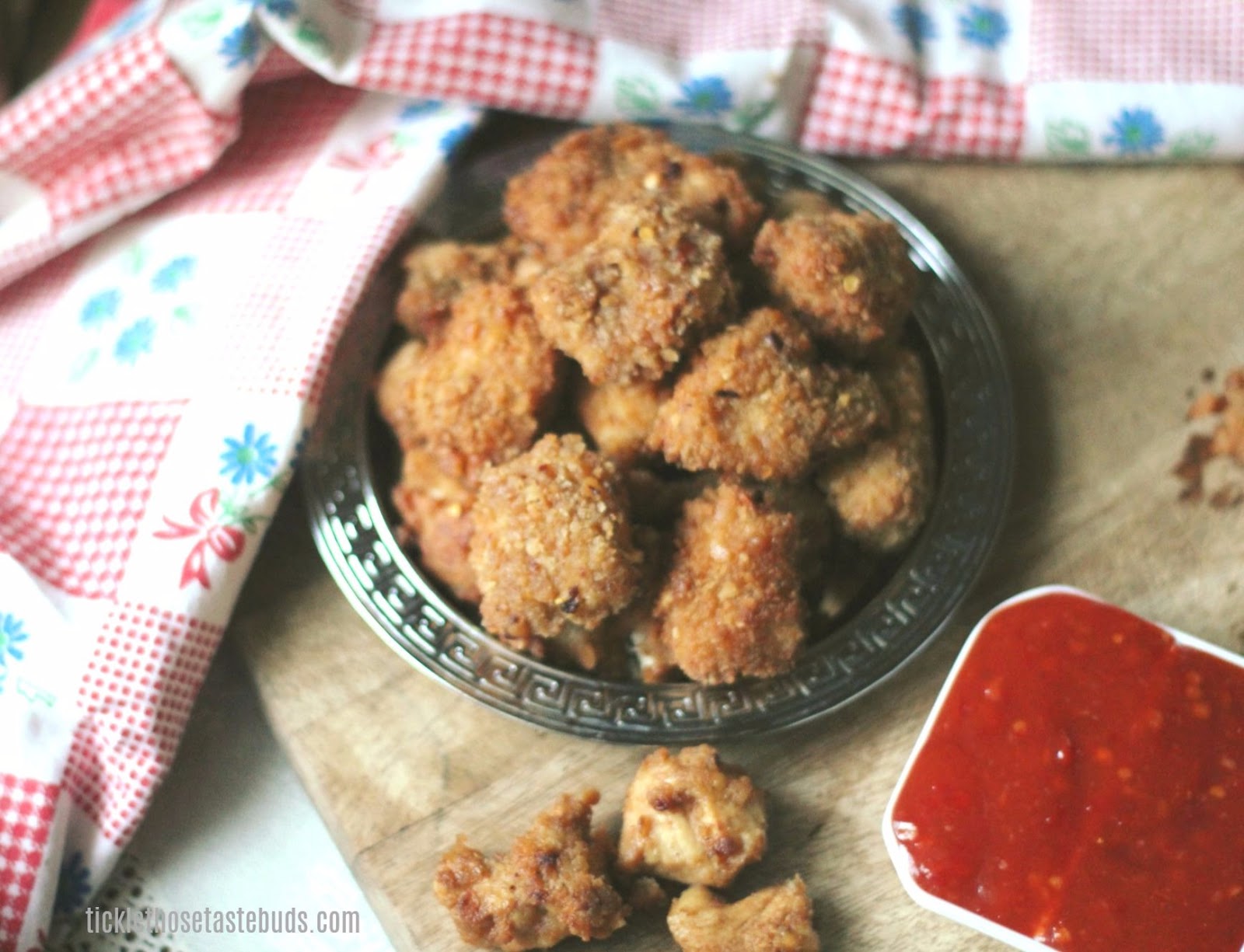 These chicken bites are a no-hassle finger food, one that can be prepared quickly and the best thing you can get your kids to help. It would be a nice kitchen activity, simply set up a dredging station with bowls of egg and coating and let the kids do this stuff. This will keep them busy while it's being prepared and then everyone gets to enjoy these delicious chicken bites. So, it's a win-win.
There is a secret ingredient in this recipe that makes these chicken bites more crispy and add flavour to it. The ingredient is in it's coating. These chicken bites are coated with cracker crumbs which give it the crunch, flavor, makes it healthy and full of Proteins!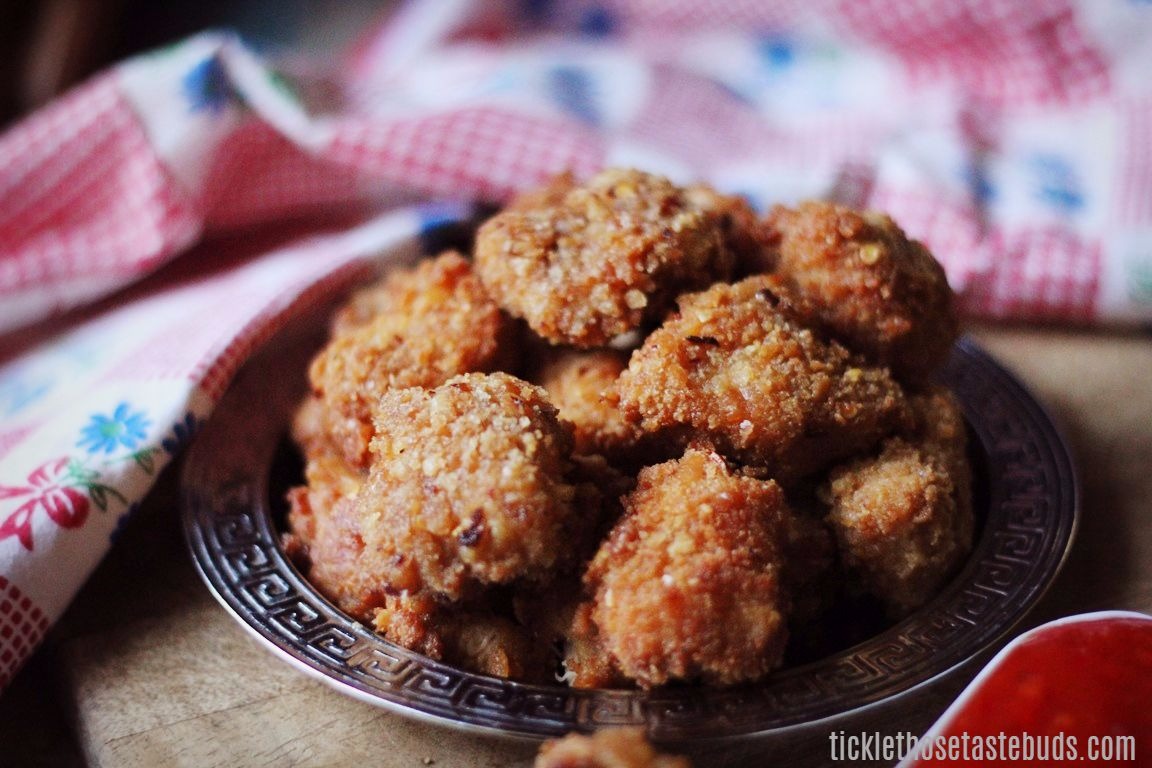 I'm sharing two ways to prepare these delicious chicken bites. One is a healthy version and the other not so healthy version. I just want everyone to enjoy these so that nobody feels left out and hey, these are kid-friendly too.
I love to have these as it is but you can have it the way you like it, the choices are endless. Simply prepare these chicken bites and a bowl of salad – there you have a quick lunch/dinner ready! It's a great evening snack to have with chai or your favorite drink. Having friends over? No problem, serve these Cripsy Chicken Bites with a side of french fries, coleslaw and some cold drinks. The options are endless and nobody can say NO to such deliciousness. Trust me, you'll get Big Smiles in return.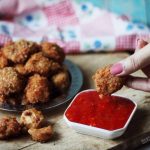 Print Recipe
Crispy Chicken Bites – Two Ways
Bite-sized Chicken pieces crispy on the outside and juicy inside with a perfect balance of spices. Fry them up or bake them, these golden and crunchy chicken bites make irresistible finger food.
Ingredients
For The Chicken
4

Boneless Chicken Breast halves

(cut into 1-inch chunks)

1 1/2

tsp

Garlic Powder

1

tsp

Paprika

2-3

Tbsp

Hot Chili Sauce

(I used Sriracha)

1/2

tsp

Black Pepper

(freshly ground)

2

Tbsp

Worcestershire Sauce
For The Egg-Mix
1-2

Eggs

1

Tbsp

Mustard Paste

1

Tbsp

Hot Chili Sauce

1/2

tsp

Salt

1/4

tsp

Black Pepper

1/2

tsp

Paprika
For The Coating
1/2

Cup

All-purpose Flour

1/4

tsp

Salt

1/2

tsp

Dried Oregano

1

tsp

Garlic Powder

1/2

tsp

Paprika

1/2

tsp

Black Pepper

1 1/2

Cup

Finely crushed Crackers
Instructions
Method 1: Fried Crispy Chicken Bites
In a prep bowl add chicken pieces along with all the ingredients. Stir to coat well and place in the refrigerator for 15 minutes

While the chicken is marinating, set up the dredging station. In a bowl whisk eggs and add the egg-mix ingredients. Whisk it all together until foamy

In another shallow dish, add all-purpose flour and mix in salt, dried oregano, garlic pepper, paprika and black pepper. Mix all the ingredients together

In another shallow dish or bowl add finely crushed crackers

Take the chicken out of refrigerator. Heat oil for frying in a heavy bottom pan over medium heat

Coat the chicken first in flour, then in egg-mix and then generously roll in crushed crackers. You can repeat the steps to make a thick coating

Carefully add the coated chicken pieces in the hot oil, don't over crowd the pan. Let cook for 4-5 minutes until the chicken is crisp, golden and cooked through

Remove from oil and drain on kitchen towel.

Serve these hot and Crispy Chicken Bites with your favorite dipping sauce
Method 2: Baked Crispy Chicken Bites
Preheat oven to 200 degrees C and grease a baking sheet with oil

In a prep bowl add chicken pieces along with all the ingredients. Stir to coat well and place in the refrigerator for 15 minutes

While the chicken is marinating, set up the dredging station. In a bowl whisk eggs and add the egg-mix ingredients. Whisk it all together until foamy

In another shallow dish, add all-purpose flour and mix in salt, dried oregano, garlic pepper, paprika and black pepper. Mix all the ingredients together

In another shallow dish or bowl add finely crushed crackers

Take the chicken out of refrigerator. Heat oil for frying in a heavy bottom pan over medium heat

Coat the chicken first in flour, then in egg-mix and then generously roll in crushed crackers. You can repeat the steps to make a thick coating

Line the chicken on the greased baking sheet and place in the oven. Bake for 8 minutes and then turn sides. Bake for another 8 minutes until the chicken is crisp, golden and cooked through. Baking time may vary, just make sure the chicken it cooked through

Serve these hot and Crispy Chicken Bites with your favorite dipping sauce
For Your Pinning Pleasure