Crispy Vegetable Macaroni Parcels also are known as box patties or samosa squares. These parcels are generously filled with flavourful Indo-Chinese style vegetable macaroni. The delicious filling is packed inside samosa sheets in the shape of a parcel, covered in breadcrumbs and deep-fried until golden and crisp.
These crispy vegetable macaroni parcels look elegant, taste delicious and are a perfect appetizer or a snack. It makes a wonderful snack on the iftar table, is loved by kids and adults alike. It would be a hit at any celebration.
If you are wracking your brain to come up with creative ideas to prepare for your family or for Ramadan? I've got your back with these crispy Vegetable Macaroni Parcels! They have all your favourite items, macaroni, vegetables and Asian flavours. I intentionally did not add chicken to this recipe because I wanted a little break from meat and poultry. But guess what, you can customize this recipe and add chicken, fish or beef too.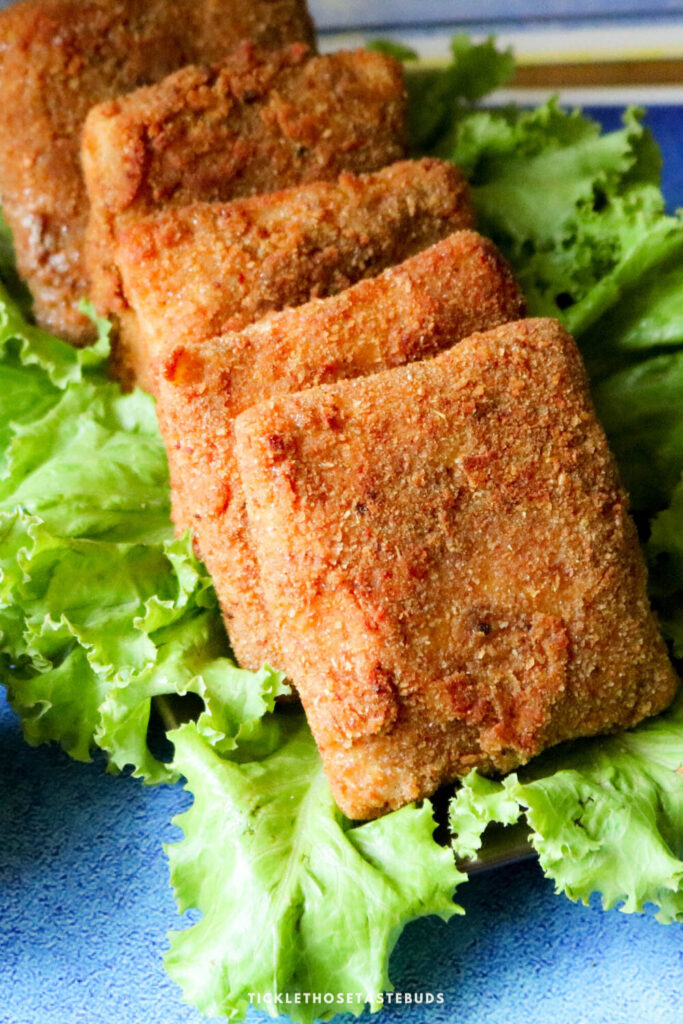 Vegetable Macaroni Parcels Recipe
These vegetable macaroni parcels are not only a show-stopping delight but hold a delicious surprise inside too. It's not only the vegetables inside but vegetable macaroni, giving you two dishes in one! Isn't that exciting?
The crispy little parcels are made using samosa sheets. It is then filled with Asian flavoured vegetable macaroni. Then wrapped in the shape of a parcel. These are a definite crowd-pleaser!
The best thing about this recipe is that you can easily use any left-over vegetable macaroni, make them in advance and freeze. It is a delightful treat on the iftar table or to serve as a side to any main dish.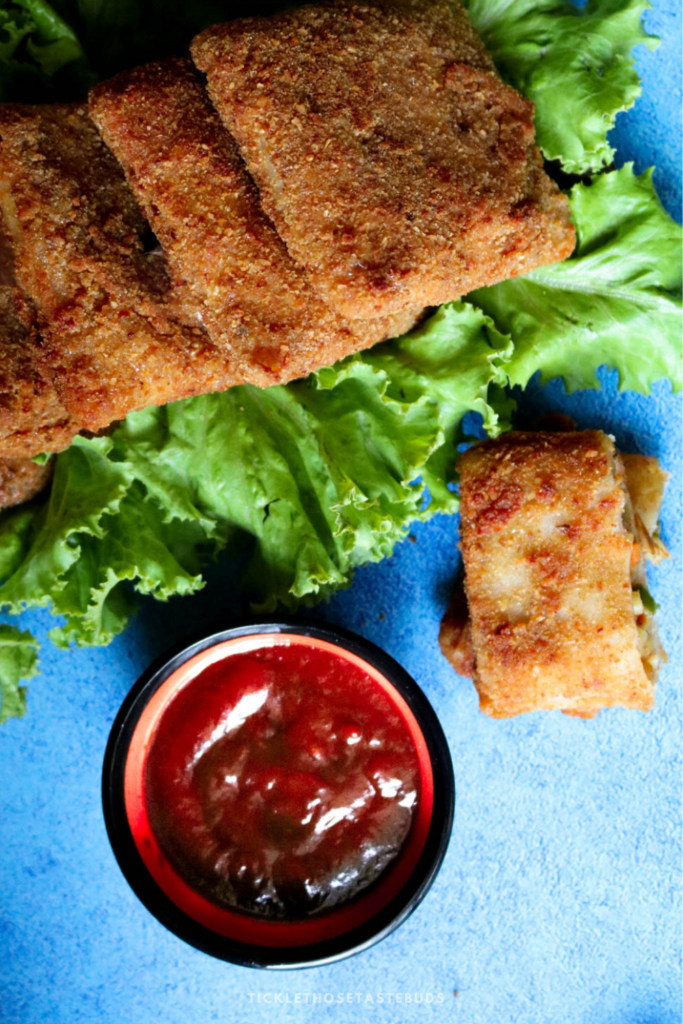 Ingredients to Make Vegetable Macaroni Parcels
The ingredients for Vegetable Macaroni Parcels is fairly simple. It uses everyday ingredients that you might already have in your pantry. Detailed instructions and measurements are in the recipe card below.
Samosa Sheets – I used store-bought samosa sheet/pastry. It is easily available at Asian stores. You can also make your own at home too. The key to crispy parcels is the texture of the samosa sheets. It should be fairly sturdy when fried.
Flour Paste – The binding agent that helps the parcel to hold its shape. You will need 2 Tbsp plain flour and water.
Asian Sauces – The burst of flavour in the recipe comes from the Asian sauces. In the recipe, we have used soy sauce, chilli sauce, oyster sauce, salt and pepper for seasoning.
Macaroni – The hero of the dish is macaroni, prepare it according to package instructions.
Vegetables – It is a combination of your favourite vegetables. I have used carrots, cabbage, green bell pepper, green chillies, ginger and garlic
Oil for frying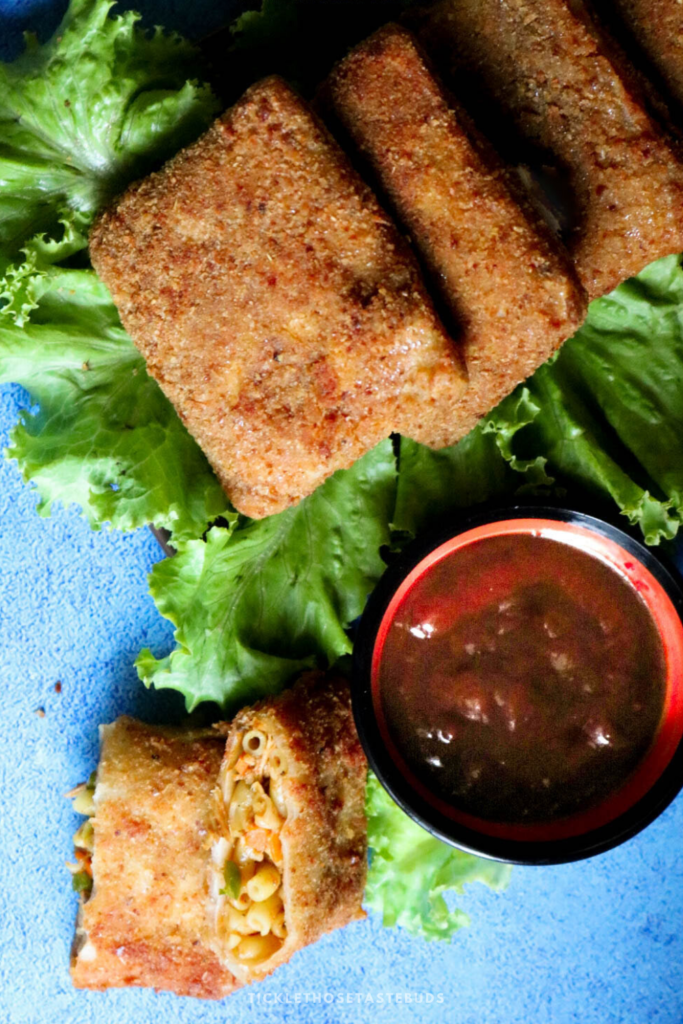 How to Make Vegetable Macaroni Parcels
Prepare the vegetable macaroni. Cook the macaroni according to package instructions until al-dente. Prepare the vegetables by sauteeing ginger, garlic and green chillies. Then add the vegetables along with the sauces and seating. Stir-fry on medium-high until vegetables are soft. Add the macaroni and mix well. Keep aside to cool
To make the parcels, take two samosa sheets. Place one sheet horizontally and the other vertically on top of it, making a cross/plus sign.
Place the vegetable macaroni filling in the centre. Apply the flour paste on the all the four edges.
Now start folding the samosa sheet one side at a time. Where one side covers the other until it forms the shape of a parcel.
Now coat the parcels in flour, then egg and cover completely with breadcrumbs.
Fry in oil over medium heat until golden and crisp.
Step-By-Step Pictorial to make Vegetable Macaroni Parcels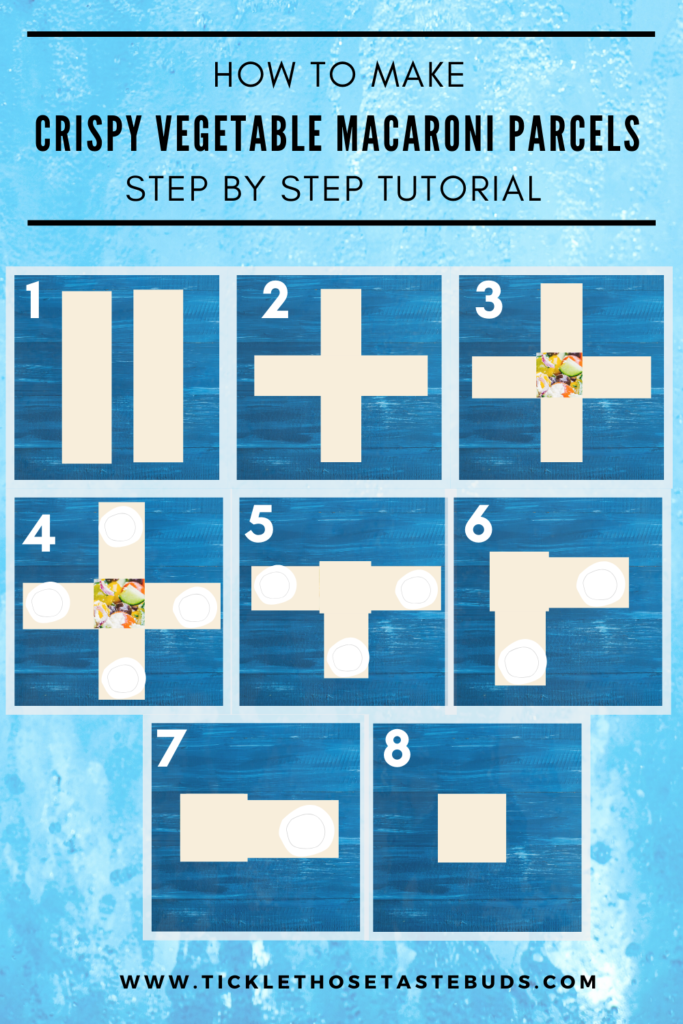 Why you should try this recipe?
It is a perfect appetizer or a starter for any occasion.
Vegetable Macaroni Parcels are very versatile, you can use any filling of choice to make these.
It is a freezer-friendly recipe. Make a big batch of vegetable macaroni parcels and freeze them.
More Recipes to Enjoy
If you enjoy my recipes, I'd love for you to subscribe to my YouTube channel for Video Recipes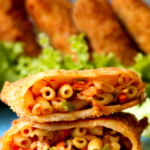 Print Recipe
Vegetable Macaroni Parcels
These crispy vegetable macaroni parcels are perfect for any celebration. Delicious vegetable and macaroni filling packed inside samosa sheets in the shape of a parcel. Golden and crispy these parcels are a show-stopping delight.
Ingredients
For the Filling:
1 1/2

Cups

Macaroni

(boiled)

3

Carrots

(chopped)

1/2

head

Cabbage

(chopped)

2

Capsicum

(chopped)

3

Garlic Cloves

(minced)

1

tsp

Ginger

(freshly grated)

3

Green Chilies

( finely chopped)

2

Tbsp

Soy Sauce

2

Tbsp

Chili Sauce

2

Tbsp

Oyster Sauce

1

tsp

Black Pepper crushed

(or according to taste)

1

tsp

Salt

(or according to taste)

2

Tbsp

Vegetable Oil
For the Parcels
1

packet

Samosa sheets

((samosa pastry, samosa wrappers))

2

Eggs

(whisked)

1

Cup

Plain flour

2

Cups

Bread Crumbs
For the Flour Paste
2

Tbsp

Plain Flour

1-2

Tbsp

Water

(or as needed)
Instructions
For the Filling:
Cook the macaroni according to package instructions until al-dente.

In a wok or a medium pan, heat oil. Add to it garlic, green chillies and ginger saute' for about 30 seconds. Add soy sauce and mix well

Add the vegetables to the mixture. Add the seasoning, salt, pepper and chilli sauce. Turn heat to medium-high and stir fry vegetables until the carrots have softened. Now add the oyster sauce and give it a good mix.

Now add the boiled macaroni to the vegetables and toss well. Take the mixture out in a bowl and allow it to cool completely.
For Flour Paste
In a small bowl, mix flour and water forming a thick paste. This will be used to seal the parcels.
To Make the Vegetable Macaroni Parcels
Take two samosa sheets. Place one sheet horizontally and the other vertically on top of it making a plus sign or a cross pattern. (Make sure to apply flour paste in the centre of the bottom samosa sheet so that both sheets stick together)

Now place the vegetable macaroni filling in the centre. Apply flour paste on all the four sides of the sheets.

Now lift the top side of the sheet and cover the filling by folding it on the top. Similarly, fold the left and the bottom sides of the sheet by wrapping over and finally the right side to make it in a shape of a parcel. (check the pictorial for easy understanding)

Prepare all the parcels in the same manner. Make sure the filling is tightly packed inside so it doesn't come out of the parcels. (Seal any holes on the corners by flour paste)

Prepare all the rolls in a similar manner, repeating the process.

Prepare the dredging station: In a shallow plate whisk eggs and season with salt and pepper. In another shallow plate add flour and in the third plate add the breadcrumbs.

Now coat the prepared vegetable macaroni parcels in flour, then in egg and coat with breadcrumbs. Then again in whisked eggs and coat again with breadcrumbs. Place in the refrigerator for 15 minutes before frying. (This breading/ coating step is optional, you can fry the parcels without coating them in flour, egg and breadcrumbs)

For Frying: Heat oil in a pan over medium heat and fry the vegetable macaroni parcels until golden and crisp from both sides. Drain on kitchen paper.

Serve hot with your favourite dipping sauce.
Notes
TO CUSTOMIZE:  These parcels are versatile and can be easily customized according to your liking.. Swap macaroni with chicken, meat or fish. Add your favourite vegetables, add mince meat, cheese, mushrooms or anything you prefer.  TO MAKE-AHEAD: You can easily make these vegetable macaroni parcels ahead of time and keep in the fridge. Fry when needed. I would suggest making a big-batch of the parcels and freezing them.  TO FREEZE: Place the vegetable macaroni parcels in a single layer onto a baking sheet; freeze until firm. Transfer to a Ziploc bag or a freezer safe container. These can be frozen up to 3 months. To fry from frozen, don't thaw  or defrost. Fry the parcels directly out of the freezer.  TO REHEAT: Parcels are the crispiest when eaten fresh, but if you want to reheat any leftovers, line the parcels on a baking sheet or tray and bake for 15-20 minutes at 350 degrees F or until heated through.
For you Pinning Pleasure