Like art and music, Food has no boundaries, it doesn't even require visas, permits or passports and yet takes you through a culinary journey to explore new combinations, tastes and flavors.
Continuing on this culinary journey, Lahore just got the taste of Atlanta – Boneheads.
Atlanta-based fast food chain Boneheads specializes in grilled fish and chicken and offers an exclusive range of sauces made with piri piri peppers. With its first ever overseas restaurant opened in Pakistan, Lahore it aims to provide a relaxed place with serious taste to its consumers. Did it actually live up to it? Let's find out.
One fine weekend, we (my sisters and I) had planned an evening out to spend good time together as we're all busy all week through. So we decided to first watch a movie and then have dinner at a new place we've not tried before.
The movie we planned to watch was Dekh Magar Pyaar Se, while we were excited about it after viewing it's promos, the excitement soon faded as the movie began and by interval we were like "whose idea was it to watch this movie"? As we all had mutually agreed on watching it so we managed to escape the bashing part. Having a bad movie experience we were a bit skeptical about trying a new place but we still stood by the initial commitment made.
And we ended up at Boneheads(since my sister M had read rave reviews about the place on a Food Group). It's conveniently located just off MM Alam Road, a beach-themed fast-food restaurant all the way from Atlanta that is best known for its grilled chicken and fish dishes along with some healthy sides. This restaurant positions itself as a healthier alternative to typical fast-food restaurant.
The place is pretty decent with a nice ambience, friendly and courteous staff and live kitchen. I'd say Boneheads is a casual restaurant rather than a fast-food establishment. As we entered we were greeted by smiling staff, we saw a bright and reasonable dining area – it wasn't something fancy but casual and appealing. The place was busy as it should be on a Saturday evening but not over crowded. As we breezed through the place to our table, the first thing we saw was their famous "piri piri sauces" already placed on the table. Our server was a friendly fellow who handed us the menu card and helped us in deciding what to order.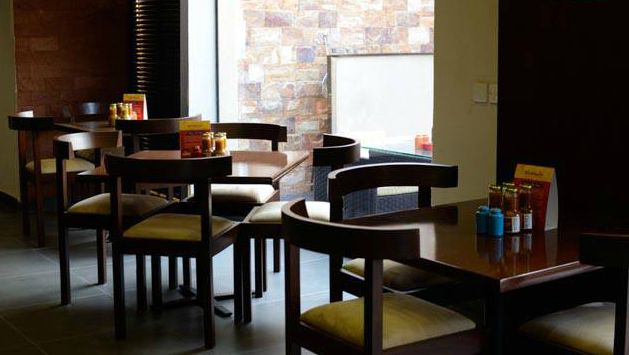 We started with their Piri Piri Chicken Wings, as we skimmed through the menu. They were served really quickly, the wings were perfectly marinated in spice blends and then grilled to perfection and were tossed in Piri Piri Sauce of our choice (we chose medium to begin with). The chicken wings were absorbing the sauces which enhanced the flavor and it was such a delicious treat.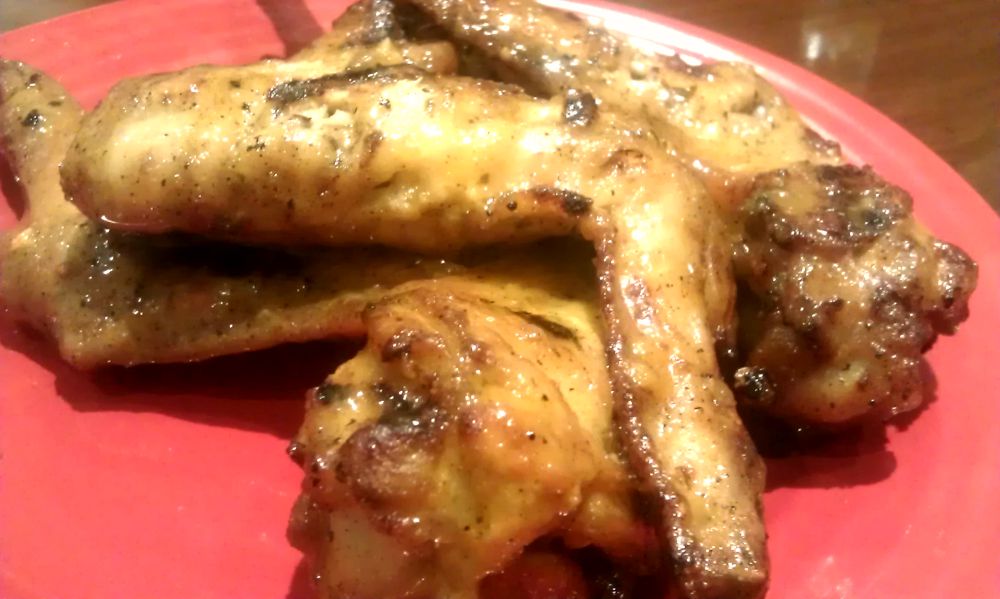 As we skimmed through the menu, we found it to be a delicious and a well-sorted menu offering not only grilled chicken and fish but also assortment of tacos, shrimps, salads, burgers and grilled vegetables. A menu that covered everything – a complete one!
After having the wings we were confident in ordering the food and our expectations were quite high. Being a fan of one of its competitors for a long time now, the food had to be really awesome to win our hearts and make us repeat-customers. We all decided to have different dishes so that we can taste them all.
We ordered their Grilled Chicken Breast that came with choice of two sides, Portuguese Grilled Chicken that was smoked and flavorful and was served with fries and boneheads special rice and third item on the order was a Burger (Build your own hand crafted burger) where you build it all yourself.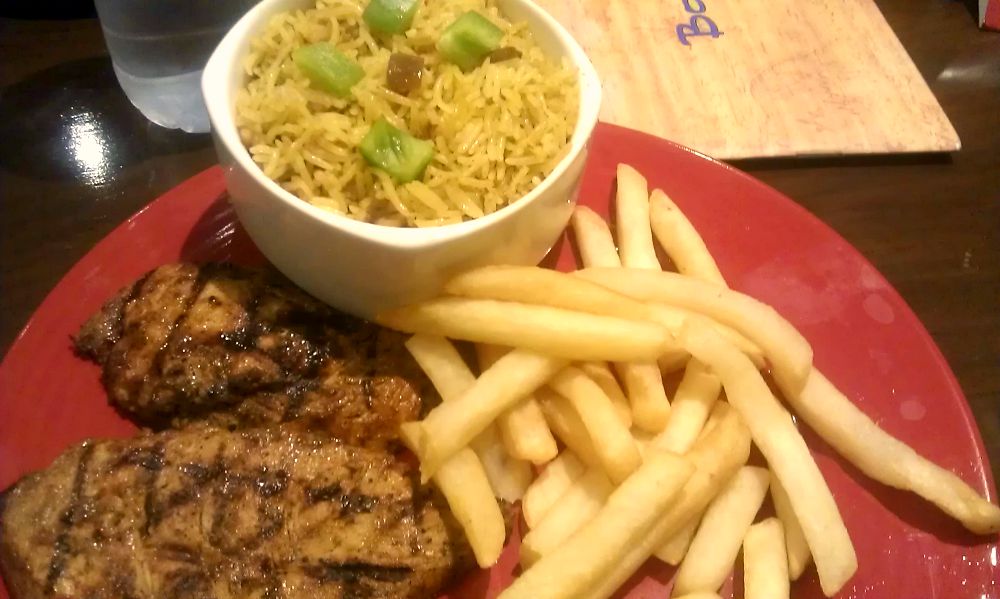 Talking about the sides, Boneheads offers a diverse selection of side items. It does include the traditional ones, like fries but there are other items such as grilled zucchini, priri piri mushrooms and broccoli. The seasoned rice were sensational and complimented the food well. The burger was as juicy as one should expect, with perfectly grilled patty. What excited me the most in their menu was the choice to build your own salad, your own burgers and the variety they were offering and of course FISH! Though I didn't try it this time but would definitely do so on my next visit.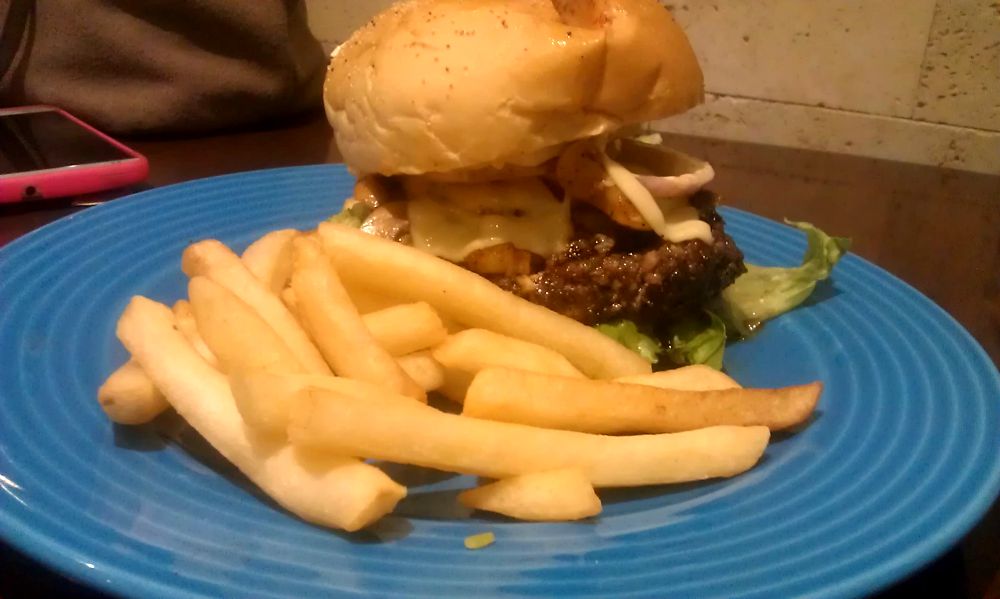 Altogether the food has great taste and the blend of spices is perfect on the chicken or fish and if you want to add a little zing to the food their bottles of Piri Piri sauce on the tables is all you need. It has three spice levels medium, hot and extra hot (I tried the extra hot, didn't find it that spicy but loved it with my food) for those who don't like food much spicy can try their Lemon and Herb sauce that contains no peppers. The staff was kind enough to offer their Hot Pepper relish to try with the burger and it was pretty awesome.
After a bad movie experience the food at Boneheads literally did set the mood. The beautiful flavors that the Piri Piri sauce bring out in the fish and chicken is the one that you must try. The food served is healthy and flavorful and makes you crave for more.
With a competitor already in the market for some time now, it may be easy to dismiss Boneheads as just another chain on the block, but DON'T! Eat there once to see what they're offering at such reasonable price. If I were somewhere nearby It would've been my everyday lunch place for sure.
Boneheads is definitely a welcome addition to the restaurants arena. In the city that loves food, it's delightful to see an affordable, healthy and flavorful option on the block.
For more information about their menu visit Boneheads on their Facebook Page here
Image 1 and 2 from Bonheads Facebook page