Welcoming fall with this Crunchy Munchy Snack Mix recipe. This Snack Mix is by far the best one and you can be as creative with this as you want. With a huge variety of cereals, nuts, fruits, biscuits you can easily make one for you that suits your taste buds!
For me, it had to be more salty and less sweet so I came up with this really BOLD flavored snack mix that is crunchy, salty and has a zing of spiciness and sweetness too. I remember, in my University days ( good ol' days sigh) me and my friends, we always wanted something to munch during lectures and during those 15 minutes break between lectures, we'd rush to the cafeteria to buy some snacks. While I was making this snack mix it reminded me of that time and brought a smile to my face – memories are treasures indeed!
So coming back to the recipe, this can be a great traveling snack, can be served at parties, good for game days, picnics, movie night and also can make a very interesting fall gift or party favor too. Here's a very pretty packaging idea and free printable tags by Make Bake Celebrate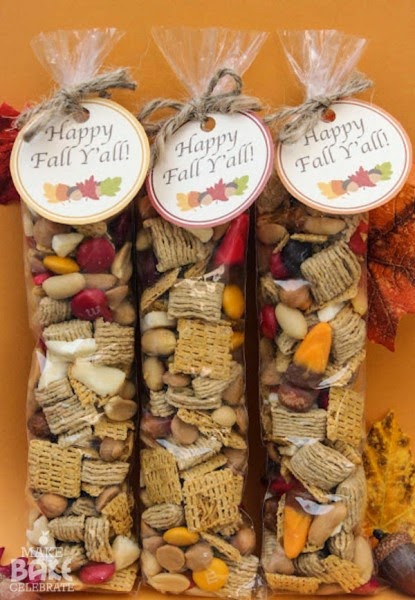 Please your guests and family with this fun and flavorful Crunchy Munchy Snack Mix Recipe. I bet you won't be able to stop yourself from eating – this is so addictive, but hey be easy on yourself!
Recipe adapted from The Pioneer Woman Cooks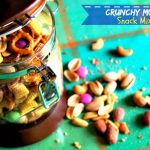 Print Recipe
Crunchy Munchy Snack Mix
Crunchy Munchy Snack Mix! loaded with flavor and fun shapes. Bet you can't stop yourself from munching this
Ingredients
2

Cups

Corn Chex

2

Cups

Wheat Chex

2

Cups

Rice Chex

1

Cup

windowpane pretzels

1

Cup

mini garlic rye chips

1

Cup

garlic bread sticks

1

Cup

Smoked Almonds

1

Cup

Roasted Cashews

1

Cup

Natural Pistachio

1

Cup

M&Ms or Smarties

1/2

Cup

Butter

1

tsp

Garlic Powder

1

tsp

Onion Powder

3

Tbsp

Worcestershire Sauce

1

Tbsp

Tabasco Sauce

1

tsp

Seasoned Salt
Instructions
Add the cereal and all the nuts in a large mixing bowl, except M&Ms.

In a microwave safe bowl add the remaining ingredients and microwave until the butter melts. Give it a nice stir and mix into the cereal mixture, stirring while adding the liquid mixture.

Now transfer the mixture to the baking tray lined with baking sheet. Bake for about 1 hour at 250 degrees. Stir every 15 minutes.

Remove from oven and allow to cool. Store in an air tight container.