A rice dish from the sub-continent that no other dish can match in grandeur, rich flavors and taste is Biryani. It is a royal dish prepared with myriad of spices, absorbing the rich flavors from the meat and the aromatic rice that makes it elegant and supremely royal.
Since it's introduction to the Indian sub-continent by the Mughals, Biryani today has taken many forms owing to different regions of India, Arabia and Persia. All these varieties have distinct flavors and a unique taste blended with their local cultures but the royalty of the dish remains the same. The word Biryani is said to be originated from a Persian word "birian" meaning "fried before cooking" (How that is related to biryani, nobody knows).
Traditionally there are two methods of preparing biryani, 1- Kachha (Urdu word for Raw), where the meat are rice are cooked together and 2- Pakka (Urdu word for Cooked), where meat and rice are pre-cooked and then layered together. Though Biryani has many variations however the cooking technique remains the same. It is prepared by layering rice and meat along with the fragrant spices and then cooked on low fire called Dum (urdu for steam) that helps in absorbing and infusing all the flavors together into a royal treat. The Biryani recipe I'm sharing today is of pre-cooked meat and rice, the Pakka method of cooking.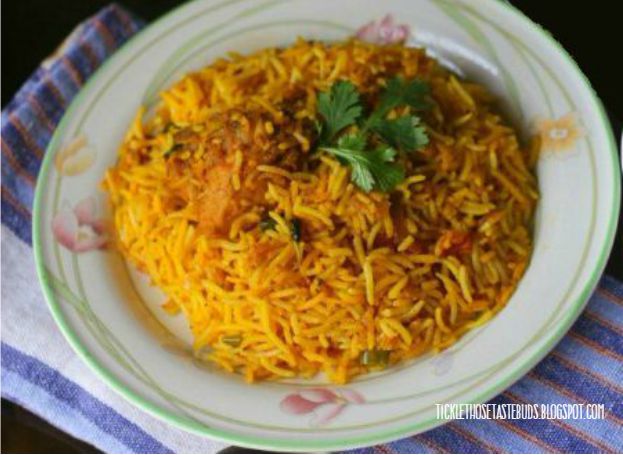 Cooking Biryani does seem like a daunting task and one needs to be a culinary perfectionist to make it perfect. Well, it is challenging to cook Biryani as it involves a lot of steps, innumerable spices, perfectly cooked rice and tender, flavorful meat. I've seen my mother doing it all by herself (making her own biryani spices) and the Biryani she makes is the best! It has all the aromatic spices, long grains of rice and perfectly cooked meat and serves it with Mint Raita and salad.
I love the Biryani my mother makes and would love to share her recipe sometime with all the home made spices, but my version of Biryani uses a Biryani Mix (Thanks to the brands for introducing this biryani magic in our lives and making it so much easier for us) and it tasted equally delicious (Ok, not equally but really delicious).
Get over your fear of making Biryani with this easy and delicious recipe. Ready to impress? Let's get cooking (And, you can thank me later by commenting below :D)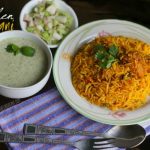 Print Recipe
Chicken Biryani
Aromatic rice, juicy tender meat and rich spices layered and cooked to perfection making a colorful and flavorful Royal Cuisine!
Ingredients
For Rice
500

grams

Long grain rice

2 1/2

liter

Water

Salt
For Chicken
1

Whole Chicken

4-5

Onions

(Medium)

1

Cup

Yogurt

1

Tbsp

Ginger paste

1

Tbsp

Garlic paste

1

Packet Shan Bombay Biryani Masala

1

tsp

Salt

1/2

tsp

Red Chili powder

6

Tomatoes

(peeled and chopped)

5-6

Green Chilies

(chopped)

1 1/2

cup

Water

Mint Leaves

(a few)

Ghee or Oil for cooking
For Layering
Yellow food color

(as required)

1

tsp

Cardamom powder

1/4

tsp

Nutmeg

(ground)

2

Black Cardamoms

(ground)

3-4

Cloves

(ground)

5-7

Whole Black Peppers

(ground)

4

Tbsp

Lemon Juice

few drops Kewra Water
Instructions
Prepare Chicken Curry: In a pan heat the ghee or oil, add onions and fry until golden brown. Add chicken and let it cook. It will release its own water, let it cook while stirring occasionally until the water dries completely. Now add yogurt and continue cooking on medium heat, when mixed well add ginger and garlic pastes along with the Biryani Masala, salt, red chili powder and water and let cook for 25 minutes till the chicken is tender. Next add tomatoes, when soft add green chilies and mint leaves. Cook for a few minutes till the gravy is reduced but not liquid

Prepare the Rice: Wash and soak rice in water for 15-20 minutes and drain. Boil 21/2 liters of water with a little salt. Once the water starts to boil add rice and cook for 5-7 minutes until they are half cooked. Drain the water

Layering: Oil a heavy bottomed pan, place two-thirds of rice on the base, followed by gravy. Keep alternating layers of rice and gravy making rice as the top layer as well. Sprinkle some yellow food color, all the ground spices, lemon juice and kewra water. Cover the pan titghtly with the lid and cook on low flame for 10-15 minutes till the rice is done and steaming

Serving: Serve hot with Mint Raita (Simply mix this Mint Coriander chutney in yogurt)and salad