Take a break from chicken and meat. Try this recipe for Potato and Egg Croquettes, golden and crispy on the outside and soft in the centre, mildly spiced and full of flavour. It's a perfect appetizer, kid-friendly snack and is freezer-friendly too.
This is the first recipe that I learnt to make back in school when we used to have a cookery class and somehow this one has stuck with me. I have made some additions to the recipe and love it.
If you are new to potato croquettes, let me tell you we are talking about mashed potatoes, cheese and a creamy boiled eggs surprise inside, breaded with cheese crackers and fried to a crispy golden. It's delicious and you won't believe how simple and easy it is to make.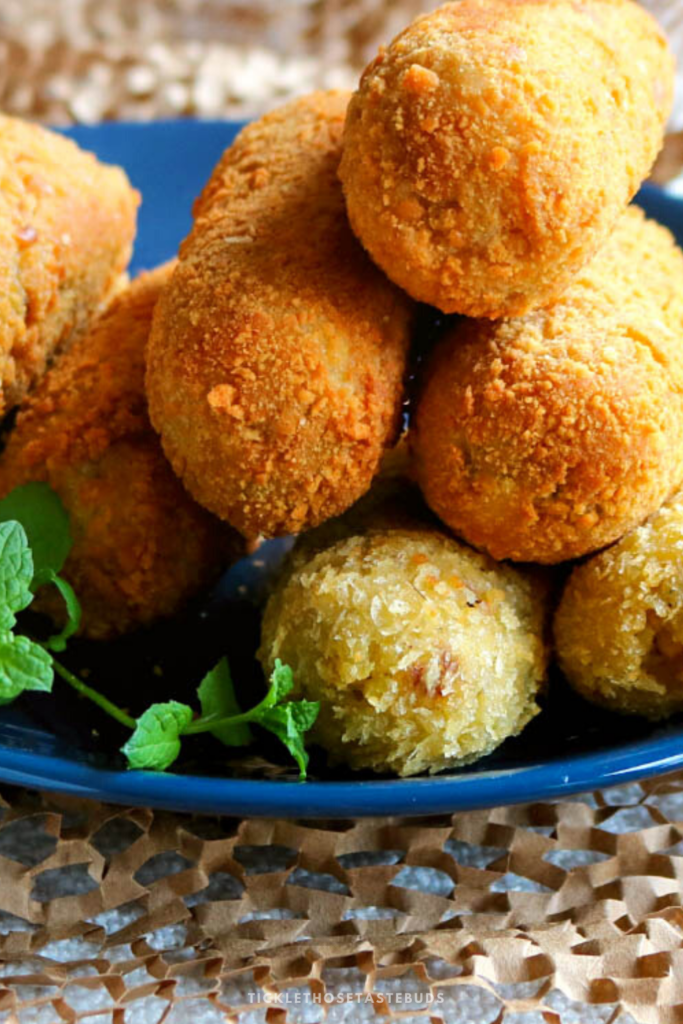 What are Croquettes?
Croquettes are a heavenly snack/appetizers. Simply put, croquettes are breaded and fried roll or morsel usually made with mashed potatoes, ground meat, vegetables, left-over food or literally anything your heart desires. In this Potato and Egg Croquettes recipe today, I will be making rolls using mashed potatoes, cream cheese, boiled eggs and cheese crackers as breading, fried till golden and crispy on the outside.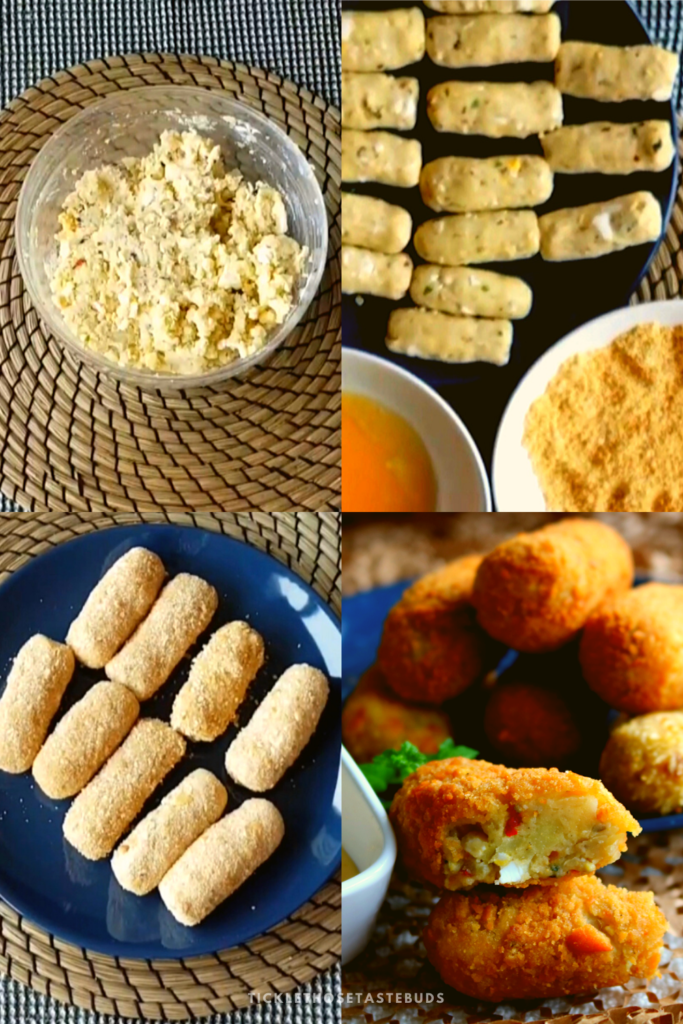 Potato and Egg Croquettes Recipe
There's nothing more delicious than having warm potato and egg croquettes. It is a perfect snack for kids, adjust the seasoning a bit if you like. You can also hide in veggies for picky eaters and they won't even notice it. These potato and egg croquettes are extremely versatile with endless possibilities to make them according to your family's liking.
The best thing about this potato and egg croquettes recipe is that you can use any left-over mashed potatoes, make them in advance and freeze a big batch. Then simply take out of the freezer, fry and enjoy. It's great to entertain crowds or to serve as a side with pasta or with any main dish.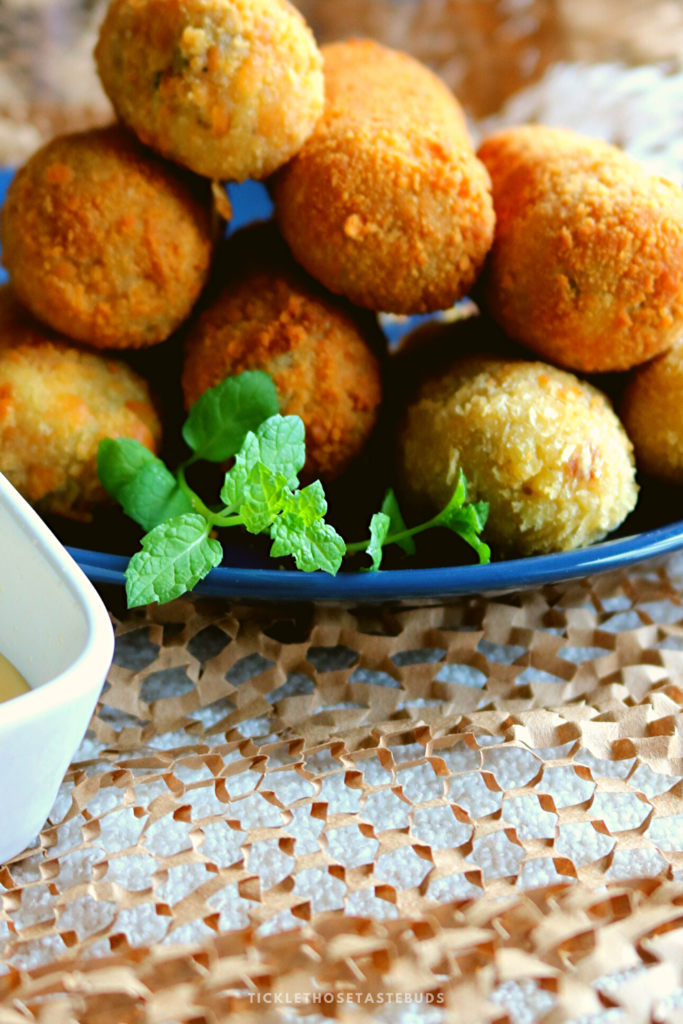 Ingredients to make Potato and Egg Croquettes
Detailed measurements and instructions can be found below in the printable recipe card below
Potatoes – Peel and cube potatoes to make fresh mashed potatoes or use any left-over mashed potatoes
Eggs – hard-boiled eggs, cut into slightly bigger chunks
Cheese – for that smooth and creaminess. you can also add cheddar cheese or parmesan.
Seasoning – salt and black pepper are enough however I like a little bit of heat so added red chilli flakes, chopped green chillies, ground nutmeg and dried oregano for flavour
Cilantro – A sprinkle of fresh herb for colour and flavour. You can use parsley or chives too
Flour – is used as a binding agent to ensure that the croquettes hold well together.
Beaten Egg – another binder for the recipe
Cheese Cracker Crumbs – I made cheese cracker crumbs by blitzing some cheese crackers in the food processor to coat the croquettes however you can use panko breadcrumbs.
Oil for frying – Croquettes taste best when fried. Use vegetable or Canola oil for frying the potato and egg croquettes. Make sure there is enough oil to reach the sides of croquettes but doesn't soak them in oil. Fry until golden and crisp.
Potato and Egg Croquettes Recipe Video (Scroll down for printable recipe)
If you enjoy my recipes, I'd love for you to subscribe to my YouTube channel for Video Recipes
Why you should try this recipe?
Family-friendly: this recipe is an excellent appetizer and snack for the family and is a definite crowd-pleaser.
Make-Ahead of Time: You can easily make the potato and egg croquettes ahead of time and keep in the fridge. Cover with plastic until ready to fry. It can stay in the fridge for up to 3 days.
Freezer-Friendly: You can freeze these potato and egg croquettes. After coating in egg, flour and breadcrumbs place them in a dish and freeze until firm. Transfer into a ziplock bag. when ready to eat simply take out and fry in hot oil. don't thaw.
Easily Customizable: You can add in your favourite ingredients, swap boiled eggs for boiled and shredded chicken, mince, fish or vegetables. For a gluten-free version use gluten-free flour and breadcrumbs.
More Recipes to Enjoy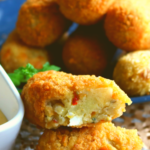 Print Recipe
Potato and Egg Croquettes
Potato and Egg Croquettes, golden and crispy on the outside and soft in the centre, mildly spiced and full of flavour. It's a perfect appetizer, kid-friendly snack and is freezer-friendly too
Ingredients
3

potatoes

(peeled and cut in cubes)

3

Eggs

(boiled and mashed)

2

tbsp

Cream cheese

1 1/2

tsp

Salt

1

tsp

Black Pepper

1

tsp

Red Chili flakes

1/2

tbsp

Green chilies

(finely chopped)

1/4

tsp

Ground Nutmeg

1/2

tsp

Dried Oregano

1

Tbsp

Fresh Cilantro

(chopped)
For Breading
1

cup

Plain Flour

3

cups

Cheese savouries or crackers

2

Eggs

(whisked)

Oil for frying
Instructions
In a pot add the potatoes, fill it with cold water enough to fully cover the potatoes. Add 1 tsp of Salt. Bring it to a boil over high heat and let simmer on medium for about 15 minutes or until potatoes are tender. Using a potato masher, mash the potatoes to smooth. Allow to cool.

In a bowl add mashed potatoes, boiled and mashed egg, cream cheese, salt, black pepper, red chilli flakes, green chillies, dried oregano, ground nutmeg and cilantro. Mix with a wooden spoon or spatula until well combined.

Lightly wet your hands with water, take 1 Tbsp of the mixture and roll it into a ball. Then continue rolling it between your palms to shape each croquette into a log.

To make the cheese crumbs for coating. Break the crackers into smaller pieces and blitz them in a grinder or food processor.

Prepare the dredging station. Take three shallow plates, fill one with plain flour, one with whisked eggs and the third with cheese crumbs.

Roll the croquettes first in flour then in egg, then cheese crumbs. Then again in egg and cheese crumbs. Set aside on a plate or a dish. Repeat the process for all the potato and egg croquettes. Refrigerate for about 15 minutes before frying.

Add vegetable oil in a pan, heat it over medium heat. It should only be a couple of inches deep to cover the sides of the croquettes, not to soak it completely.

Fry the croquettes in batches, flipping once to make sure they are golden and crisp from all sides. Drain on paper towel. Allow it to cool a little before serving.

Serve warm with your favourite dipping sauce.
Notes
To Bake – You can bake these potato and egg croquettes instead for frying. simply spray the croquettes with cooking spray. Place them on a baking tray and bake for 15 minutes at 400 degree F until golden and crispy.
To Make ahead – You can easily make the potato and egg croquettes ahead of time and keep in the fridge. Cover with plastic until ready to fry. It can stay in the fridge for up to 3 days.
To Freeze – You can freeze these potato and egg croquettes. After coating in egg, flour and breadcrumbs place them in a dish and freeze until firm. Transfer into a ziplock bag. when ready to eat simply take out and fry in hot oil. don't thaw.
To Re-heat – These can easily be reheated in the oven. Place them on a baking sheet lined with parchment paper and bake at 400 degrees F for 10 minutes. Do not re-heat using microwave ad the boiled egg in the croquettes might just explode.
To customize – You can add in your favourite ingredients, swap boiled eggs for boiled and shredded chicken, mince, fish or vegetables. For a gluten-free version use gluten-free flour and breadcrumbs
For your Pinning Pleasure