Chicken with pickling spice or Achari Murgh/Chicken Achari is a delectable dish with quintessential Pakistani "Achar" (pickle) flavours. The mustard oil, pickling spices, and yoghurt give this rustic chicken dish a burst of spicy and tangy flavours.
Achar or Achaar (pickle) is a South Asian condiment, native to Pakistan and the subcontinent. Made from a variety of fruits and vegetables mixed with oil and pickling spices, it is a catchall condiment that goes with just about everything. Be it daal chawal (Pakistani rice and lentils) or simple parathas, add some Achar, and vivify any meal.
I remember my mother used to make achaar at home. It was a long process, but the taste of home-made achaar was incomparable to any store-bought pickles. While mango pickle was a favorite, I loved green chilies and carrots in the achar the most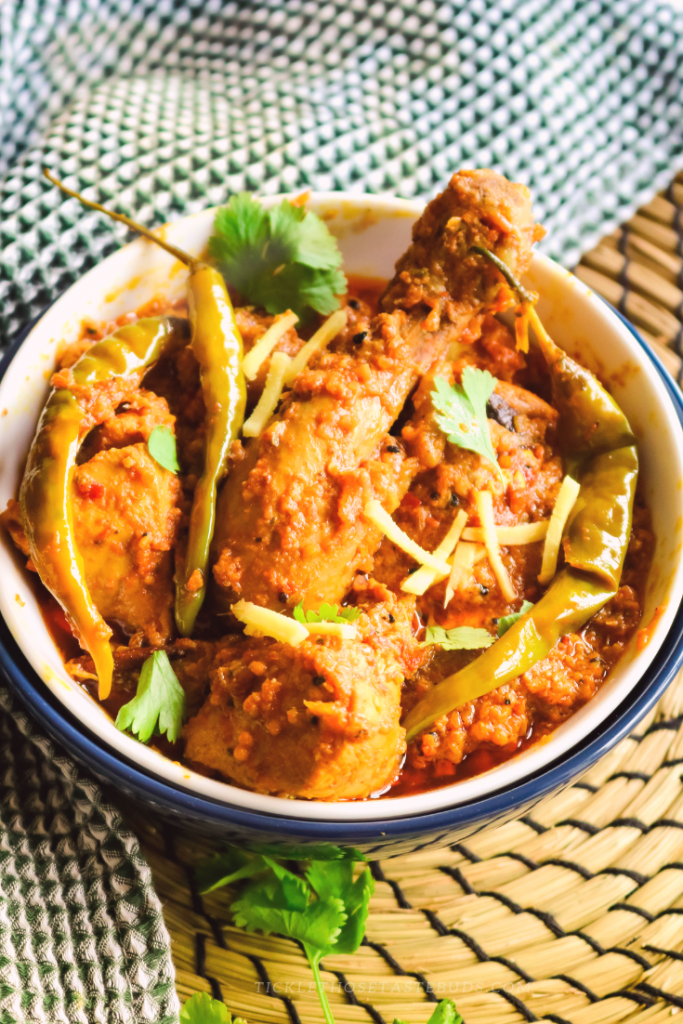 What is Chicken Achari?
Chicken Achari or Chicken with Pickling Spices, also known as Achari Murgh is a chicken curry flavoured with pickling spices.
While pickles are fruits and vegetables preserved in oil and spices, Achari Murgh (Chicken Achari) is not a condiment or a pickle. It is a curry that derives its name from the spices used in cooking this dish. These spices are used in making Pakistani pickles, hence the English name Chicken with pickling spices.
For me, what stands out in the dish other than the pickling spices and the taste of the dish is – the stuffed long green chillies. Yes, the green chillies are stuffed with pickling spices. Adding stuffed green chillies to the chicken curry lends a rich flavour and is too delicious to eat.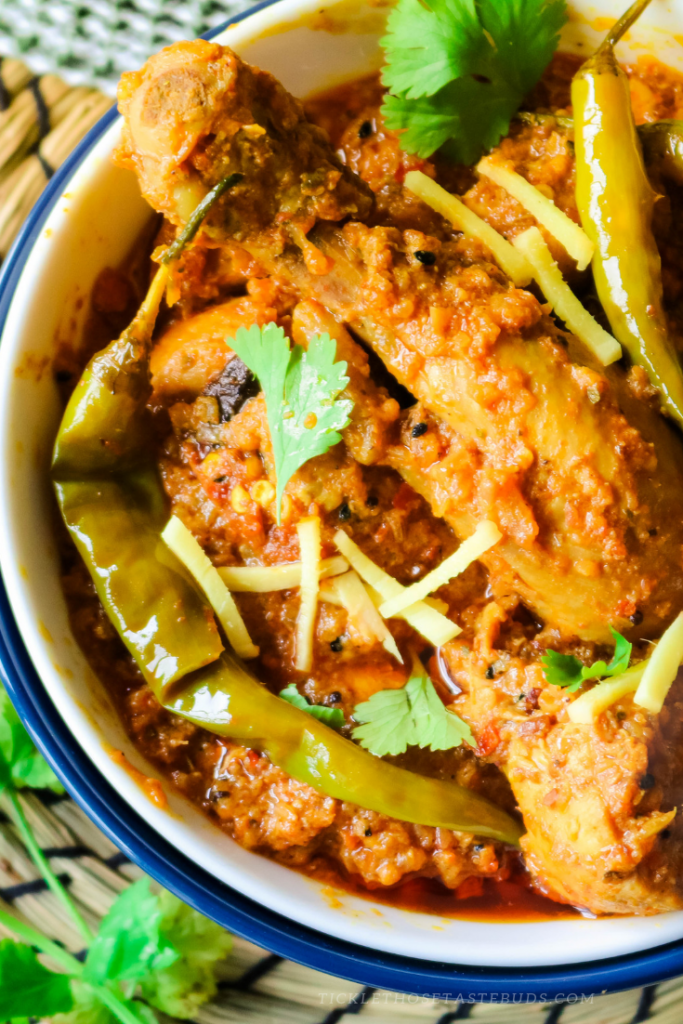 What are Pickling Spices (Achari Masala)?
Pickling spices (Achari Masala) are a blend of different spices which have a flavour profile of their own. All the spices combined, bring out a unique medley of flavours that is very specific to traditional Pakistani pickling.
The pickling spice mix includes:
Cumin Seeds (Zeera)
Yellow Mustard Seeds (Rai)
Fenugreek Seeds (Methi dana)
Nigella Seeds (Kalonji)
Fennel Seeds (saunf)
Coriander Seeds (Sabut Dhania)
Having moved here to Ireland, I was a bit skeptical about finding the spice blend. Though we have Asian stores here that stock all the spices but I came across this Pickling Spice by Buwholefoodsonline. I decided to give it a try. Though this pickling spice bag had a few different spices, I added the missing ingredients listed and made the perfect pickling spice mix for my Achari Murgh.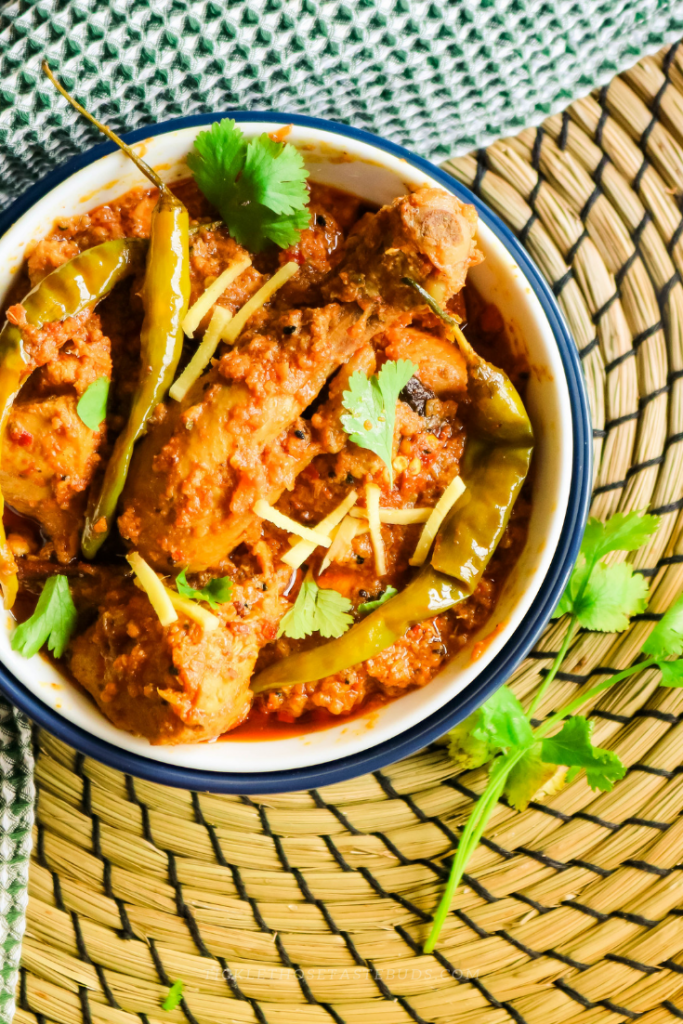 You can never have enough chicken curry dishes, it's true. Every chicken curry recipe has a unique taste, flavor profile, and cooking technique that lends exquisite flavors, thus giving a variety of recipes.
Be sure to add this Chicken with the Pickling Spice (Achari Chicken) recipe to your repertoire. Like other chicken curries, this dish is simple but packed with flavours. The only thing to get those authentic flavours is the pickling spice, and unfortunately, there is no substitute for that.
So, try this recipe for a different take on chicken curry and enjoy the spicy and tangy pickling spice flavors in delicious chicken curry and stuffed long green chilies. It tastes fantastic with buttered naan, roti, and even rice.
You'll Also Like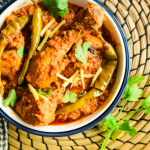 Print Recipe
Chicken with Pickling Spices – Pakistani Achari Murgh
Chicken with pickling spice or Achari Murgh is a delectable dish with quintessential "Pakistani Achar" (pickle) flavors from mustard oil, pickling spices, and yogurt giving this rustic chicken dish a burst of spicy and tangy flavors
Ingredients
For Chicken in Pickling Spice / Achari Murgh
2

lbs (1 KG)

Chicken, bone-in, skinless, cut into medium sized pieces

2

medium

Onions, sliced

3

Tomatoes, peeled and chopped

1

tsp

Garlic paste

1

tsp

Ginger paste

1 1/2

tsp

Red chili powder

1/4

tsp

Turmeric Powder

1

tsp

Salt

(or to taste)

1/4

cup

Yogurt

5-6

Green Chilies

1

tbsp

Lemon Juice

2

tbsp

Pickling Spice Mix (Achari Masala)

(see below)

1/4

cup

Mustard Oil

(or cooking oil/ghee)

1

cup

Water

Corriander for garnish
Pickling Spice Mix/ Achari Masala
1

tbsp

Pickling Spice

(buy whole foods online)

1

tbsp

Cumin Seeds (zeera)

1

tsp

Nigella Seeds (Kalongi)

1

tsp

Fenugreek Seeds (methi dana)

1

tbsp

Fennel Seeds (saunf)

3

Dried whole Red Chilies
Instructions
In a pan dry roast all ingredients (except for Nigella seeds and yellow mustard seed) of the pickling spice mix for about 1 minute over medium heat.

Now roughly grind the roasted spices into a spice mix. Add nigella seeds and Fenugreek seeds to the prepared spice mix. Keep aside until further use.

Prepare Green chilies: Take 2 tbsp of pickling spice mix and add 1 tbsp of lemon juice to it. Slit the green chilies, de-seed and stuff them with the prepared pickling spice mix with lemon juice. Keep aside

In a heavy-bottomed pan heat the mustard oil. Add the sliced onions and fry until soft and light golden in color. Now add the chicken and ginger and garlic paste to the pan and fry the chicken until it changes in color.

Now add the red chili powder, turmeric powder, salt and 2 Tbsp of the pickling spice mix (or more, if needed). Mix it well so that chicken is evenly coated in the spices.

Add the chopped tomatoes and 1/2 cup water. Mix it well and cover the pan. Let the chicken cook on medium heat for about 10-15 minutes

Once the chicken is cooked, soft and tender, at this stage add yogurt and mix. Careful not to split it. Also, add the stuffed green chilies and continue to cook on low heat with the lid on for another 5 to 7 minutes.

After 5 minutes, the gravy would be reduced. At this stage do a taste check, adjust salt or seasoning if needed

Dish out, garnish with fresh coriander. Serve with hot buttered nan, roti or rice.
Notes
If you don't have Pickling Spice from buywholefoodsonline use 1 tsp yellow mustard seeds and 1 Tbsp coriander seeds 
Variations
I've used bone-in Chicken for the curry, swap it with boneless chicken breasts cut in 1-inch cubes
You can substitute mustard oil with regular cooking oil or ghee
Tailor the heat according to your taste, and you can avoid stuffed green chilies.
You can make this dish with your choice of meat, lamb, mutton, beef
For a vegetarian version, try this recipe with Cauliflower or Paneer
By the way, if you enjoy my recipes, I'd love for you to subscribe to my YouTube channel for Video Recipes.
For your Pinning Pleasure