I'm always on the lookout for good breakfast recipes and during my research I stumbled upon this "Oh So Famous" Elvis's Peanut Butter and Banana Sandwich recipe
A recipe with the legends name was definitely worth looking into and that's when I came across this version of the recipe by Nigella Lawson , it was quite simple but I didn't stop here and continued my search to find out the exact and authentic legendary recipe. So with a few clicks here and there I finally came across Sandy's page where she had a similar research experience like mine and eventually found Elvis's mothers comment regarding the recipe on Graceland website (yeeaay finally found it! 😀 )
So Elvis's mother shares the recipe secret to be, a sandwich prepared with peanut butter, bananas, bacon, bread slices (of course) but the actual secret was frying the bananas in bacon fat. SO finally, I got to know the secret to Elvis's Fried Peanut Butter and Banana Sandwich was actually "fried bananas"
As my research had ended here and finally I knew the secret, I went for the simple version of Elvis's Grilled Peanut Butter and Banana Sandwich and trust me when you'll have this sandwich it'll become your favorite breakfast sandwich too!
Are you ready to taste the Legend's Signature Dish – in my style? Follow the recipe and Tickle those Tastebuds!
Oh btw, the variations to this sandwich are listed below, do check them out!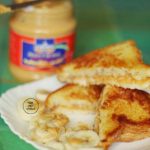 Print Recipe
Elvis's Grilled Peanut Butter & Banana Sandwich
This is not just a sandwich, this is Elvis's famous Peanut Butter and Banana Sandwich. This crunchy, energy-packed sandwich is insanely delicious!
Ingredients
1

ripe banana

2

slices

white bread

2

Tbsp

peanut butter

2

Tbsp

butter
Instructions
In a small prep bowl, mash the banana with the back of the spoon

Toast the slices in a toaster or skillet

Generously spread peanut butter on one toast and mashed banana on the other

Sandwich them and press lightly

Grill the sandwich in melted butter until both sides are crisp and golden brown

Carefully cut the sandwich diagonally and serve warm
Sandwich Variations
Instead of mashing the bananas you can slice them instead and follow the rest of the recipe

Add a bit of honey over the bananas for extra flavor and sweetness

Drizzle some chocolate syrup on the sandwich and make it fancy

Add bacon to the recipe and enjoy the signature dish!