PAKISTAN is turning 68 on 14th August this year and I'm super excited. As soon as the month of August begins I turn overly patriotic (not that I'm not patriotic all other months), I just feel that way in August particularly because it's Independence Month + My Birthday Month, so good enough reason for me to be excited.
The entire nation is in full Jashan-e-Azadi (Independence day) spirit. From the 1st of August people set up stalls on streets, markets and on corners of the roads selling Pakistan flags, badges, small paper flags (jhandia), stickers and other independence day special merchandise. It's actually so much fun, as the cities start turning green and white in every way, from illuminated buildings to waving National Flags atop houses and buildings. At night its a beautifully lit sight, homes and buildings illuminated with fairy lights in national colors (green & white) is Simply Stunning!
Another attraction is the special Independence Day collections introduced by different brands on these occasions. Out of the many products that I came across this year, this Painted National Flag with National Anthem by Pith was love at first sight, like literally.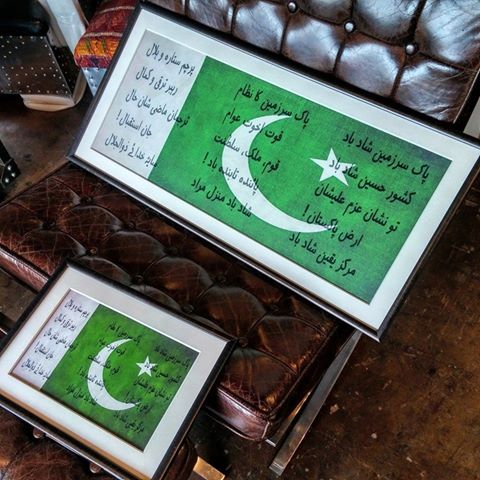 Aren't these amazing? I love these Flag Prints with National Anthem. These are available in 2 sizes, Small (12×16) and Large (31×61) the perfect size to give your walls some patriotic color. These are very reasonably priced at Rs. 1200 and Rs. 3100 so grab this fast , just like I did!
Pith also has really fabulous Independence day products collection check them all out here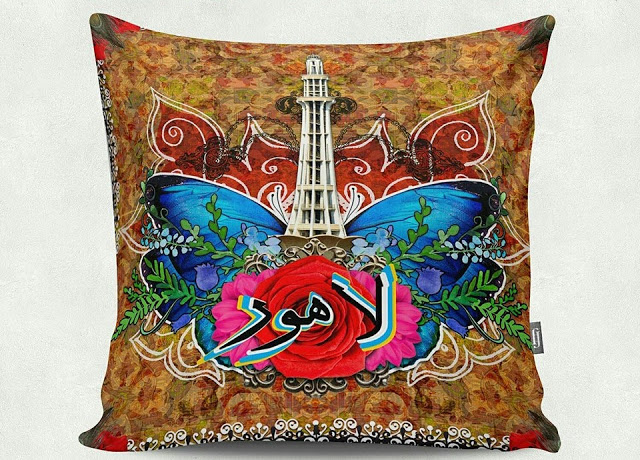 Another product that stole my heart was this truck-art designed digital print cushion by Fray Design Studio from their Independence day special collection.
I was totally sold on the design, the color scheme and how beautifully the Minar-e-Pakistan stands there. As they say "Lahore Lahore Aye" and for a true and proud Lahori, that I am this had to become mine. It's priced at Rs. 1500 and can be purchased from Fray Design Studio's Facebook Page here
They've got a whole lot of products from art-prints to cushions, t-shirts to tea coasters, from notebooks to phone covers all items very unique and amazing.
I enjoy the whole Azadi spirit, you get to see so much enthusiasm in every individual and the love they hold for their country.
I'm proud to be a Pakistani!
What are your favorite Independence Day Special products this year?