The most awaited summer fruit of the season (after mangoes) in Pakistan is Falsa (Phalsa) that also has a very fancy English name – Grewia Asiatica, that nobody ever uses. From its colour, taste and price at the start of the season, this little berry fruit gets you drooling. You just can't have enough of it till the time it's available (roughly two months). While it is available, Falsa Sherbet (juice) had to be made, to keep cool in sweltering summer heat.
Every food has a story and this fruit always brings back memories from childhood. Growing up, when my sisters and I were in school, our final term exams and falsa season coincided – like every year it was like that. And this meant NO Falsay during exams!
Walking out the school gate after the exam, we had our eyes on that falsa vendor's beautifully arranged falsa display, he'd be at his fixed spot under the tree, right next to school gate. While most girls would stop by and have a small pack of falsa with generous sprinkling of black salt (kala namak), we'd just walk past it with this tiny thought that on our last exam you better be here falsa guy because we want those little berries bursting with flavours and of course with black salt! Last day of the exam was the best day because exams had ended and we could have falsay as much as we wanted – no stopping there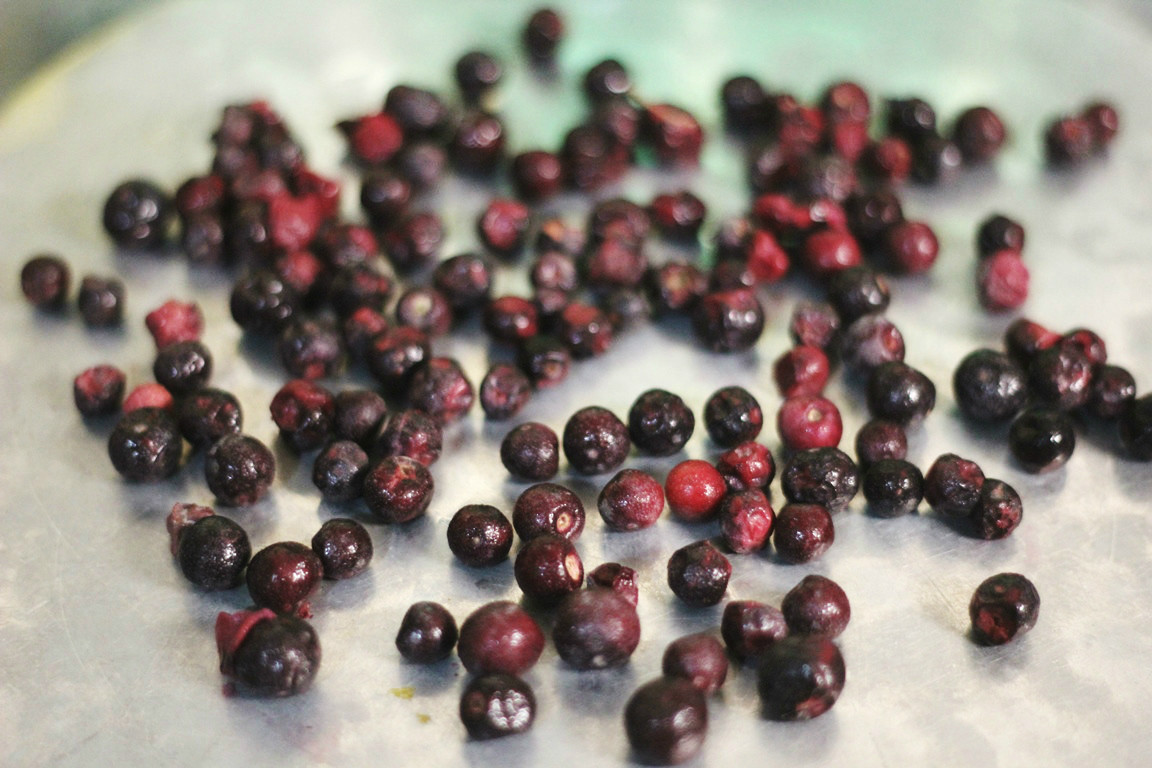 On Sundays we all had a day off and so did my father, he'd bring falsay (my mother loves this fruit) and then would prepare bowls for us all. It was so exciting to see him prepare the bowls. He'd have all those falsa in a large bowl, would then sprinkle black salt all over it and would then cover the bowl with a fairly larger plate and would give it a good shake – this helps in equally salting the fruit and also smashes a few ripe ones, making it a lot more flavorful. We used to enjoy this entire experience a lot. Such were the joys of simple days.
As little as it may seem, this fruit is not only flavorful but has many benefits too. It is loaded with Vitamin C, Potassium, Fiber, Calcium and Phosphorus. In simpler words, it helps in treating dehydration, alleviates inflammation, helps in regulating blood pressure, digestion and is full of anti-oxidants.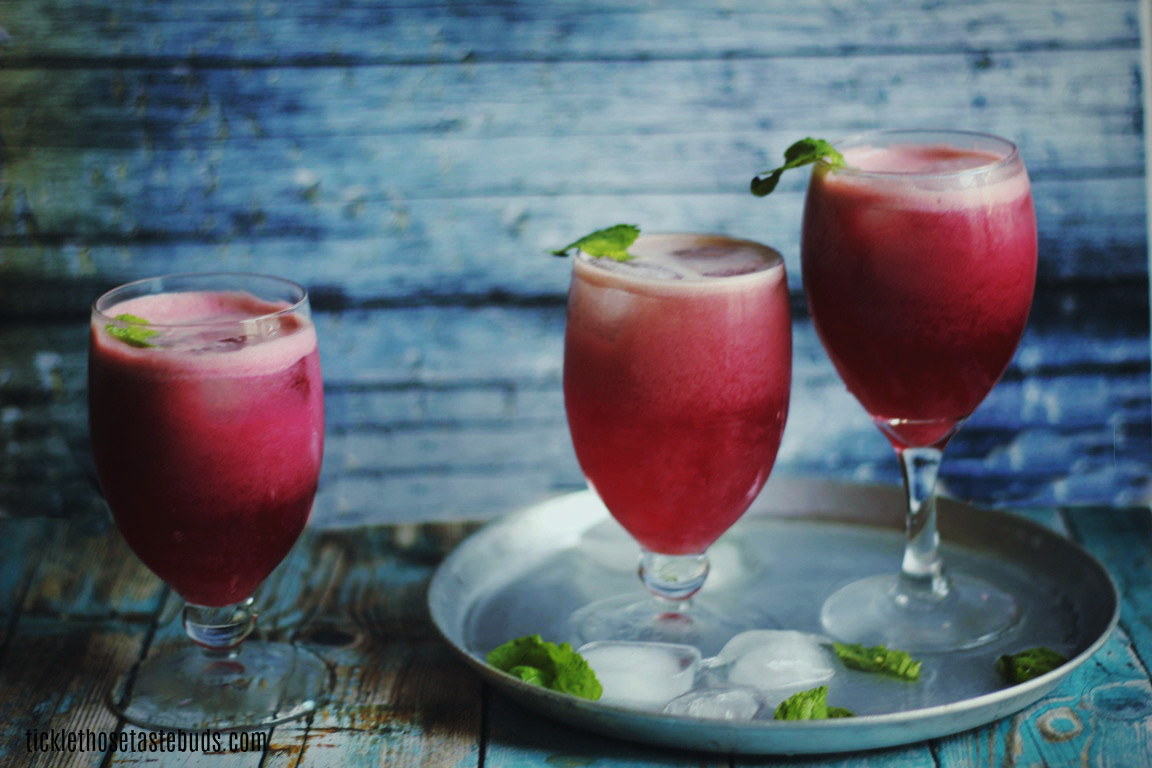 It has a nice a mix of sweet, sour and a bit acidic taste, which adds a good punch and flavor to it's Sherbet/Juice. There are other ways to consume this seasonal fruit and you might enjoy having it in some other way but do give this quick and easy Falsa Sherbet recipe a try this summer to keep you cool all through the season.
You might also want to try this Mint Margarita another refreshing drink with a bit of lemon soda infused with mint leaves – so perfect for summers.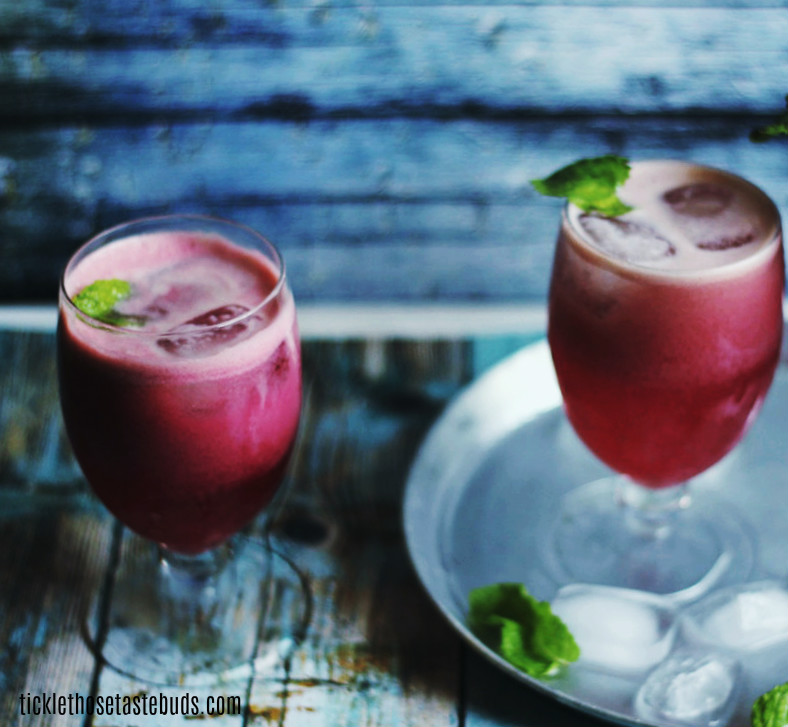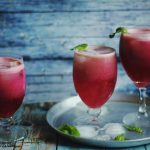 Print Recipe
Falsa Sherbet
Falsa Sherbet! Fresh, bright and refreshingly delicious, it's the perfect summer drink
Ingredients
1000

grams

1 Kilo Falsa

1.5

Cup

Sugar

(or to taste)

1

Tbsp

Black Salt

(Kala Namak)

1.5

Liter

Water
Instructions
Clean Falsa under running water and then soak in water for 15 minutes. Drain and rinse well. Now add Sugar and mix well. Let it sit for another 15 minutes

In a blender add half water, macerated berries, salt and blend until pureed

Strain it through seive, add more water if required to puree well and get all from the pulp

Taste test and adjust sugar and salt according to taste

Mix it up with a bit water to dillute it and get a more Sherbet like consistency. Serve chilled with ice and mint leaves
Notes
The strained mixture in step 3 can be stored by freezing. Use it as and when required To make this Falsa Sherbet a bit more fancy try adding Sprite or 7Up in place of water
For Your Pinning Pleasure