Growing up in Pakistan and being from Lahore – city with rich food culture, my experience has been filled with food, rich flavours, culture and a profound adoration of hospitality. Being a culinary centre, the city of Lahore offers a variety of cuisines from all over Pakistan, local Punjabi cuisine, and dishes from the Mughal era. One of those dishes is the popular, majestic Nihari – a slow-cooked (stewed) beef shank in a thick and richly spiced gravy.
Nihari is one of the dishes that bring back fond memories from my childhood. Waking up early in the morning on weekends and driving to our favourite Nihari place Mohammadi Nihari. Boasted as the best nihari place in Lahore (which is undeniably true); a fresh plate of the extravagant Nihari, served with Khameeri roti / Kulcha (leavened baked flatbread) is a delightfully indulgent experience.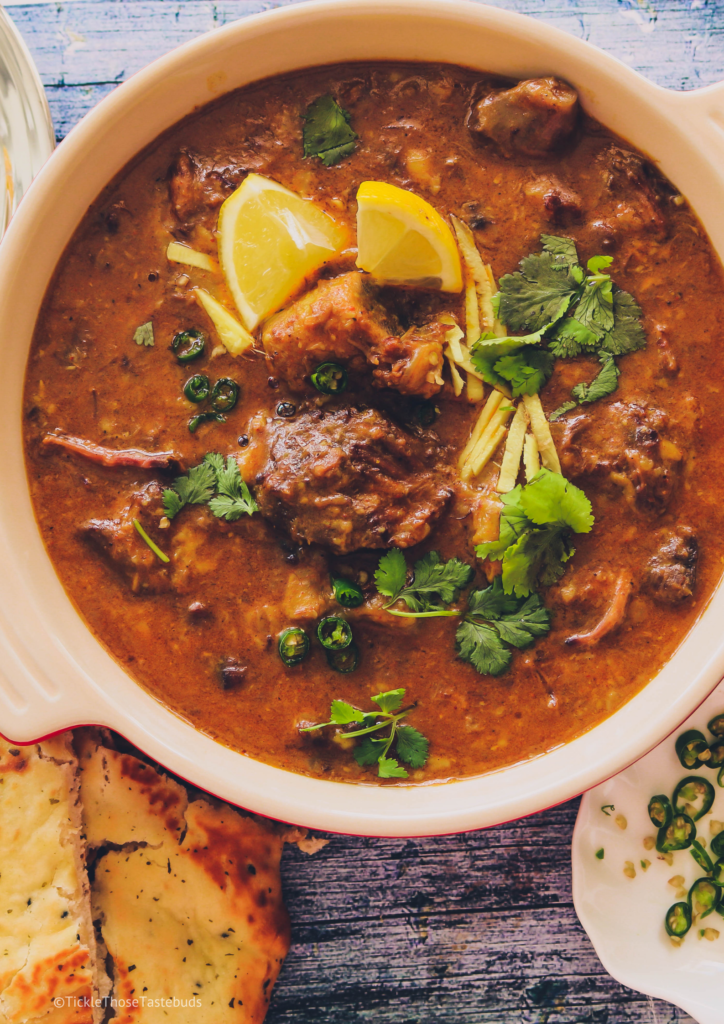 The Majestic Nihari
There are many stories as to the origins of Nihari, but the popular belief is that it dates back to the 18th Century, the Mughal era. Nihari, the name comes from the Arab word "Nahar", meaning day or morning. It was served at sunrise as breakfast back in the day, but today its eaten at any time of the day. From the kitchens of royalty, Nihari soon became the breakfast of the labourers keeping them full and energised all day long. Still enjoyed by the labourers as breakfast, the others enjoy indulgent weekend breakfast or dinner. Nonetheless, Nihari is a celebratory dish, an everyday dish, street food, home-cooked delicacy and simple comfort food.
What is Nihari?
Nihari is a stew dish from Pakistan and India prepared using beef or lamb shank in a rich, spicy gravy using the slow-cooking method. The dish is simple yet complex at the same time.
While the dish's simplicity is in the one-pot, slow-cooking method, the complexity lies in its glutinous, spicy gravy which has the perfect balance of spices. The silkiness and sheen on the Nihari come from the melted collagen. The meat cooked over an extended period of time at low temperature in the aromatic and spicy masala – Nihari Masala. In the slow-cooking process, the meat soaks the spices infused, and you get rich, flavour, soul-comforting Nihari.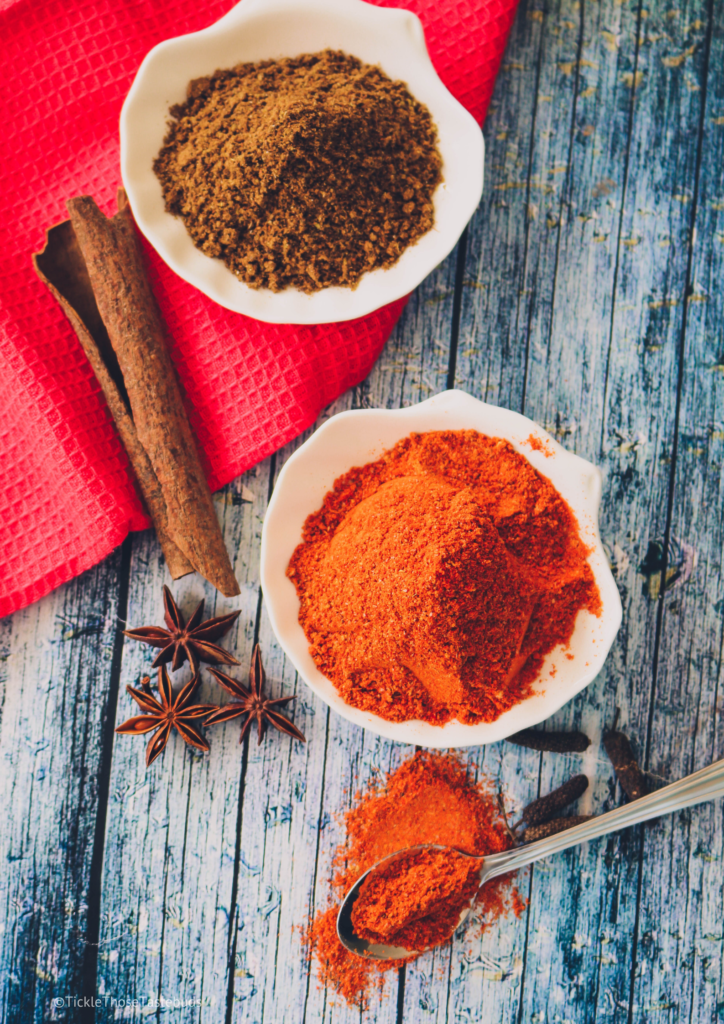 The magic ingredient – Nihari Masala.
The true essence of a perfectly balanced and flavourful Nihari lies in one magic ingredient, the Nihari Masala. This aromatic and delightfully spicy masala gives soul to the entire dish, as the meat soaks all the flavour of the Nihari Masala resulting in a rich brown gravy. Similar to garam masala, Nihari Masala is also prepared using whole spices like cardamom, fennel, cloves, cinnamon, cumin etc that are ground to a powder.
The Nihari Masala tastes best prepared fresh but can be stored in a jar for up to 6 months.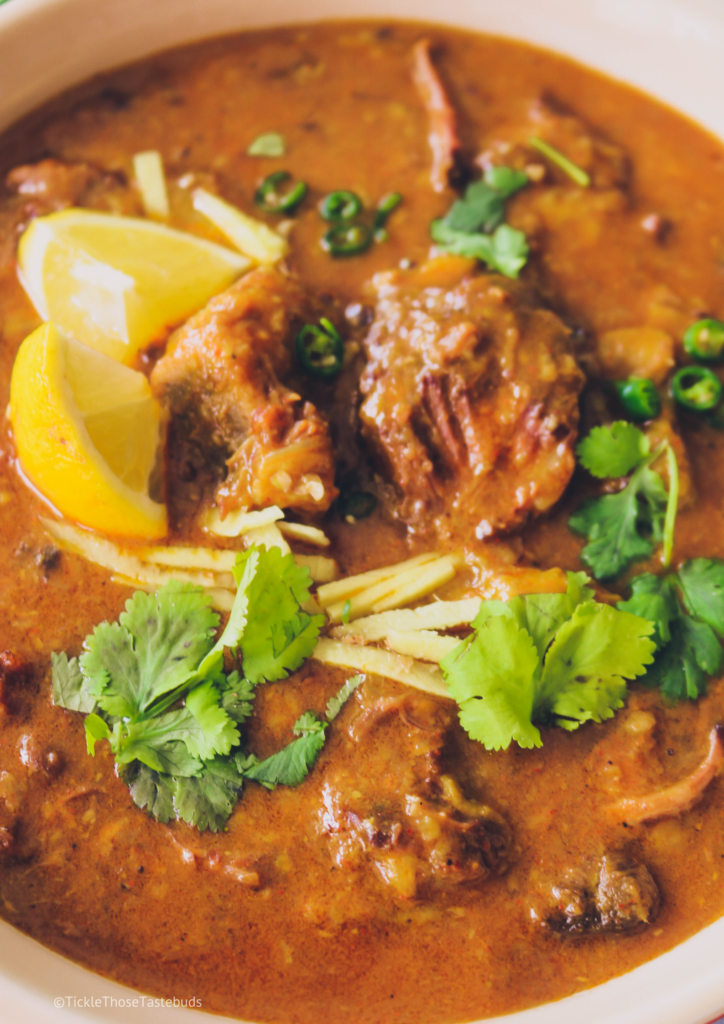 You'll Also Like
If you enjoy my recipes, I'd love for you to subscribe to my YouTube channel for Video Recipes
Beef Nihari
Pakistani style slow-cooked spiced beef stew prepared with beef shanks in a rich, flavourful gravy with homemade Nihari masala.
Ingredients
Nihari Masala (Spice Blend)
6

Tail Pepper

(Long pepepr, pipli)

1

tbsp

Black Pepper corns

3

Black Cardamom

8

Green Cardamom

2

Cinnamon Sticks

2

tbsp

Fennel Seeds (saunf)

1

tbsp

White Cumin

1

tbsp

Black Cumin

10

Cloves

2

Star anise
Whole spices for Nihari Masala
2

tbsp

Carom seeds

(Ajwain)

3

Bay Leaves
Nihari (For the Stew)
1

kg

Beef Shank meat

(cut in 1 1/2 inch pieces)

1/2

kg

Beef bones with bonemarrow

2

cups

Oil

1/2

cup

Ghee

3

tsp

Ginger paste

3

tsp

Garlic paste

3

tbsp

Kashmiri Chili powder

3

tbsp

Red Chili powder

2

tbsp

Salt

(or to taste)

1/2

tbsp

Turmeric

1

tbsp

Coriander powder

1/2

tbsp

Ground Nutmeg

1/2

tbsp

Ground Mace

1

tbsp

Dried Ginger Powder

(soonth)

1/4

tbsp

Citric acid

1/2

Cup

Wheat Flour + 1 cup Water

2

litres

Water

(approx 8 cups)
Tempering
1/4

cup

Oil

1

tsp

Garam Masala

1/2

tbsp

Nihari Masala
Garnish
1

inch

Ginger, julienne

4-5

Stalks

Coriander, Chopped

2-3

Lemon Wedges

Rogan (tempering)

2-3

Green Chilies, chopped
Instructions
Prepare Nihari Masala (Spice Blend)
Add all the Nihari Masala (spice blend) ingredients to a spice or coffee grinder and pulse until you have a nice powdery, fragrant spice mix – similar to garam masala.
To Make Nihari (Beef Stew)
In a large, heavy bottomed pan heat oil and ghee together over medium heat.

Add beef shanks and bones along with ginger and garlic paste and sear the meat till it changes to brown color. Add the coriander powder, salt, red chili powder, Kashmiri chili powder, turmeric, ground nutmeg and ground mace. Mix to coat the beef well with the spices.

In a muslin cloth add 2 tablespoons of the Nihari Masala (spice blend) and the whole spices for nihari masala and tie it tightly to make a potli (moneybag). Add the potli to the pan along with 2 litres (approx. 8 cups) of water. Let cook for 5 hours on medium-low heat.

After 2 hours, add 1/4 Tbsp citric acid to the pan and continue cooking for 2-3 hours on medium-low heat. Keep checking beef shanks in between, its cooked when it easily breaks with a wooden spoon. If its nice and tender take out and keep aside. Should not be too tender

When Nihari is about 40% done, beef is soft and tender, add the wheat slurry (mix 1/2 cup wheat flour with 1 cup water) slowly to the gravy. Mix well and taste check. Adjust salt if needed.

Bring it to a boil and cook on high heat for a few minutes to reduce the water. Then reduce the heat to low and let simmer for 15 minutes.
Tempering and Finising the Nihari
In a small pan heat oil, add 1 tsp Garam Masala and 1/2 tbsp Nihari Masala (or as per taste). mix until well combined.

Pour the tempering on the Nihari just before serving.

garnish with julienned ginger, chopped cilantro and lemon juice

Serve Khamiri roti or Naan and some extra garnish on the side.
For Your Pinning Pleasure