Dal Makhani (Black Dal) a popular dish from Punjab is a buttery and creamy, silky and luscious gravy with subtle spices and balanced flavours. The humble dal gets restaurant-style status when it comes to Punjabi Dal Makhani.
Dal (dried lentils) in all its varieties is pure comfort food. Popular across Pakistan and the Indian sub-continent dal is a staple in every household. A warm bowl of dal with ghee tarka (tempering) rice and achaar is an unmatchable meal.
Dal Makhani or Black Dal is a speciality dal served at restaurants worldwide. Loved for its silky, creamy texture and aromatic flavours, this Punjabi dish is heartwarming soul food. While there are a lot of varieties of lentils, for Dal Makhani it is the whole urad dal (black lentil).
In Punjabi cuisine, there is another popular lentil dish Sabut Maa ki dal, which is also known as the black dal. Cooked using the same whole urad dal (black lentil), the things that differentiate the two lentil recipes is the method, taste and the texture.
What is Dal Makhani?
Dal Makhani (pronounced Dal Makkh-nee) literally translates to Buttery Lentils, Dal (lentils) and Makhani (buttery). Named for its dairy-rich tomato gravy, this Punjabi curry has whole urad dal (black lentil) as the star ingredient of the dish.
This dal is creamy and rich and has a silky, luscious texture. Dal Makhani gets its buttery richness from slow-cooking the whole urad dal. Slow-cooking the dal for a good 4-6 hours mellows down the lentils, and as it continues to cook for long hours the lentils get even creamier.
Some recipes call for the addition of red kidney beans to Dal Makhani. It is a modern-day addition to the dish to add texture and colour to the gravy. The addition of red kidney beans also somewhat reduces the cooking time. Unlike the traditional method where dal was left to simmer overnight, the same creamy texture could be achieved combining both, black dal and red kidney beans. And of course, generous amounts of butter and cream completes a silky rich Dal Makhani (Black dal).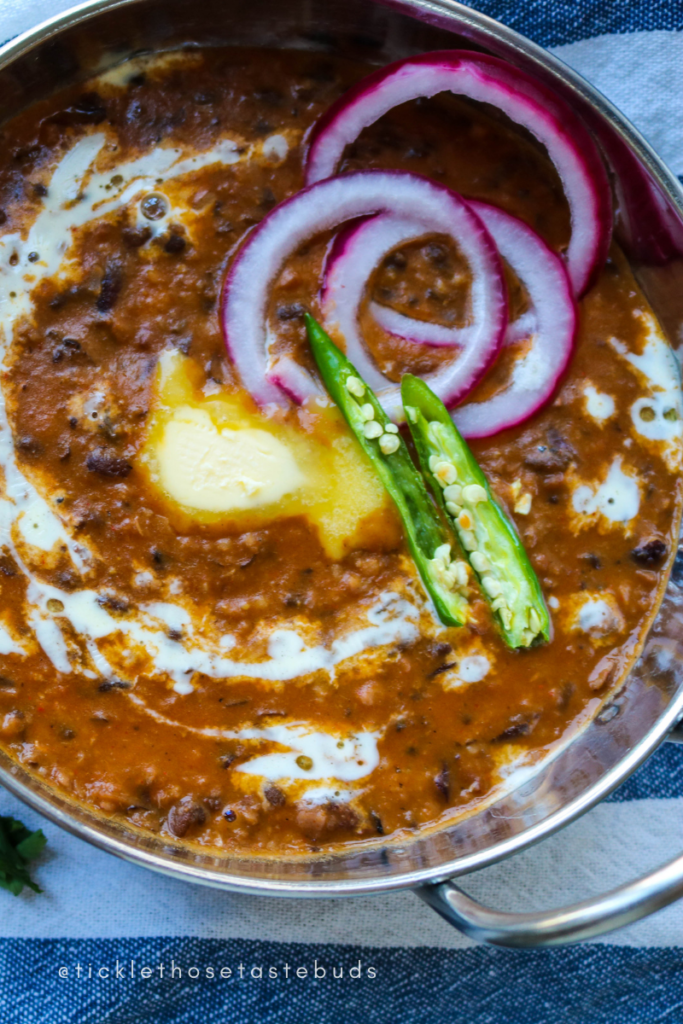 Dal Makhani (Black Dal) Recipe
Traditionally Dal Makhani was cooked overnight, slow simmering the lentils to make them soft and to bring out the creaminess. In the modern-cooking style, overnight cooking has been reduced to 4-5 hours using the slow-cooking method. You still get the same authentic taste though.
I prefer the slow-cooking method to make Dal Makhani. However, some people use pressure-cooker or an instant pot to save even more time. As I own neither, the recipe shared here is based on the slow-cooking method.
Ingredients
A few simple ingredients are all you need to make luscious, creamy Dal Makhani. Make sure not to miss any, for that authentic restaurant-style black dal taste. Detailed instructions and measurements are in the recipe card below.
Dal – The key ingredients for this recipe is the whole (black) urad dal
Tomato Puree – Use store-bought tomato puree for that restaurant-style taste. If using homemade tomato puree do add some tomato paste as it would give that nice rich flavour.
Ginger and Garlic – for aromatics
Spice Powders – Deggi Chilli powder, Garam masala powder and Salt. Dal Makhani has a mild spice, hence using fewer spices. Deggi chilli powder has mild heat and adds beautiful colour to the dish.
The Dairy – Ghee and unsalted butter are the base ingredients to prepare the dal for that authentic taste and richness. Cream to enhance the silkiness of the dal
Dried Fenugreek Leaves – A secret ingredient for that authentic Punjabi flavour to the dal makhani.
How to make Dal Makhani
Soak the whole urad dal overnight or for at least 4-6 hours
Tip the dal and rajma into a large saucepan and pour in enough water. Bring to a boil and cook until dal when pressed between fingers feels creamy and not grainy.
In a bowl mix ginger, garlic paste, tomato puree and the spice powders.
Strain the dal water and lightly mash the dal using a potato masher.
In a large pot heat the ghee and butter and add the aromatic paste. Saute until fragrant. Add dal and mix well.
Cover the dal with enough fresh water, bring to a boil and then lower the heat and simmer for 1- 2 hours, keep adding more boiling water until dal is creamier.
Add the cream and dried fenugreek leaves and cook for another 10-15 minutes.
Serve with tandoori roti, naan or chapatis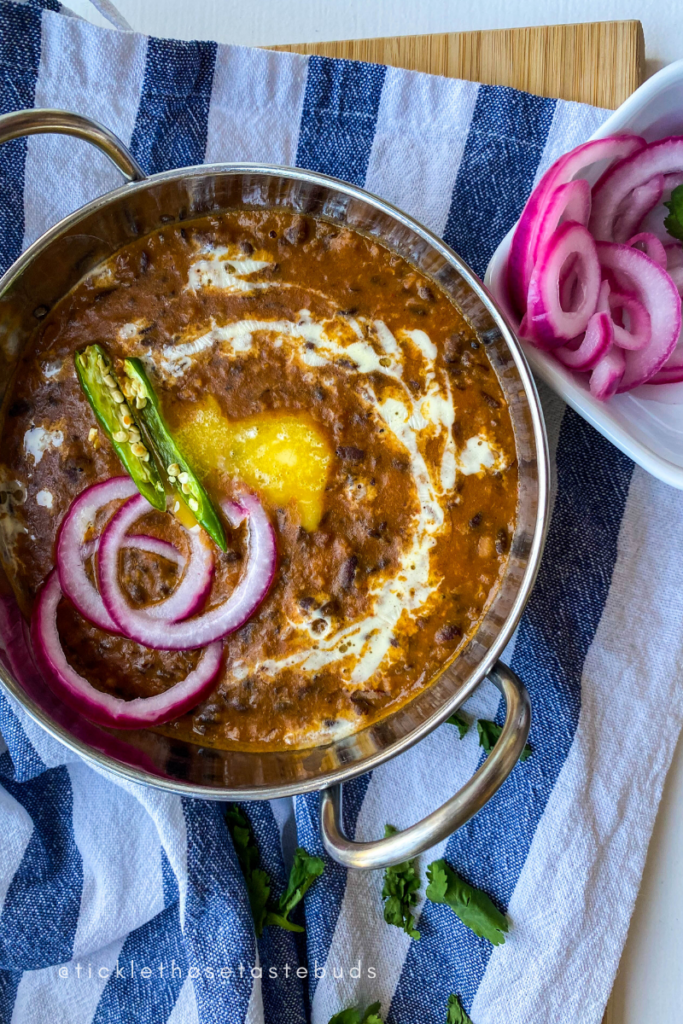 Tips to make the Best Dal Makhani
Dal makhani is not a complicated dish, it takes a good amount of time to cook but the result is well worth the wait. Here are some tips to make the best Dal Makhani and to achieve that restaurant-style flavors at home.
Use whole black lentils (sabut urad Dal) – for the authentic taste and texture use the whole black lentils, which are easily available in Pakistani/Indian grocery stores or online.
Soak the lentils – black urad dal is tough and requires longer cooking time, so pre-soaking dal overnight or for at least 4-6 hours speeds up the cooking time and also makes them easy to digest.
Slow Cooking – dal makhani gets the creaminess from slow cooking. It lets the flavours to meld. The lentils soak up the spices and soften as it's slow-cooked making it more smooth and creamy.
Resting – In addition to slow cooking, another key tip to perfecting dal makhani is to give it resting time. The more it rests the more rich and silky it gets in texture and all the flavours combine well
Batch Cooking or Make-ahead – This is a great make-ahead recipe. The dal tastes even better served the next day. You can easily store it in the fridge for up to 3 days and in the freezer for up to 6 months (before adding cream and milk).
Tomato Puree – for a smoother gravy and that restaurant-style taste use store-bought tomato puree. It has the right amount of sweetness and acidity that balances the flavours of the dal.
Magic Ingredient – Adding dried Fenugreek leaves (Kasuri methi) gives it that authentic Punjabi flavour while also elevating the overall flavour.
Butter & Cream – This dal is laced with a copious amount of butter and cream, so no compromise there. As the name is Dal Makhani (buttery lentils), butter and cream give it that rich, creamy and velvety texture.
Serving Suggestion – serve warm with tandoori roti, naan or chapati with some cream and a dollop of butter.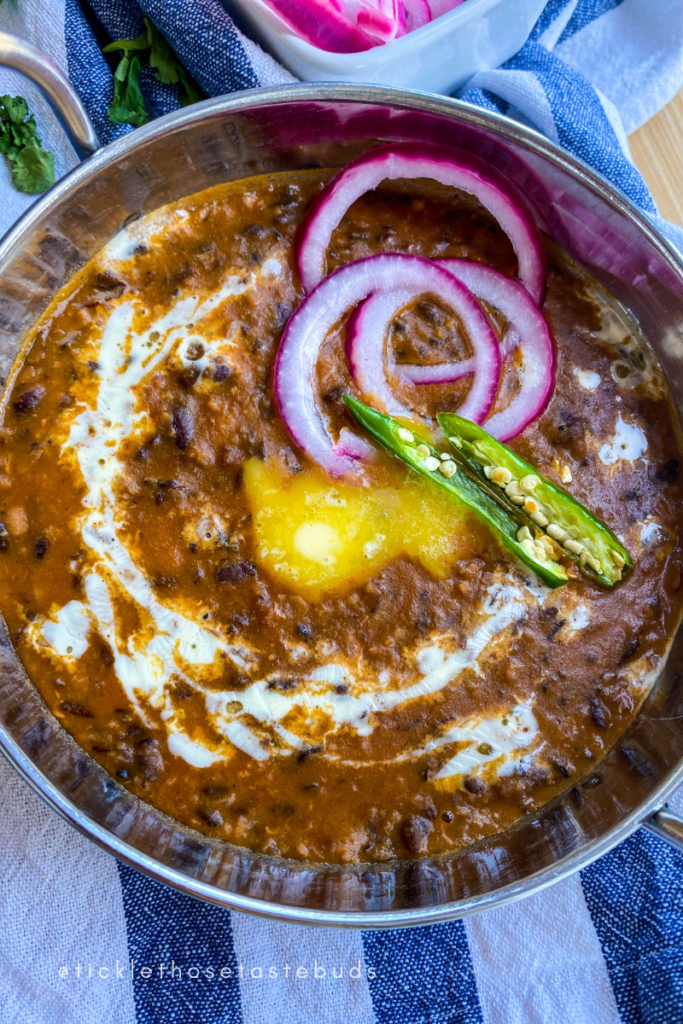 You'll also like
If you enjoy my recipes, I'd love for you to subscribe to my YouTube channel for Video Recipes
Punjabi Dal Makhani (Black Dal)
Punjabi Dal Makhani (BlackDal) a popular vegetarian lentil dish from Punjab, is an indulgent dal with buttery and creamy gravy, subtle spices and balanced flavours.
Ingredients
1.5

Cup

Whole Black Lentils (washed and soaked in plenty of water overnight or for at least 4-6 hours)

(300 grams Whole Urad Dal)

4

liters

Water

(approx. 16 cups)

2

tbsp.

Ghee

(clarified butter)

4

tbsp.

Unsalted Butter

1

tbsp.

Ginger Paste

1

tbsp.

Garlic Paste

3/4

Cup

Tomato Puree

1/2

tsp

Deggi Chili Powder

1

tsp

Salt

(or according to taste)

1/2

tsp

Garam Masala Powder

1/4

Cup

Double Cream

1/2

tbsp.

Dried Fenugreek Leaves

(Kasuri Methi)
Instructions
Drain the dal and put in a large pan and cover with 4 litres of cold water or as needed. Water should be approx. 3cm above the lentils

Bring it to a boil, then lower the heat to simmer. Cook covered for 2 hours stirring in between and adding more boiling water if needed. Cook until dal is soft, the skin is coming off it and when pressed between the fingers the white part is creamy and not grainy. Turn off the heat, strain and lightly mash the dal with the back of the ladle or a potato masher.

In a heavy-bottom pan heat ghee and unsalted butter. Add ginger and garlic paste and saute until fragrant.

Now add the tomato puree, deggi chilli powder, garam masala and salt and mix well. Cook on medium heat until ghee speaprtes on the sides.

Add the lentils and mix until well combined. Add boiling water enough to cover the lentils by about 4 cm. Bring to a boil over medium-high heat and continue stirring for about 30 minutes.

Lower the heat and let simmer for 1-2 hours (ideally 2 hours), stirring in between and adding more boiling water if the liquid is drying out. Eventually, the consistency will be thick and creamy.

Add cream and dried fenugreek leaves and cook for additional 15 minutes.

Serve Dal Makhani with more cream and dollop of butter with Naan, Tandoori Roti or Chapati
Notes
This recipe is adapted from Dishoom cookery book
This recipe is gluten-free and suitable for vegetarians
Substitution: If you can not find whole urad dal, you can use Split Urad Dal ( split black gram) and add 1/4 cup of red kidney beans for creamy dal and texture.
Cooking Method: you can use a pressure cooker, slow-cooker or an instant pot to make this dal, if you use them to make other dal recipes. I prefer the stovetop, slow-cooking method (and I don't own any of the above-mentioned products)
Make Vegan Dal Makhani: simply swap ghee and butter with oil and cream with coconut cream or cashew paste. Home-made cashew paste – blitz some cashews with water and add that to dal.
Make it an everyday dal: reduce the amount of butter and leave out cream completely to make it an everyday dal.
Accompaniments: Serve dal makhani with a drizzle of cream and a dollop of butter. Pickled onions (sirke wali pyaz) are the best accompaniment with dal makhani. 
For your Pinning Pleasure