Ramzan Mubarik! It feels so great to be blessed with another month of Ramzan this year, an entire month of blessings, preparations for Roza (Fasting) and of course Food (both Suhoor and Iftar). No Iftar (meal for breaking the fast at Maghrib prayers) is complete without Chaat on the Iftaar table and no Chaat is complete without at least one or two chutneys in it. Here are the 3 Must Have Chutneys for Ramzan
Chutney is a flavor-enhancer for any Chaat or other fried items like pakora, samosay, kachori etc. It may vary in texture – can be sweet or spicy, smooth or chunky and generally includes a combination of vegetables, fruits or herbs.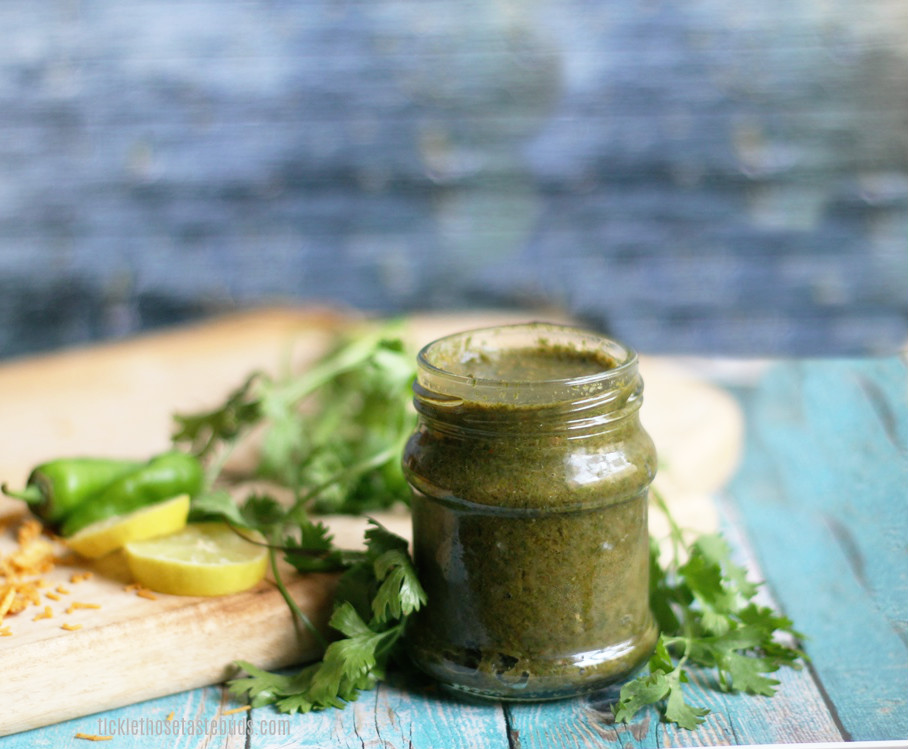 This Chutney goes with all types of chaats and other deep-fried snacks likes samosas, pakoras, kachoris to add freshness and heat. Mixing a few tablespoons of Green Chutney with plain yogurt makes it Raita (a minty sauce with creamy yogurt base) that's used as a condiment with Biryani, Pulao or Kebabs.
Mint Coriander Chutney (Green Chutney)
A full package of freshness, spiciness and tanginess combined makes it a favorite!
Ingredients
1

Bunch Mint Leaves

1

Bunch Fresh Coriander Leaves

(finely chopped)

1

Medium Sized Tomato

(chopped)

8-10

Garlic Cloves

2

Tbsp

Lemon Juice

3-4

Green Chilies

(sliced)

1/2

Tbsp

Salt or to taste

1/2

Tbsp

Red Chili Powder

1/2

tsp

Chaat Masala Powder
Instructions
Wash and chop the vegetables

Add all the ingredients in the blender, add 1 or 2 Tbsp of water so that the ingredients blend easily

Keep blending until all ingredients are well combined into a smooth paste.

Taste check, add more salt, red chili or lemon juice as required

Its ready! serve it as a dip, spread or condiment
Notes
This can be stored for about a week in the refrigerator This can be also stored be freezing and can be used as needed, just thaw and use. It'll become dark green in color upon freezing however the taste will remain the same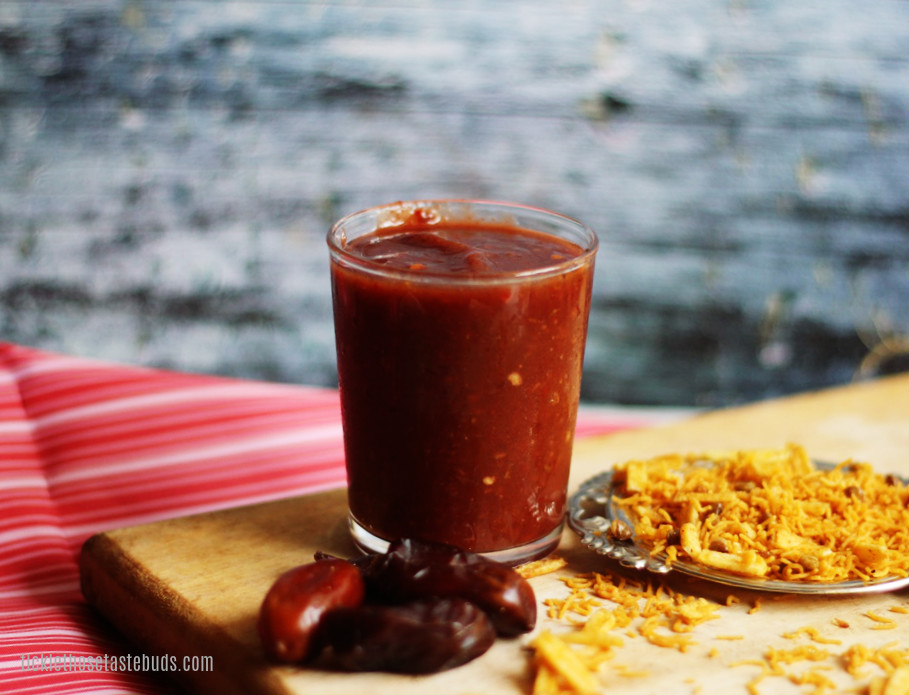 Tamarind and Date (Khajoor-Imli) Chutney – a sweet, spicy and tangy chutney made with tamarind and dates along with some spices making this a must have chutney for lip-smacking food. Sometimes used as a condiment with fried-food but mostly used as a sauce in chaats like Papdi chaat, Dahi Bhalla, Bhel Puri\
Tamarind Date Chutney (Imli-Khajoor Chutney)
A sweet and sour chutney a perfect accompaniment with fried-foods and chaat
Ingredients
1/2

Cup

Tamarind

(Imli)

1/2

Cup

Dates

(Pitted)

1/2

Cup

Brown Sugar

1/2

tsp

Dry Ginger Powder

1

tsp

Roasted Cumin Powder

1/2

tsp

Red Chili Powder

1/2

tsp

Red Chili flakes

(optional)

1

tsp

Salt or to taste

2

Cups

Water or as required
Instructions
boil the tamarind and dates in water

when they become soft add the brown sugar and the spice powders and salt. cook further till the sugar dissolves.

switch off the burner and let the mixture cool.

grind the chutney mixture to a smooth paste. sieve the chutney through a strainer. add more salt if needed.

if the chutney becomes too thick add some water to liquidize it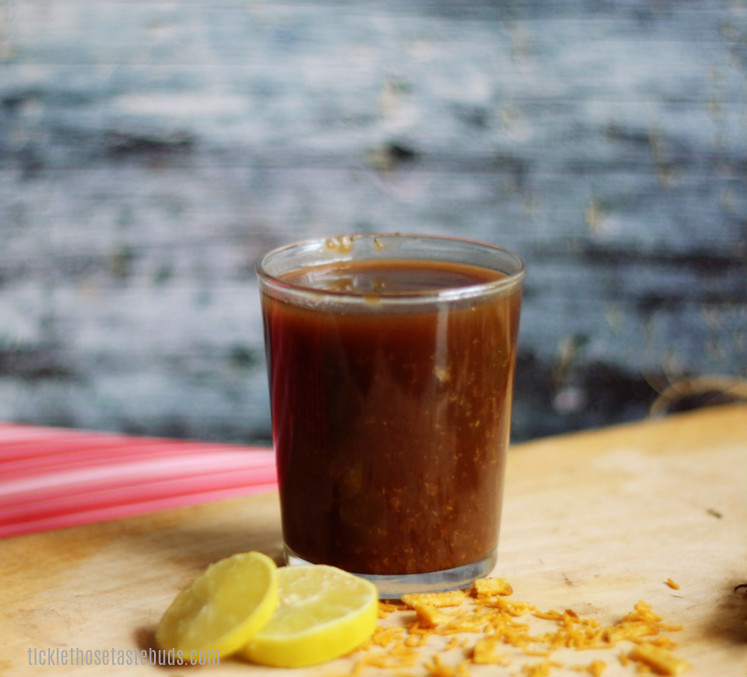 Tamarind (Imli) Chutney – a spicy and sour chutney made from tamarind and a few spices. This chutney has a liquid consistency and is a favorite one to add in all those Chaats to give it a more tangy flavor. Add it to your regular fruit Chaat for a kick of flavor and you'll love it even more. This chutney can be frozen up to a month.
Tamarind Chutney (Imli Chutney)
A spicy and sour chutney to enhance flavors in your chaat to make it more flavorful and delicious
Ingredients
1

Kg

Tamarind

(Imli)

1 1/2

liters

Water

1/2

Kg

Sugar

1 1/2

tsp

Salt or to taste

1 1/2

tsp

Red Chili Powder

1

Tbsp

Chaat Masala

1

Tbsp

White Vinegar
Instructions
Wash dried tamarind and soak in water over night

Sieve the soaked tamarind and transfer to a wok.

Add sugar and put it on medium heat, until sugar dissolves. Now add salt, red chili powder, chaat masala and white vinegar.

When it starts to thicken, taste check, add more salt, red chili as required.

Remove from heat, cool and serve it as a dip or condiment
These 3 chutneys are a must-have at my home during Ramazan and all year through. They make all those Chaats so much exciting and flavorful. Try these in your Iftar Chaats and enjoy lip-smacking deliciousness.
These also make great Ramzan gift items, prepare the chaats, transfer in storage jars, label them and tie a ribbon around the jar and gift it – Fancy yet useful gift.
You can also set up a Chaat station at the next Iftaar you're hosting, allow the guests to prepare their own chaat with all the ingredients set out on the table, some papri, boiled potatoes, boiled chickpeas, onions, sev and 3 must-have chutneys and you have your Chaat station ready!
Have a great Ramzan 🙂