This Independence day weekend I wanted to try a different breakfast. The French Toast addict in me wanted to have French Toast for breakfast but not the classic one. It had to be creative, glorious, delicious and something that's absolutely gluttonous, and that's when I came up with this spectacular Cheese stuffed French Toast with Ice-Cream recipe.
When all kinds of cravings combine you have this spectacular breakfast-dessert (as I call it) that is a beautiful composition of personal favorite combinations, cheddar and toast, ice-cream and pancake syrup, milk, sugar and cornflakes. This Cheese stuffed French Toast with Ice-Cream is not just another french toast recipe, its Restaurant Quality! (you've got to believe this when I say it, as if you have a choice)
Imagine the contrast of flavors so pleasantly presented: hot and cold, sweet and savory, crunchy and soft, all together in front of you one fine morning, the look of it will brighten your day and once you'll start eating, it'll be your best day ever! (OK that's an exaggeration but it is awesomely delicious)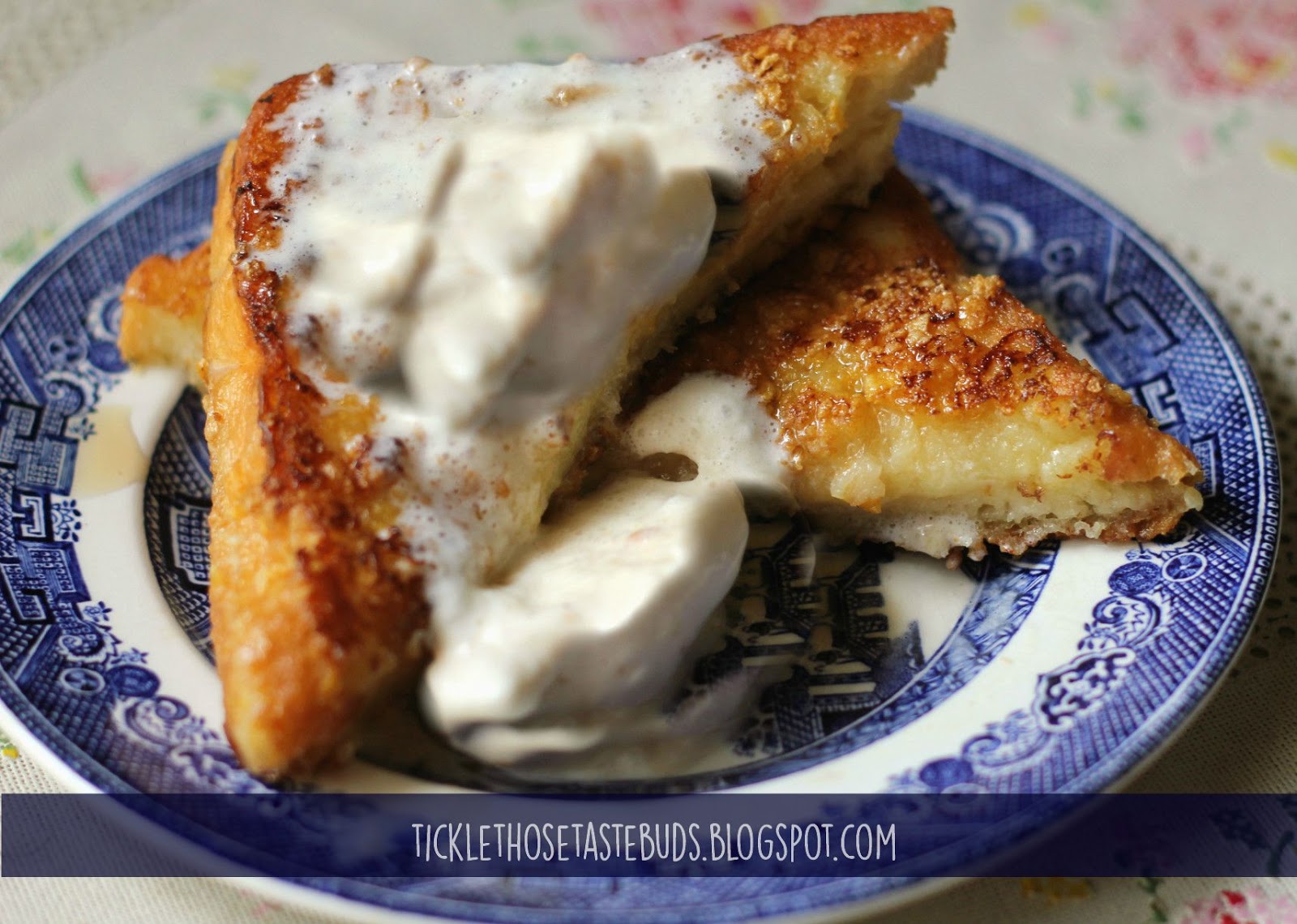 It's super easy to make and is packed with deliciousness. And the secret ingredient for it is of course Ice-Cream! You've got to trust me when I say this is the BEST French Toast recipe ever. Don't look any further for a perfect, restaurant style French toast recipe because you've found one and it'll become your favorite too.
I have other french toast recipes too, which you can find here, here and here but this one turned out to be the best for me.  
Have it for breakfast or make yourself a quick dessert, add in your favorite fruits and ice-cream flavors and indulge in deliciousness. So you've got to try this soon and that literally mean do it Now!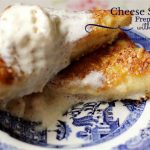 Print Recipe
Cheese stuffed French Toast with Ice-Cream
Wake up your tastebuds with cheesy, crispy and a glorious breakfast-dessert served with ice-cream and pancake syrup
Ingredients
2

slices

White Bread

(or any bread)

1

slice

Cheddar Cheese

1

Egg

2

Tbsp

Sugar

4

Tbsp

Milk

1/4

tsp

Vanilla extract

(optional)

1/4

tsp

Ground Cinnamon

(optional)

1/2

Cup

Cornflakes

(coarsely crushed)

3-4

Tbsp

Butter

(or as needed)

1

scoop Praline Ice cream

(or any other for serving)

Pancake Syrup or Maple Syrup for serving
Instructions
In a shallow dish whisk together egg, sugar, milk, vanilla extract and cinnamon. Set aside

Put the crushed cornflakes in another shallow dish

In a non-stick skillet melt butter over medium-low heat

Arrange the cheese slice between two bread slices, making a sandwich. Dip this sandwich in the egg mixture allowing the bread to soak up some of the mixture,turning sides to coat

Then coat the sandwich with crushed cornflakes gently pressing while coating so that it sticks together and coats it completely

Transfer the sandwich to the skillet and cook until golden brown and crisp (make sure the cornflakes coating doesn't burn)

Transfer to the serving plate, slice it diagonally. Drizzle pancake syrup over it and serve with a scoop of ice-cream
Notes
Serving Ideas:Butter, berries, seasonal fruits, confectioners' sugar, your choice of ice-cream