Cravings for desserts intensifies in winter season and that too for home-made warm halwas and desserts. While Gajjar ka halwa (Carrot Halwa) is the ultimate winter treat, so is the other variety of halwas and desserts, and in that variety of desserts comes the very royal Qawami Seviyan
Seviyan is a sweet prepared by roasting seviyan or vermicelli and cooking it with sugar and milk. Normally seviyan are associated with celebrations of Eid in the Muslim community but if you have a sweet-tooth every day is a celebration 😉 and you don't need a reason to satisfy that seviyan craving of yours 😀 (Well, that's how I am – and not guilty)
Out of all the varieties of seviyan, Qawami Seviyan are a favorite. Qawami Seviyan has its origin from the culinary rich heritage of Lucknow – a cuisine of royalty and the name Qawami is derived from Qawam meaning Sheera in Urdu and Sugar Syrup in English. While mostly seviyan are prepared with thickened milk and are milky, Qawami Seviyan are prepared a bit dry and are laced with sweetness.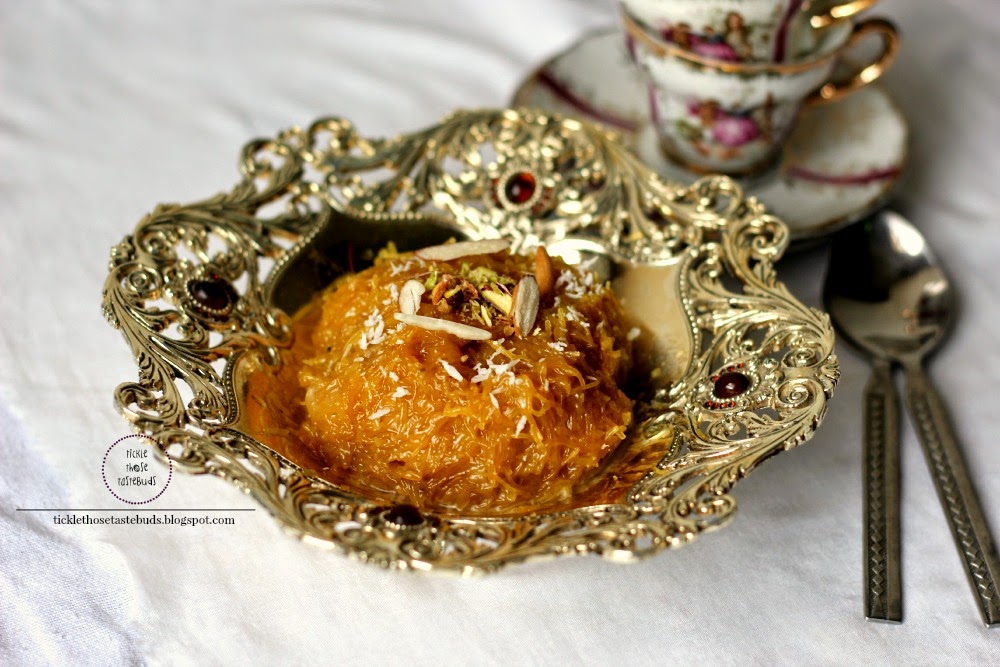 I was first introduced to this Royal Lucknowi Dessert in my childhood, when our next door neighbor aunty sent us Qawami Seviyan on Eid day. I had one spoon of it and was in love with it instantly. Her family had migrated to Pakistan from Lucknow in India,so the authenticity of flavors and richness of culinary traditions were there in the seviyan – and the flavors did their magic. Our family loved it so much that on Eid days we'd wait for her Qawami Seviyan and she knew it too how much we loved it :). She also shared her recipe with my mother and that's how we started making it in our home too. Having good neighbors is a blessing – no doubt! Although my neighbor aunty is no longer among us, May her soul rest in peace (Amen) but to this day I am so very thankful to her for introducing me to this amazing dessert.
The procedure for making Qawami Seviyan is very simple and it has a very unique flavor, as its laced with sweetness so the sugar content is high but to balance it out, it is eaten with whipped cream or fresh cream (balai). You can always adjust the sweetness according to your taste. When decorated with silver leaf (chandi ka warq), chopped nuts and topped with dollop of cream this dessert surely is a complete Royal Treat!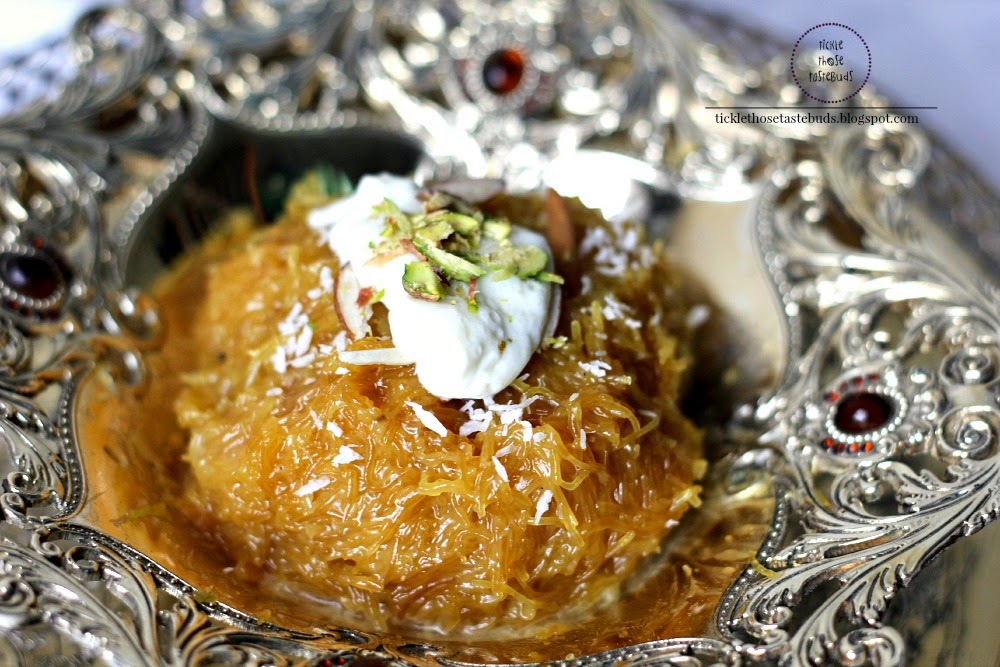 I could not find the silver leaf so the pictures are without it. But just look at that, don't you feel like grabbing a spoon and indulging your sweet tooth with Royal Treat?
Try it out and let me know by commenting below. I'm sure you'll love it too!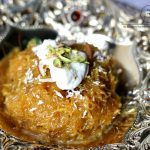 Print Recipe
Qawami Seviyan
Vermicelli laced with sweetness and topped with chopped mixed nuts and fresh cream (balai)
Ingredients
250

grams

Vermicelli

(Seviyan)

1/2

Cup

Clarified Butter

(Ghee)

3-4

pods Green Cardamom

4 1/4

Cups

Milk

1

Lemon

(juice)

1

tsp

Kewra Water

(Panadanas Water)

1/4

cup

slivered almonds

1/4

cup

slivered pistachios

1/4

cup

desiccated coconut
Sugar Syrup
1 1/4

Cup

Water

2

Cups

Sugar

1/4

tsp

Yellow food color
Instructions
In a pan add all the ingredients of sugar syrup and cook until the sugar dissolves. Let simmer for 3-4 minutes and turn off the heat

In an another heavy bottom pan add clarified butter (ghee) and pods of green cardamom, split open to begin tempering. When it gets aromatic, add vermicelli to the pan and roast it until dark brown in color. keep stirring so that they don't burn

Now add milk to the pan along with lemon juice,turn the flame to high and cook until the milk is absorbed.

Add to it the prepared sugar syrup and kewra water. When it starts to bubble, turn the flame to low and cover with a lid. Cook until the milk is absorbed and vermicelli is cooked completely

Take out in the serving dish, sprinkle with nuts, desiccated and decorate with silver leaf

Serve warm with whipped cream or fresh cream (balai)
Notes
This can be stored in freezer for a month and can also last long in the refrigerator too Pakistani/Indian vermicelli works best for this recipe but it can be substituted with any vermicelli variety