Have you ever known someone who doesn't like tomatoes but loves all those spaghetti, pastas, pizzas and tomato sauce? Well, Hello There! (hand wave) – I don't like raw tomatoes. They look good with that bright red color, they smell good too but I just don't like the flavor. And when it comes to cooked versions nothing like a tomato base for all these delicious dishes. I never really liked tomato soup either because once I tried that packaged one and it ruined the Tomato Soup experience for me, until recently when I actually tried this fresh Roasted Tomato-Basil Soup my whole world changed!
Fresh fruits and vegetables always, always taste better. In fact any fresh produce tastes better whether home-grown, organic or fresh from the grocery store, dishes prepared with fresh produce always taste amazing.
When it comes to soups in cold winter nights I've always loved having Chinese Hot and Sour soup or the Szechuan Soup as both are so rich in flavors and spice levels that they completely warm you up and it's also so comforting. This time around when I tried a bowl of creamy tomato-basil soup on a cold winter afternoon it felt so good and equally comforting. The flavors were so rich and the texture was very nice, creamy and velvety, I just loved it!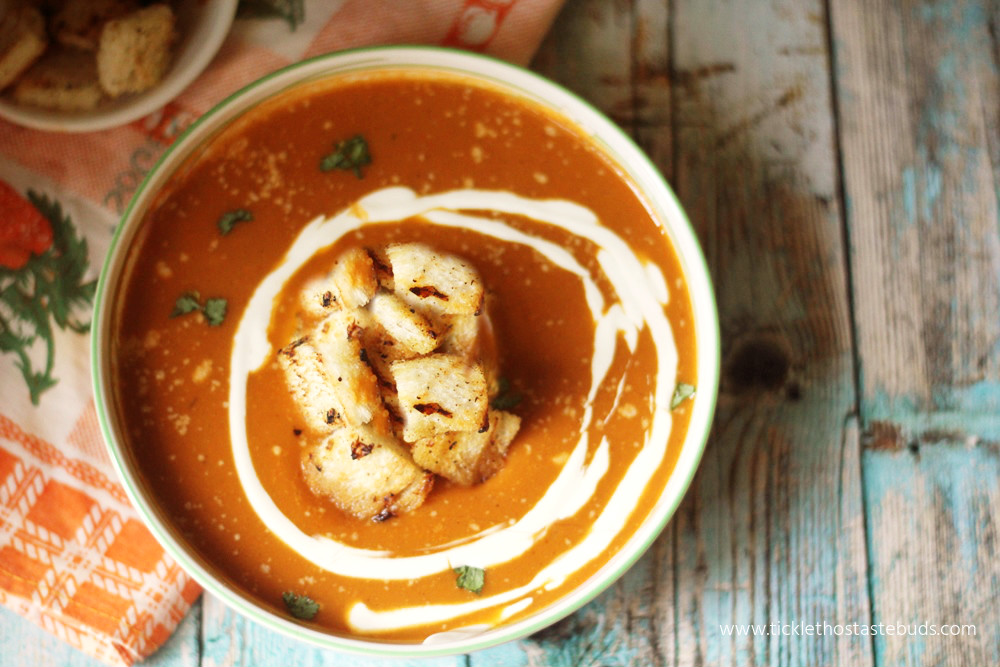 I'm the kind of person who just loves soups, no matter what the season and I think soups shouldn't be associated with seasons like falls and winters you can have exciting soups in summers too with a variety of vegetables. While this bowl of creamy, roasted tomato-basil soup is very comforting in winters, it also makes an excellent summer meal too. A bowl of this soup, some garlic bread and fresh salad – light, healthy and delicious meal.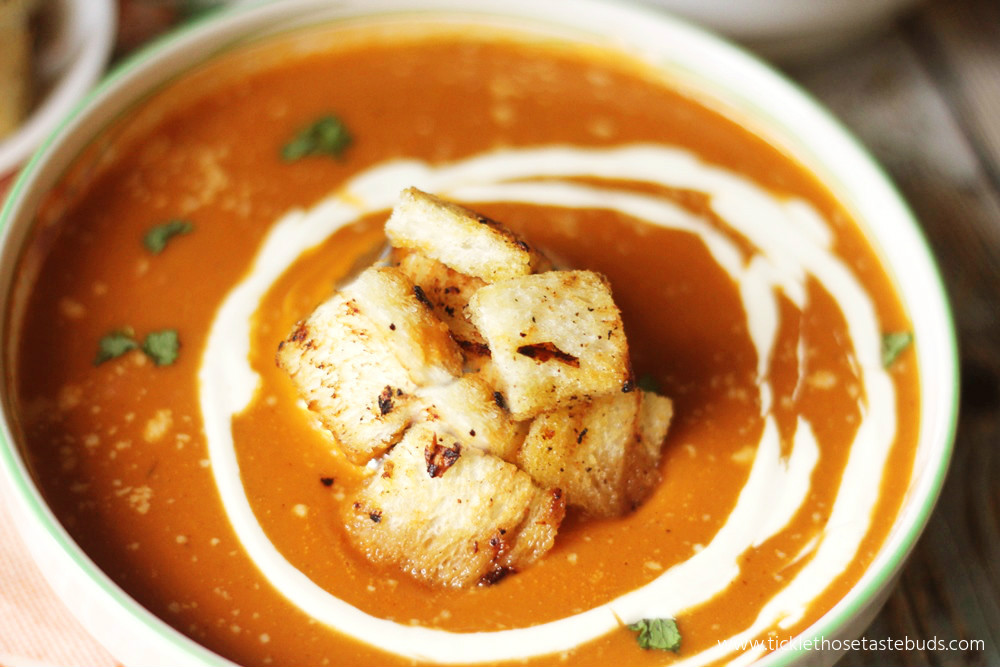 I made this soup by using fresh tomatoes and roasting them in a grill pan however you can always roast tomatoes in the oven. In this recipe there are no canned tomatoes and no cream either, so it's completely healthy.

After making this soup and having it I can safely say there's nothing like a soup made from Fresh Tomatoes and I'm sure once you try it, you won't want it any other way either. To make it more delicious I sprinkled some Parmesan Cheese before serving, some cream swirls for presentation and crispy garlic croutons for some texture and crunch.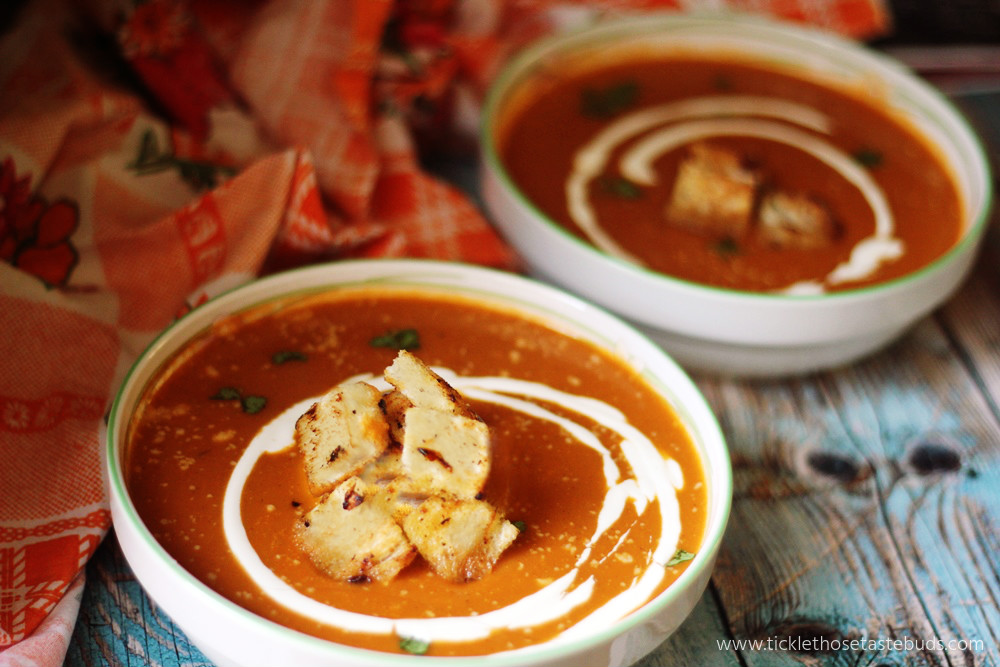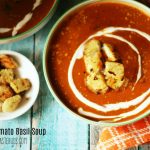 Print Recipe
Roasted Tomato-Basil Soup with Garlic Croutons
Gorgeous looking, creamy (non-dairy)and flavorful Roasted Tomato-Basil Soup with crunchy garlic croutons – just like a comforting hug in a bowl
Ingredients
2

pounds

Ripe Tomatoes

1/4

Cup

extra-virgin Olive Oil

1/2

tsp

Salt
For the Soup
1

Cup

Onion

(chopped)

1

Carrot

(sliced)

1

Potato

(grated)

6

Garlic Cloves

(minced)

1/2

tsp

Basil leaves

(dried (if using fresh leaves use 1 cup))

1/2

tsp

Thyme leaves

(dried)

1/4

tsp

Black Pepper corns

1

Green Chili pepper

1

Tbsp

unsalted Butter

2

Tbsp

Olive Oil

1.5 – 2

cups

Chicken Stock or water

Parmesan Cheese

(grated for garnish)

Cream for garnish
For Garlic Croutons
2-3

Bread Slices

(cut in cubes)

1

Tbsp

unsalted Butter

(melted)

4

Garlic cloves

(minced)

1/2

tsp

Italian herbs

1/4

tsp

Salt

(or to taste)

1/4

black pepper
Instructions
Roast the Tomatoes: Heat the grill pan on the stove. Cut the tomatoes in half lengthwise. Arrange the tomatoes, cut-side up on the grill pan. Drizzle olive oil and sprinkle salt. Roast until tomatoes are soft and you get charred sides.

Make the Soup:In a wok or a large pan heat the butter and olive oil togethe. Add onions and cook until soft, add garlic saute for a minute and then add carrot, potato and roasted tomatoes. Give it a stir and add basil leaves, thyme, salt and Chicken Stock. Bring it to a boil and then reduce heat and let it simmer until it thickens. Now transfer the soup to the blender, add black pepper corn, green chili and blend into a smooth puree. Strain and transfer to the wok again and let it simmer for 5-10 minutes. It will thicken a bit.

Garlic Croutons In a bowl mix together melted butter, garlic, salt, pepper, and Italian herbs. Toss in the bread cubes so that they're evenly coated. Heat the grill pan and toast the cubes until crisp and golden

Serve the soup garnished with cream, Parmesan cheese and garlic croutons