Happy Father's Day to all the Dad's of the world. We don't express our feelings to our dads mostly, but there's hardly anything we can do without them. Like they say " When all else fails, call dad!"
This father's day just say it to him, how much he means to you and make it extra special for him. My father is the best father in the whole world, I know everyone says that but he really really is. He has been there throughout supporting and encouraging me to whatever I ever wanted to do. He encouraged me to go for all those crazy ideas that I ever had and I'm glad I did!
Being a father to his 3 daughters, he never felt his daughter's are less than any son. Be it education, hobbies, future planning, hardships of life or anything, he has been my support system all in all. This father's day I not only said it to my father how much I love him, but also shared this with so many others who wanted to say the same to their fathers. All this through my Father's day Chocolate Bouquets and Chocolate Date Truffles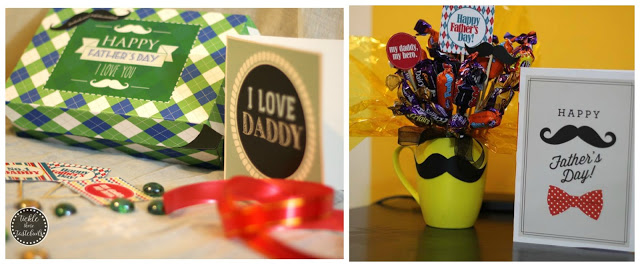 I just love doing this, making other happy, sharing love and bringing smiles. It brings so much joy to me, its amazing. While that's what I did for clients, for my father I planned to make it special for him this Father's Day. My father likes Savory Food, so it had to be the same and that's when I came up with the idea of making Baked Chicken Cheese Discs.
If you've been following my blog and reading my posts, I shared a Creamy Chicken & Spinach Bake recipe here. I improvised this recipe and turned it into these delicious, crispy and cheesy discs. I'm sure you'll love these!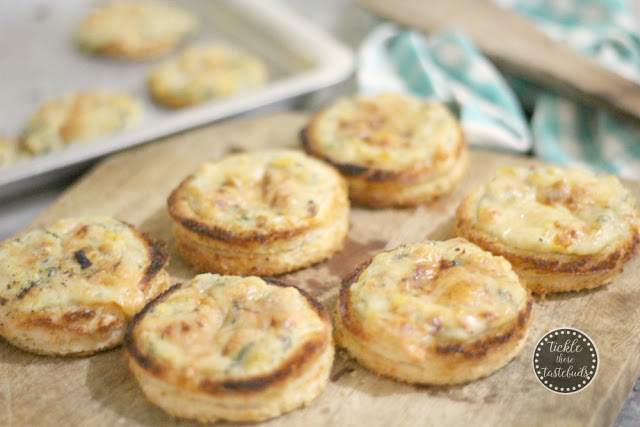 And the best thing about them is, you can fill up with your choice of filling and enjoy it as you fancy. Plus, these make a perfect Appetizer and Party Food. So, please your guests with this delicious appetizer.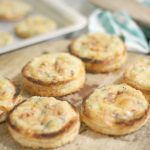 Print Recipe
Baked Chicken Cheese Discs
Baked Chicken Cheese Discs! The easiest appetizer to wow your guests, flavorful, crispy, cheesy and delicious.
Ingredients
For Baked Chicken Filling
4

Tbsp

Unsalted Butter

2

Tbsp

All-purpose Flour

1

Cup

Milk

1/4

Cup

Cream

1/2

tsp

Salt

(or to taste)

1/2

tsp

Black pepper powder

1/4

tsp

White pepper powder

1

Cup

Chicken

(boiled and shredded)

1

Potato

(boiled and mashed)

1/2

Cup

Spinach

(boiled)

1/2

Cup

Sweet Corn
For Herb Butter Spread
3

Tbsp

Salted Butter

3

Tbsp

Cheese Spread

1/4

tsp

Italian Seasoning

1/4

tsp

Black Pepper powder

1

Garlic clove

(minced)
Other Ingredients
12

Bread Slices

1/2

cup

Cheddar Cheese

(grated)

Oil for brushing
Instructions
For Baked Chicken Filling: In a heavy bottom pan, melt butter over medium heat, add flour and mix until foamy. Now add milk stirring continuously using a whisk, to avoid lumps. Let boil and thicken. Remove from heat and add cream along with all the seasonings, now add chicken, potato, spinach and mix well. It will be thick in consistency

For Herb Butter Spread: In a bowl, mix together all the ingredients into a smooth spread

For Bread Discs: Take take two round cutters, one big and the other almost two size smaller than the big cutter. Cut each bread slice with the big cutter and to make a pair cut one of each pair with smaller cutter, making a ring.

Assembling: Generously spread Herb butter on the whole disk and put the bread ring over it, press slightly.Fill the ring with the prepared baked chicken filling and sprinkle grated cheese on the top

Preheat the oven to 180 degree Celsius. Lightly grease the baking tray with oil, place all the discs on the baking tray. Using a brush apply oil to the sides if the disk so its turn crisp and golden. Bake for 8-10 minutes or until cheese melts and discs are golden and crisp. Serve hot!
Notes
Veggie Lovers can skip chicken and add their choice of vegetables, capsicum, carrots etc. This can be made with any type of filling, make it as healthy as you want and as cheesy as you fancy