Mutton Trotters or Mutton Paya Curry is a succulent and delicious Pakistani recipe, one that almost every person loves having. It's so versatile that you can have it for breakfast, serve in the afternoon meal or for dinner, it's loved the same way. As Eid-ul-Adha is almost here, I'm pretty much excited to have these Mutton Trotters being prepared at home by my mother. She makes the best ones, the ones rich in flavor and cooked to perfection (she's a perfectionist – that's where I inherited it from 😛 )
Mutton Trotters or Paya Curry (Paya is the Urdu word for "Trotters") is a thick broth prepared with trotters (feet of goat or lamb) bones from the leg with rich gelatin covered marrow with meat. It's traditionally cooked on slow-heat overnight or for some good 6-7 hours in flavorsome spices. Making this dish a real treat for the tastebuds.
Like Biryani, Mutton Trotters recipe varies across different cultures, even in the same country. It's served best as a breakfast dish and goes really well with Naan, Roti or even rice. The broth also has medicinal properties and is often recommended for recuperating patients for nourishment. This recipe of Mutton Trotters that I'm sharing is a very simple one and if done right it'll become your favorite dish too.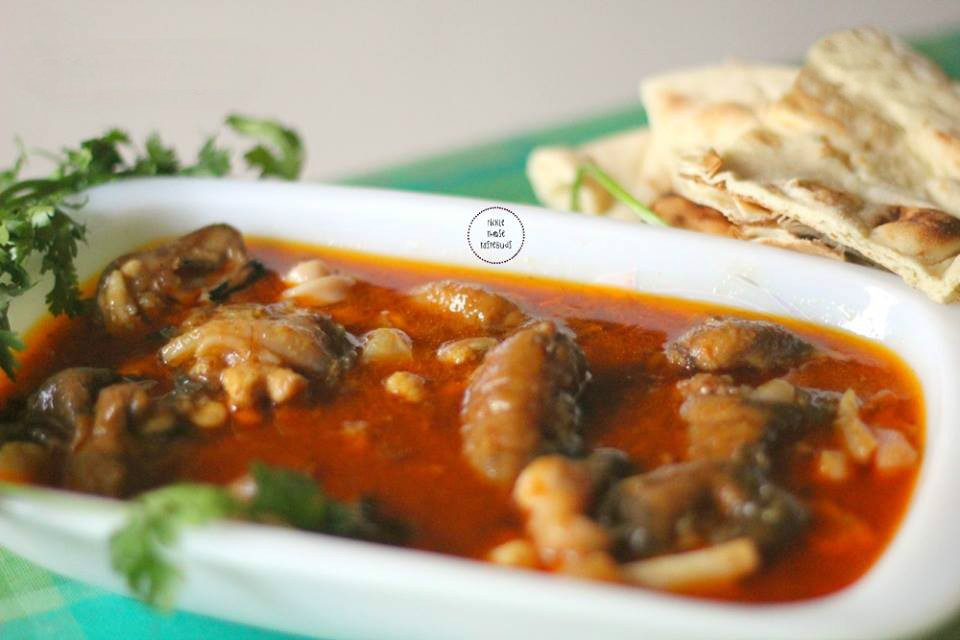 The most important part of the recipe is cooking the broth right, the longer cook time enables to extract the gelatin from the bones well and makes the broth richer. You can use a pressure cooker too but In my home we use the traditional slow cooking method. The second thing to keep in mind is the cleaning of the trotters. If the trotters are with hairy skin, it has to be burned carefully to remove the hair (ask your butcher to do that for you) and then rinse them clean.
Prepare this finger licking dish this Eid and enjoy the desi flavors.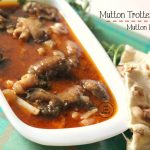 Print Recipe
Mutton Trotters (Mutton Paya Curry)
Mutton Trotters Curry! Succulent Mutton trotters cooked to perfection in a rich, spicy and finger-licking curry
Ingredients
For Boiling
4-6

Mutton/lamb/goat Trotters

10 – 12

Glasses of Water

4-6

Garlic Cloves

1

tsp

Ginger paste

1

Onion

(chopped)

1/4

tsp

black pepper corns

1

tsp

whole cloves

2

Bay leaves

4

Green Cardamoms

1

Black Cardamom
For the Gravy
1

Cup

Ghee/Oil

1

large Onion

(paste)

1

tsp

garlic paste

1

tsp

ginger paste

1 1/2

tsp

Red Chili Powder

1

tsp

Salt or to taste

1/2

tsp

turmeric powder

1

tsp

Coriander powder

Cooked Mutton Trotters

Mutton Trotter Soup
Instructions
Clean and scrub the mutton trotters with whole wheat husk, leave it on the trotters for 5 minutes and then rinse well

Now boil Mutton Trotters with the boiling ingredients listed, after the boil, simmer on low-flame for 4 hours until soft.

In another heavy-bottom pan add oil and onion paste, saute until golden. Now add the garlic and ginger paste and cook till golden and fragrant

Now add all the spices and cook together into gravy masala. Add the cooked mutton trotters to the masala and mix until coated well. Cook on high flame for 3-4 minutes, till the oil/ghee is released

Add to it the Trotters Soup (strained from whole Garam Masala)and bring it to a boil. Lower the flame and let it simmer till the gravy thickens to your desired consistency

Serve with Naan, Roti or Rice