It's Eid time .. we are still in the Eid break mode and this will continue throughout this week too, which is completely fine with us. We are having all kinds of delicious treats and totally loving it. This year around for Eid I wanted to make something different, not a traditional sweet dish (though I made one too) so I made this amazingly delicious Mango Mousse Tart
This recipe of Mango Mousse Tart is a No Cook and No Bake version, so you can imagine how simple it is to make and just look at it doesn't it scream delicious? I know it does, because it is!!! If you want to make a dessert that's really really simple and would earn you a lot of praise then you've got to make this Mango Mousse Tart and enjoy everything about it. Pssst… this is a great dish to impress your family, hubby or your in-laws 😀
Eid this year came in the summer season which happens to be a mango season as well and I couldn't think of a better combo than this, Eid + Mangoes = Mango-licious Eid! Also, this Eid is known to be Meethi Eid (Sweet Eid) and generally a lot of sweet dishes are prepared, the sweetness just got doubled with the mangoes. We've been feasting on Mangoes and still can't get enough of it. Everyone in my family LOVES mangoes. I thought of treating my family with this dessert and they all loved it.
Pakistani mangoes are known all around the globe for their distinct flavor, exquisite taste and sweetness. This is one fruit that is known to be The King of Fruits and is the best of its kind. We're lucky to have all the variety of mangoes here in Pakistan and enjoy having it too. Love Mangoes!
You must have tried making Mango Mousse before too, since mangoes are in season everyone tries making all kinds of dishes with it and mango mousse is one them. But you might not have tried this recipe for Mango Mousse Tart. It has mango mousse but with a base of biscuits. Yes! that's why we're calling it a tart and that too a no cook and no bake one.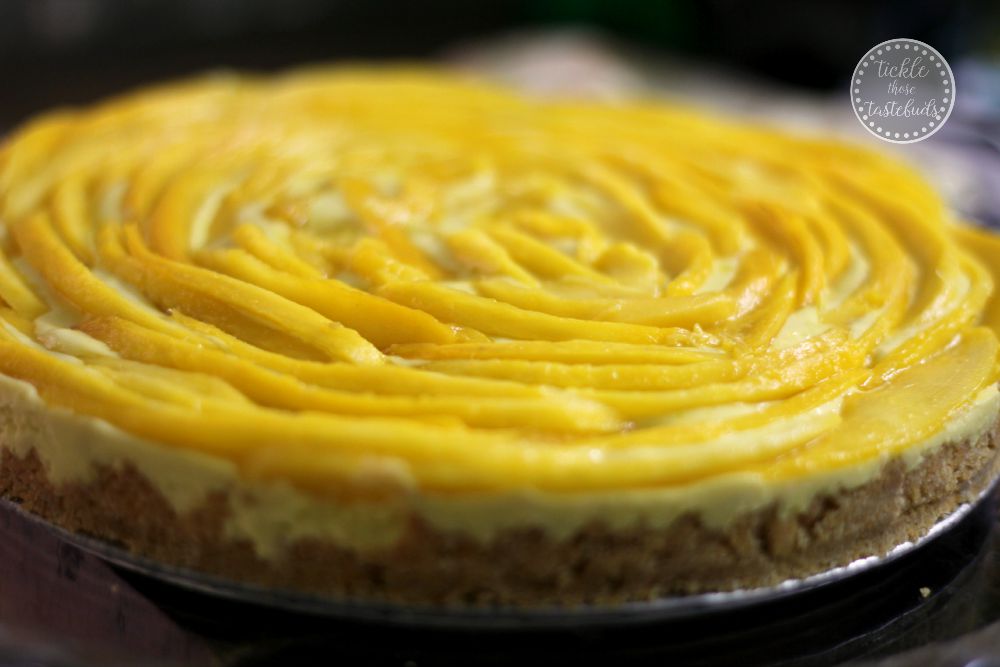 Just look at it, its creamy, light, fluffy, fruity and delicious! You've got to try it to believe it and trust me you'll have all the ingredients for this recipe in your kitchen already so go ahead and give it a try and enjoy this mango deliciousness!
And oh! I couldn't find a loose bottom tart pan in my grocery store and since it was planned in the Eid break so wasn't able to find it elsewhere too so I used 8 1/2 inch springform pan instead and the results were pretty amazing.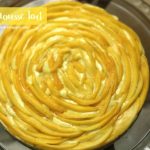 Print Recipe
Mango Mousse Tart (No Bake – No Cook)
Mango Mousse Tart! A fruity, creamy and delicious combination of mangoes and a biscuit crust that's absolutely mango-licious and its no bake and no cook too
Ingredients
For Tart (Biscuit Base)
200

gm

Digestive biscuits/graham crackers

(approx 2 half rolls)

6

Tbsp

Butter

(melted)
For Mango Mousse
1 1/2

Cups

Mango Puree

(see instructions)

2

Tbsp

Granulated Sugar

1

Tbsp

Lemon Juice

2

Tbsp

Gelatin

(unflavored)

1/4

Cup

Water

1

Cup

Heavy Cream

1

cup

Fresh Mango Cubes
For Topping
Fresh Mango Slices

Lemon Juice
Instructions
Break the biscuits/crackers, add them to a blender or a food processor and blend until fine crumbs. Mix melted butter with the biscuit crumbs to a wet sand like consistency (add more butter if crumbs are too dry)

Evenly press the biscuit mixture to bottom of the tart pan covering the bottom and up to the sides. Refrigerate it until further use.

Peel and chop around 2 mangoes. Blend into a smooth paste using a blender. Now add sugar and lemon juice to the mango puree

In a small bowl add water and microwave for 20 seconds, add gelatin powder to it. Mix and dissolve completely. Now add gelatin to the prepared mango puree, mix and refrigerate for 30 minutes

Whisk the cream and 2 Tbsp castor sugar, until it forms soft peaks. Add the mango mixture to a bowl and fold the cream to it gently until its mixed well and no cream/ mango streaks are seen

For the mango topping, peel 2 mangoes or more to cover the entire tart, make two large slices as close to the pit as possible. Then cut very thin mango slices length wise

The tart should be set by now. Add mango mousse to the center of the set tart crust and then begin to spread out evenly across surface, leaving a small perimeter around the crust untouched by mango mousse

Line the sides of the crust with mango slices, letting the edges slightly overlap so that the slices stand up and stay curved. Then start the next row of mangoes, placing mango slices in the spots in between two mango slices from the previous outer row. This overlapping pattern will make a rose like pattern

For the center simply roll up a mango slice and form the center of a rose. Squeeze some lemon juice on the top mango slices to prevent oxidation of mangoes

Refrigerate for at least 1-2 hours or more to set it completely.Serve chilled
Notes
Mousse can be prepared without gelatin as well. For a Gelatin free version you can use china grass (agar-agar) or can completely avoid using it You can use store bought canned mango puree instead of making your own