Okra is generally known as Ladies' Finger or Bhindi in English-speaking countries. It has got some great nutritional value and tastes delish too. Again, there is a variety of way in which this dish is prepared: The Punjabi style, the North-Indian style, the masala sabzi style, the dried style, the stuffed okra style and so on, but the most famous of all is the Ammi Style! This style of Okra and Onion fry is often termed as Bhindi do pyaza meaning Okra-2-Onions (Okra with double the quantity of Onions) or Pyaaz wali Bhindi.
I remember, my grandmother used to have grown Okra in her backyard and when in the summer vacation we used to visit her, we'd pick the fresh Okra ourselves and cook it, that taste of fresh Okra from your own home garden in incomparable.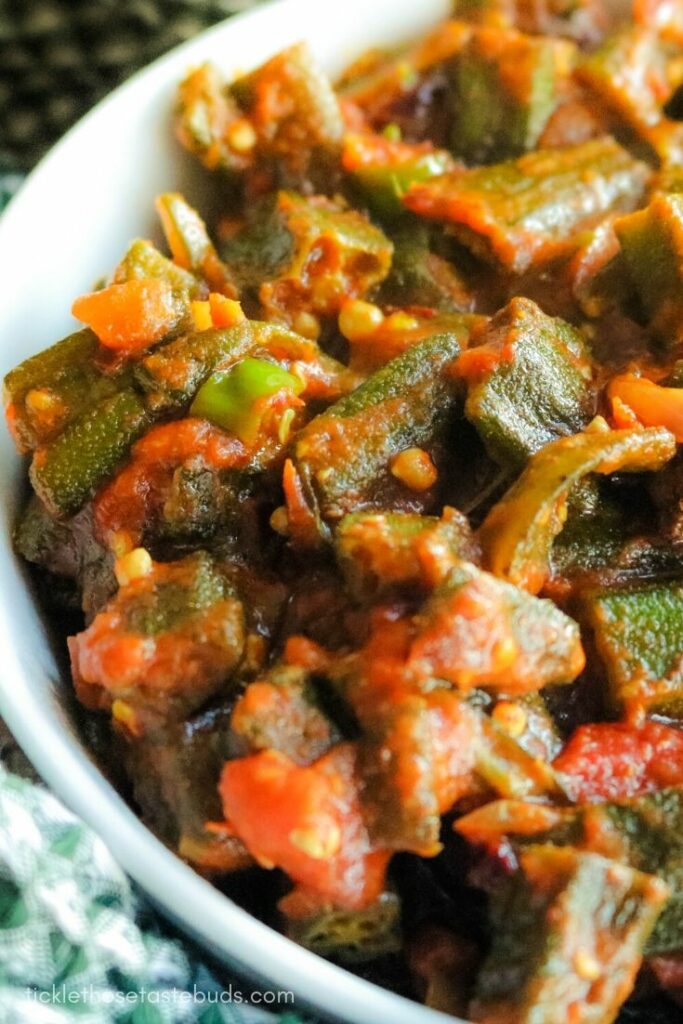 So, this recipe today is not completely the Ammi's recipe, as I tried a different version of it. However coming from the Punjabi Kitchen, it has got the same spices available in every household, the onions and fried okra and of course the addition of tomatoes enhances its flavours. (I'll post a few variations/ additions to the recipe to enhance the flavours further depending on your taste – in the notes below).
Let's begin with this simple, non-fuss and easier version of Pyaaz wali Bhindi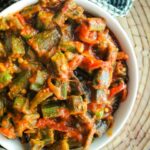 Print Recipe
Spicy Okra and Onion Stir Fry (Pyaz Wali Bhindi)
Delicious Punjabi stir-fried Okra (bhindi) with caramelised onions in a spicy tomato base and flavourful masalas. Simple recipe but great on flavours and taste.
Ingredients
500

gm

Bhindi/Okra

( ½ Kg = 500 gm = 1lbs/ 1 Kg = 1000gm = 2 lbs)

2

large

Onions, Sliced

(or 3 medium)

3-4

medium

Tomatoes

3-4

Green Chillies, chopped

1 1/2

tsp

Salt

2

tsp

Red Chilli powder

1/2

tsp

Turmeric powder

Ghee/Oil For frying + Cooking
Instructions
Wash and pat dry the Okra (this step is very important: make sure Okra is dried completely before you cut it as it'll get slimy and mushy if it remains wet).

Cut both ends of the Okra and then cut each pod into 1″ pieces.

Heat ghee or oil in a wok/kadai, add chopped Okra and fry it on medium-heat until it is tender and turns dark green in color. Keep aside

Use the same ghee/oil (add more if needed) add sliced onions and fry for about 5 minutes

Now add to it salt, red chili powder, turmeric powder and chopped tomatoes. Mix well and let cook for 3-4 minutes

Now add the fried Okra to it and green chilies. Mix well so that all spices are fully incorporated with the Okra.

Now cover the pan and cook for 15-20 minutes on slow flame

Serve with Chapati or Rice
Notes
Always wash the Okra, wipe them dry and then chop. If you just wash and chop them, then while cooking it'll become too mushy due to moisture
When cutting Okra, wipe clean your knife after cutting a few. It makes it less slimy and prevents from transferring it to others.
Avoid using water in the recipe as it'll make it more mushy
Avoid too much tossing and stirring the vegetable, as it'll break the vegetable and the sabzi will get too mushy
For the variations; I've used tomatoes for that tangy flavour to it. You can use lemon juice, Mango powder (Amchur) or even yogurt. If you use yogurt, add a few tablespoons only after your cooking is done and it's about time to remove it from heat. You can add lemon juice and mango powder at the time when you add okra to the recipe.
For your Pinning Pleasure