The entire winter season, I couldn't bake anything owing to the gas shortage in our part of the world. But, it's back again! and here I'm with super easy Surprise Cookies recipe with strawberry deliciousness
This cookies recipe is great in so many ways, a few are 1. its super easy 2. it uses less ingredients 3. it has a surprise inside 4. it has strawberries 5. its quick to make 6. it tastes amazing 7. its an awesome treat! I can go on with the list, but I'll keep that for you to enjoy and share. By far these are the best cookies I've made and the taste is so amazing that it was a definite hit at my place and these were gone in just no time at all.
Now, for the surprise, as they say "its whats on the inside that counts" it goes with these too. The surprise is on the inside and that is Oreo Cookies (ta-da)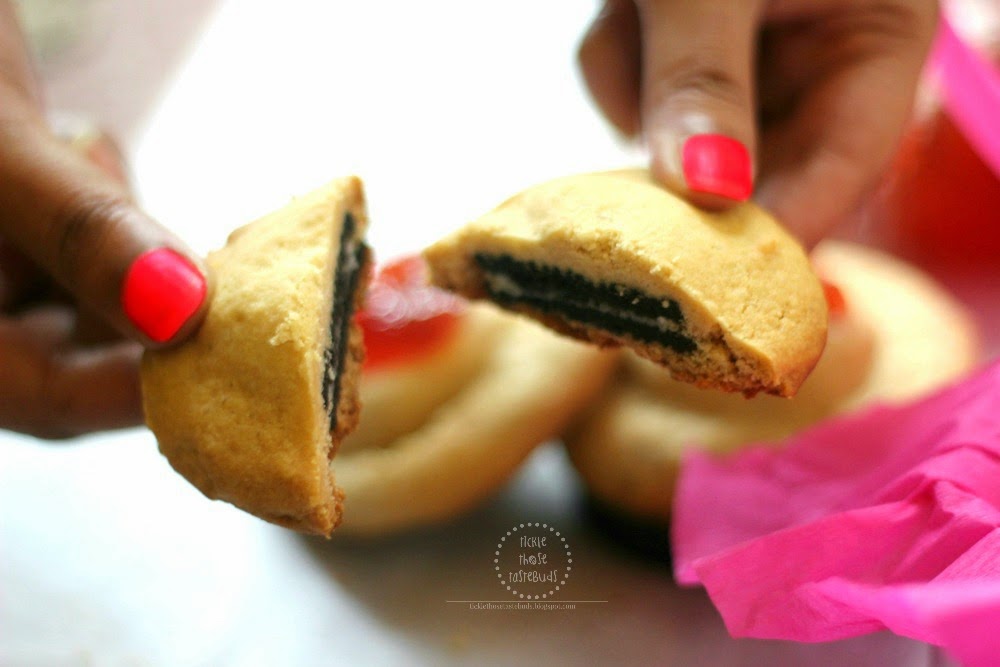 And these Oreo cookies are covered with peanut butter goodness and then topped with strawberry deliciousness. Oh! what a divine combination (isn't it?)
So, next time you're thinking of making cookies and want to have some fun in the kitchen (even with kids) remember this recipe and wherever you serve these, they'll be a hit for sure!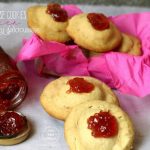 Print Recipe
Surprise Cookies with Strawberry Deliciousness
Surprise cookies with strawberry deliciousness, but its whats on the inside that counts! A perfect treat that's fun and simple to make
Ingredients
1/2

Cup

Butter

1/2

Cup

Castor Sugar

1/2

Cup

Peanut Butter

(Smooth or Crunchy)

4

Tbsp

Light Corn Syrup

1

+3/4 Cup Plain Flour

1/2

tsp

Baking Soda

15

Oreo Cookies

Strawberry Jam
Instructions
Preheat oven to 170 degree Celsius and line a baking tray with parchment paper

In a stand or electric mixer, cream together butter and sugar until well combined

Then add the peanut butter and corn syrup and blend well

Gradually add in plain flour and baking soda and combine until you have a thick dough

Take about a tablespoon of the dough and flatten it onto the lined baking tray. Take one Oreo Cookies and press it gently on the flattened dough, and fold the edges over the Oreo cookie until it is completely covered. Make an indentation in the center with your thumb lightly

Repeat with all the cookies and pop the tray in the oven

Bake the cookies for 15-18 minutes, depending upon your oven, or until the edges start turning golden and the cookies are baked to your liking

When golden, take out of oven, if indentations look shallow further define them and fill each cookie with 1/2 teaspoon of jam. Let cool for 5 minutes before transferring to cooling rack

Serve while still warm, with a scoop of ice cream, a glass of milk, coffee/tea or just as is. These make great gifts too