It's winters and it's the start of holiday season. A lot has been going on the past week, a lot of family get-together, laughter and of course family fun and all this could not have been complete without FOOD!
Since it's family time and you want to spend more with family than in kitchen so easy and quick recipes are all you need. So here it is the recipe for quick, easy and tasty Beef Chili with Gravy.
This recipe is in continuation of the Chinese style recipes which I love making during the winter season more. Although Chinese food (Pakistani Style) is the one you can have all round the year, but in winters its more comforting and some of the dishes really are good enough to keep you warm through the winter season and so is this Beef Chili Gravy recipe.
I understand most people don't like eating beef, but "some dishes taste good in beef only". Hey, don't be disappointed my vegan friends and picky-eater friends I'll be posting variations to this recipe in notes below so that you can enjoy this dish too 😀
Before going on to the recipe, there is some information that I'd like to share with you all. Yes, it's about the selection of meet for this recipe. Here is a chart that describes the beef cuts, this is quite helpful in knowing which beef cut is used for which type of cooking (a very essential cooking info)
For Beef Chili Gravy we will be using the Tenderloin Cut also known as undercut, fillet or eye-fillet. Why we're using this meat because its very tender and needs little preparation and cooking to bring out the best flavor and texture, thus making it the best cut for quick cooking,stir frying, grilling and roasting.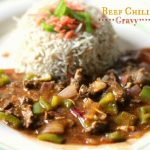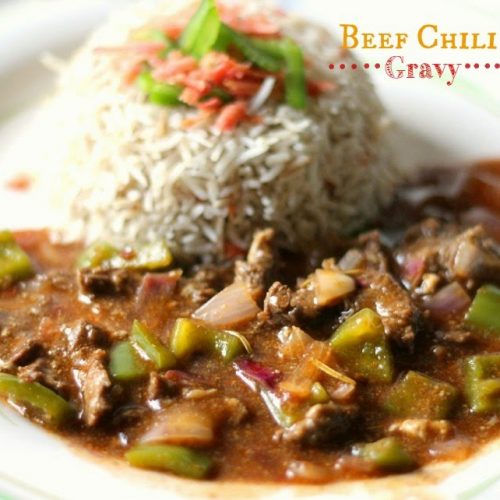 Print Recipe
Beef Chili Gravy
Quickest stir fry recipe with a zing from the chili gravy – comforting and delicious!
Ingredients
2

Cups

Beef

(Undercut, thinly sliced strips (1cm in size)

1

Egg

1

tsp

Salt

1

tsp

Black pepper powder

1

Tbsp

Soy sauce

1

Tbsp

Vinegar

1

tsp

Green Chili paste

1/4

tsp

White pepper powder

2

Tbsp

Vegetable oil

1

Tbsp

Garlic

(chopped finely)

1

Tbsp

Ginger

(chopped finely)

1

Cup

Capsicum

(diced)

1

Cup

Onion

(diced)

1

Tbsp

Red pepper flakes

1/2

Cup

Tomato puree

1

tsp

Salt

(or to taste)

1/4

tsp

dried rosemary

1

tsp

black pepper powder

1

Tbsp

Soy Sauce

1

Tbsp

Sugar

1/4

tsp

Chinese salt

(optional)

2

Cups

Water/Beef Stock/Chicken Stock

2

Tbsp

Cornflour mixed with water

1/2

Cup

Sweet corn

(optional)
Instructions
Combine egg, salt, black pepper powder, soy sauce, vinegar, green chili paste and white pepper powder in a prepping bowl. Add beef slices and coat well

In a pan heat 2 Tbsp vegetable oil and stir fry beef slices on medium-high flame until cooked and browned. Set aside

In another pan heat 2 Tbsp oil and add garlic and ginger. Add diced capsicum and saute for 2 minutes. Remove from pan and set aside.

In the same pan now add red chili flakes and tomato puree. Mix well and add Water. Bring it to a boil and lower the flame and let it simmer

Now add the seasoning: salt, black pepper powder, Chinese salt,dried rosemary. Mix well

Add cornflour and water paste to thicken the gravy to desired consistency. Bring it to a boil and add the vegetables, capsicum,onion and beef. Add the soy sauce, mix and taste check. Adjust seasoning according to taste

Don't overcook after adding the vegetables to retain their crunchiness. Add sweet corn mix and serve

Serve with Egg Fried Rice or Masala Rice
Notes
If you don't like beef, you can make this recipe with your choice of meat (chicken or fish) For the vegan version: use your favorite vegetables instead of beef, simple saute them before adding to sauce