Eid-ul-Adha is a festival celebrated by Muslims across the globe in the honor of the willingness of Hazrat Ibrahim (A.S) to sacrifice his son Hazrat Ismail (A.S) as an act of submission to Allah's command and thereby his son's acceptance and willingness to be sacrificed in the name of Allah. Before this could happen, Allah intervened and provided Hazrat Ibrahim (A.S) with a lamb to be sacrificed instead.
Honoring this huge sacrifice, every year on the 10thof Zilhaj Muslims sacrifice a lamb, or any four legged animal (camel, cow, goat) as ordained in the Quran. Eid-ul-Adha is celebrated, three days where Namaz-e-Eid is offered on the first day only and sacrificial activity is done on these three days. The division of the meat of the sacrificial animal has been described in the Quran and hence is distributed in three parts. The one-third of the share is retained by the family, the other one-third is distributed among family, friends and neighbors and the last one-third is distributed among the poor and the needy.
Preparations of Eid-ul-Adha are very different from those of Eid-ul-Fitr (also known as Meethi Eid/Sweet Eid) where all sweet delicacies are prepared. Eid-ul-Adha is more like Namkeen Eid/ Salty Eid and is all about non-vegetarian spread – that too quite lavish. Given this lavish preparation of delicacies with the sacrificial meat, there is a lot to do on the Eid day and therefore some things can be done in advance to lessen the hustle bustle in the kitchen that day.
So, I'm sharing with you all some tried and tested tips and ideas to lessen your burden on Eid day
Here is a screenshot: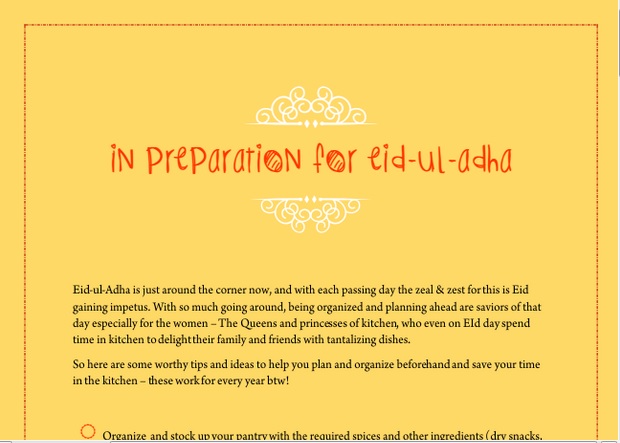 Download these Tips & Ideas HERE and enjoy your Eid-ul-Adha with your family and friends!