Here is a fantastic freebie for you all, printable Eid Money Envelopes (Eidi Envelopes). The auspicious occasion of Eid is upon us after the holy month of Ramadan and the one thing gets children excited the most for Eid is the joy of receiving Eidi (money) and gifts from elders.
This year Eid will be different from how we have celebrated it previously. Eid is a celebration of happiness, love and joy. Normally Eid traditions involve offering Eid prayers, dressing up in new clothes, having special meals, giving charity, offering Eid greetings, visiting family and friend, exchanging gifts and Eidi and celebrating the festive spirit.
However, this year it will all be different because of the social distancing measures in place. But that doesn't mean you can't celebrate Eid and enjoy the festivities. Make this Eid special for your children and loved ones by celebrating this festive occasion in its true spirit and traditions but by staying at home.
It was because of these changed social interactions that I got the idea to design these Eid Money Envelopes that you can easily print at home, involve your kids for a fun activity and get them excited for Eid.
EID MONEY ENVELOPES DESIGN
These Eid money envelopes have a geometric Islamic motif in gold on them. The envelopes are designed in two colours lilac-purple and sage-green with "Eid Mubarak" in Arabic on the centre. Eid Mubarak means blessed festival.
Download and print out the Eid Money envelopes below to make this Eid special for your loved ones.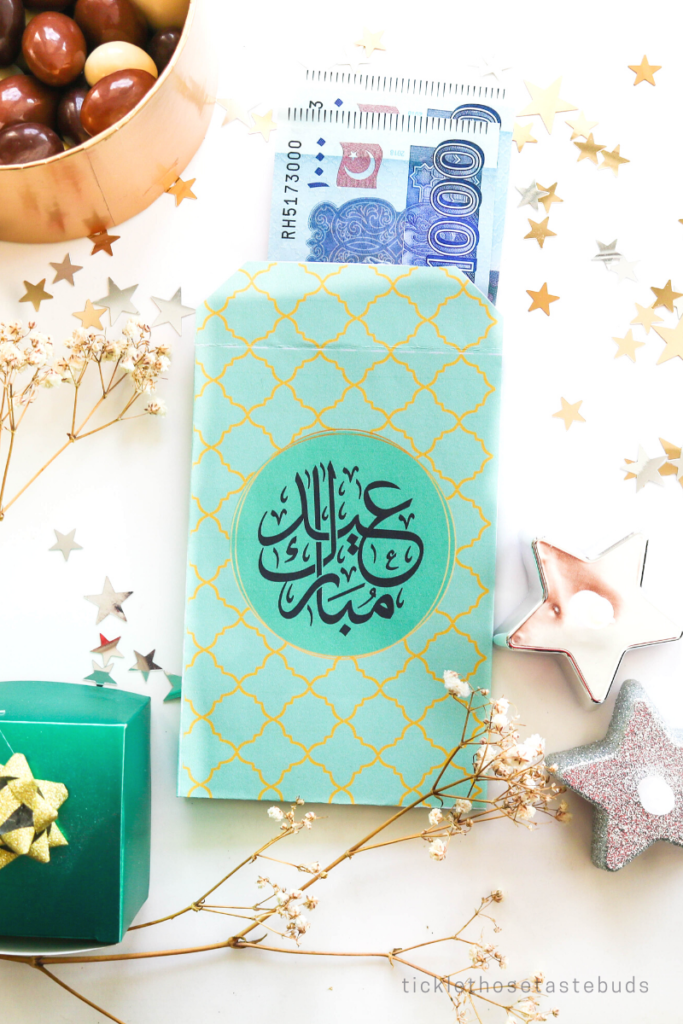 WHAT YOU NEED TO MAKE PRINTABLE EID MONEY ENVELOPES
For this simple and easy, DIY project you will need
White A4 paper
Coloured Printer
Scissors
Glue or Double-sided tape
How to Make Eid Money Envelopes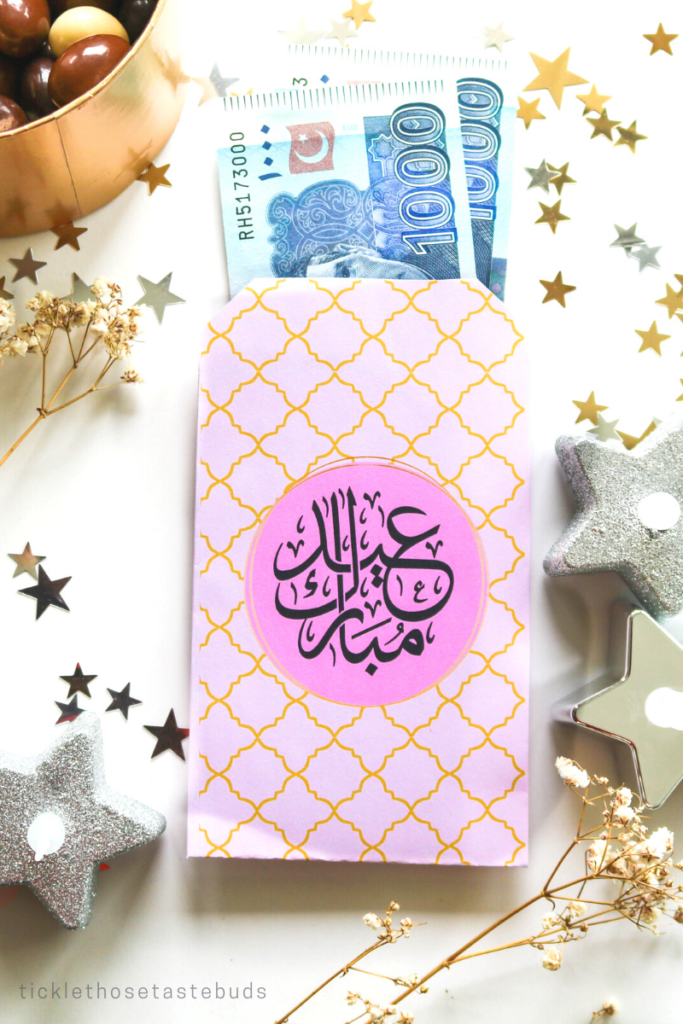 Step 1
Download the printable Eid Money envelope file (at the end of this post). Print it out in colour onto white A4 paper. (colours may vary from the image depending on the printer and type of paper used)
Step 2
Cut each of the envelopes out with a pair of scissors.
Step 3
Fold the envelope along the marked dotted line.
Step 4
Apply glue or put some tape on the tabs.
Step 5
Fold the bottom flap up and stick it to the two tabs. Then fold the top flap down to complete your envelope.
Once you've filled your envelopes with Eidi, fill out the details on the back and you're done!
VIDEO TUTORIAL TO MAKE EID MONEY ENVELOPES
Disclaimer: Please note that these files are for personal use only and redistribution or reselling for commercial use is strictly prohibited. If you would like to spread the word about this printable, you are free to do so but (A) must link directly back to this post for download (B) If you use any of these graphics in your projects, you can say thanks in one of these ways:
Thanks for your cooperation!