Hey TTTB Readers! The day is finally here and we officially begin our First Anniversary Celebrations!
We've got a fabulous selection of prizes, all of which we truly love and are proud to have as our First Anniversary Giveaway. So let the excitement continue and begin.
Before that let's have a look at all the Fabulous Prizes once again, which are worth Rs. 45000.
You can imagine how awesome this is going to be. There will be One Winner, who's going to get all of the Fabulous items we have for you.
Here is what the Winner will receive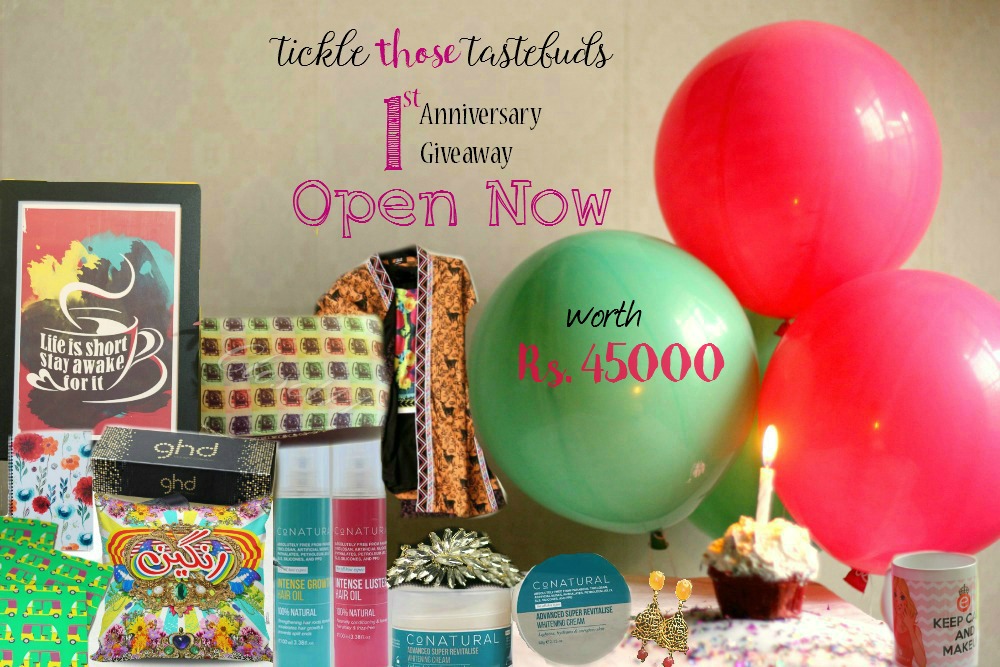 The Prizes Include: (find details here)
Project Rich Calligraphy Earrings
Conatural Hair and Skin Care Products
Fashionista Diaries Crystal Ear Cuff
Brands Arena PK GHD Hair Straightener, Midnight Collection
Fray Design Studio Home Decor Products
Graphiti Digital Art Print
Essence Pakistan Coffee Mug
Essence Cosmetics
Closet 11 Pop Art Camera Clutch
Lahori Ink Apparel, combo
Fabulous Right? Ready to begin? Before we start here are a few things which need to be shared and understood.
Some Important Stuff
The contest has two steps, for the First Step you are required to complete a few actions and only then move on to the Second Step. The Second Step is administered by Gleam App and has all the terms and conditions listed. Please read the Terms and Conditions before entering. By participating in the Giveaway you agree to accept and are bound by all terms and conditions listed.
The Giveaway will open July 6th, 2015 at 3:00PM PST (Pakistan Standard Time) and will run for 17 days. The Giveaway contest closes on July 22nd, 2015 at 11:59PM PST.
For every action you complete you gain an entry point. So more the entry points, more the chances of you winning.
To begin participating you will need to login with your email account, facebook or twitter account. The points you gain will be linked to that account. If you're already signed in to any of your accounts log out and log in again to begin the contest.
You will be asked to provide your email address, through which you will be notified if you win the contest. Please make sure [email protected] is in your safe list, so that you receive the email.
If you have any trouble using the Gleam App or have any questions please comment below or inbox on the Facebook page here and I'll help you out.
Let's Begin!
Step 1
Follow Fashionista Diaries on Instagram here
Follow Fray Design Studio on Instagram here
Follow Essence Pakistan on Instagram here
Follow Lahori Ink on Instagram here
In the step below, for every Facebook page you visit, you have to Like that Page
Step 2
Tickle those Tastebuds First Anniversary Giveaway
Have Fun Participating and Good Luck!