Woohoo!! We have a Winner and we are totally, awesomely, completely Excited Announcing it!
These two weeks and 3 days of the TTTB First Anniversary Giveaway Contest have been amazing only because of all you fabulous people who participated, showed interest and stayed with us throughout. We have some newbies on the blog too and are loving your enthusiasm over it.
Though we have selected a winner but this is not it, I've already planned a few more giveaways in the coming months so don't be disappointed you might just get lucky!
All these amazing prizes were sponsored by our fabulous sponsors who have been really kind to us and made our Blog's First Anniversary Celebrations worthwhile. So THANK YOU! all are fabulous sponsors for collaborating with us and showering us with your love and support.
Here's a quick recap of all the fabulous items our Winner will receive:
Calligraphy Earrings by Project Rich
Hair and Skin Care Products by Conatural 
Crystal Ear Cuff by Fashionista Diaries
GHD Hair Straightener, Midnight Collection by Brands Arena PK
Home Decor Products by Fray Design Studio
Digital Art Print by Graphiti  
Coffee Mug by Essence Pakistan
Essence Cosmetics by Tickle those Tastebuds
Pop Art Camera Clutch by Closet 11
Apparel, combo by Lahori Ink
Hand Painted Ceramic Plate by TDR-The Drawing Room
Superfoods by Linwoods Pakistan
And Here's our Winner…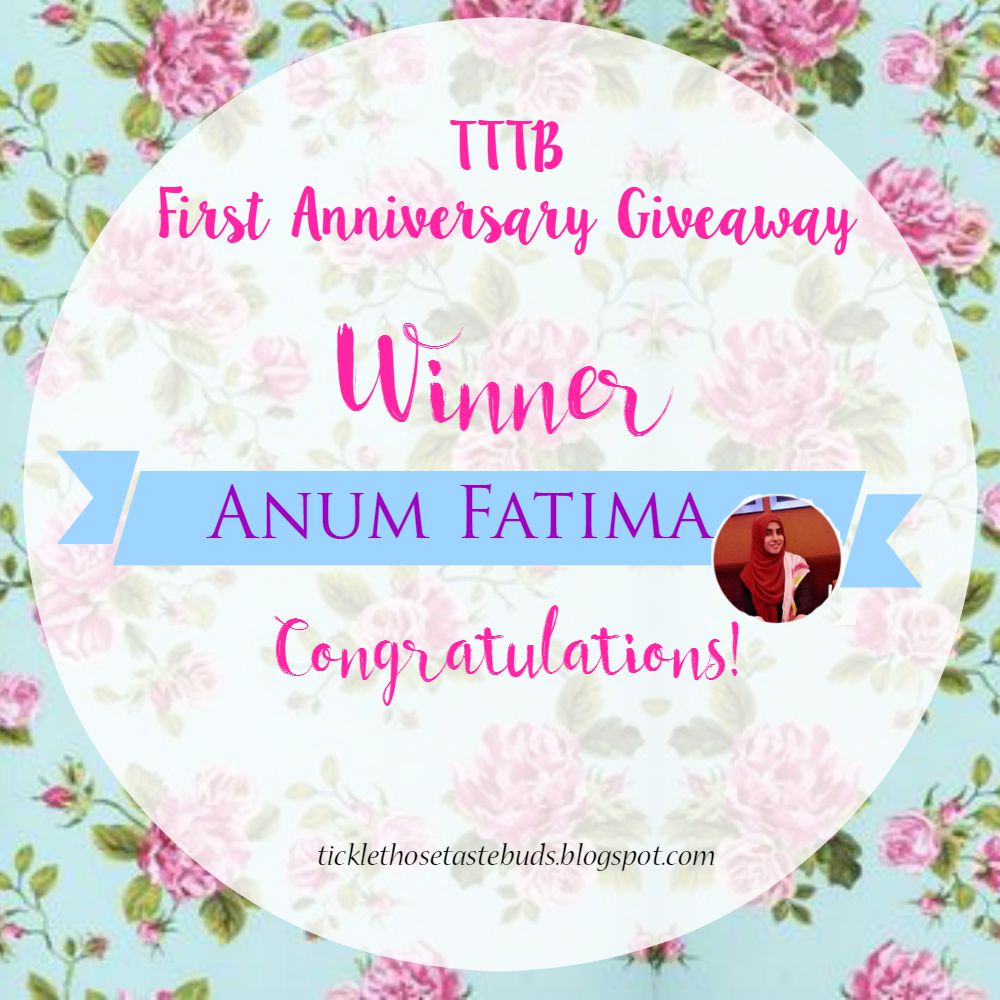 Anum Fatima from Karachi, Pakistan is the winner of our First Anniversary Giveaway. CONGRATULATIONS!!!  The winner was chosen randomly using the Gleam App. The Giveaway was administered by the Gleam App and all the terms and conditions set forth.
The winner will be contacted by July 26th, 2015 via email so please make sure [email protected] is in your safe list. If you don't receive an email by July 26th please contact me by email or inbox me on the facebook page.
I'm super excited to pack all the items and send it your way with all my love!
After receiving such an overwhelming response, next year it'll be more fabulous and more exciting!
Cheers – Keep Tickling those Tastebuds!