Have you ever thought what could normally be done out of a plastic bottle once you've consumed the beverage? Or have you ever thought of using that plastic bottle some other way (apart from growing plants in it?). Well, somebody did and came up with a brighter idea of using plastic bottles in an incredibly valuable way. A revolutionizing, campaign #LightingUpLives by Pepsi Co Pakistan and Liter of Light, is that bright idea which caught our attention has won our hearts and has made us proud.
The #LightingUpLives campaign is a bright idea because this unique solar based solution uses minimum resources and up-cycled Pepsi plastic bottles to light and brighten the lives of many. Pakistan's largest refugee camps, Jalozai IDP camp witnessed the most amazing utility of this initiative. The camp that had no lighting when the sun went down, with the #LightingUpLives campaign now has lit up homes, restrooms, streets and hospitals. The refugees express their feelings of having light at night as a "blessing".
The #LightingUpLives campaign was brilliantly filmed by renowned Oscar Winning Filmmaker, Sharmeen Obaid Chinoy and was launched at a recent PR event at Lahore that was attended by some prominent celebs, officials and people from all walks of lives. While everyone praised PepsiCo's initiative, we've developed a strong love for the brand, as its been the first one to stand up and take an initiative to 'Light up lives' and uplift the lives of the affected communities, which we think is quite thoughtful and praiseworthy.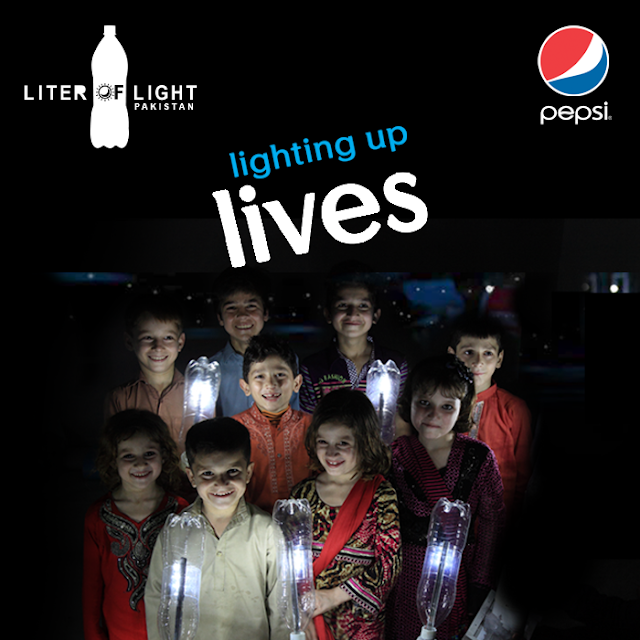 As we appreciate the efforts, somewhere it strikes, how can we make such a big, bright difference in the world? Well, Pepsi just answered this one for us. With its new Ramadan TVC – an extension to the #LightingUpLives campaign, Pepsi is calling the entire nation to come forward and be a part of this initiative and that too without doing much.
A simple purchase of 1.75L Pepsi bottle will donate Re.1 from Pepsi to Liter of Light, to light more lives and bring more smiles to their faces.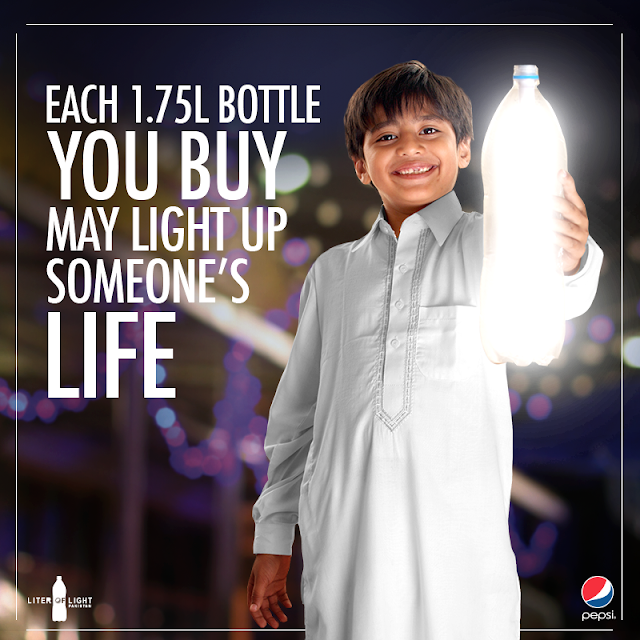 Pepsi a brand of the youth, with its #LightingUpLives campaign has given a new direction and a new purpose to the youth of Pakistan. While having a chilled bottle of Pepsi at your iftaar table, you can light up someone's home. Pepsi's initiative also encourages the youth to actively participate towards building the nation, even with small steps and to take the responsibility of building it together.
The new Pepsi TVC is enticing with popular faces like Hamza Ali Abbasi, SanamSaeed, Syra Yousaf and Azfar Rehman, all encouraging and leading youth to support the cause. The celebs and Pepsi are also using social media platforms to create awareness, encourage participation and providing avenues to everyone to come and be a part of it.
So if you want to make a big and bright difference in someone's life, join Pepsi and start #LightingUpLives and double the blessings of Ramadan.
Watch the brilliantly filmed and touching Pepsi Ramadan TVC here and be inspired!
For more details on how you can participate and start #LightingUpLives visit their Facebook page, here: https://www.facebook.com/pepsipk
#LightingUpLives and Bringing Smiles – My Goal this Ramadan!