Chicken wings just got a fancy makeover! These super easy and tastefully delicious Chicken Lollipop are chicken drumettes skillfully shaped into lollipops. Coated in a light batter, these Chicken Lollipops are crispy on the outside and tender on the inside and are infused with Pakistani-Chinese flavors. They make a great appetizer or a side dish. It is finger-lickingly delicious and sure to be a hit with the crowd.
Like most Pakistani-Chinese recipes, this Chicken Lollipop recipe too is a fusion recipe adapted to match the Pakistani taste palate. But, you don't need to stick to this recipe alone. Chicken lollipops are so versatile that if you have a favorite fried chicken recipe, you can easily use that to make these lollipops. The only tricky thing here is making the lollipops, rest is all marination, coating, and frying – it's that simple.
As we are making Chicken Lollipop in the Pakistani-Chinese style, so we'll keep it to Chinese flavors only. I have batter-fried these lollipops, whereas you can also crumb coat or bake them too for a healthier version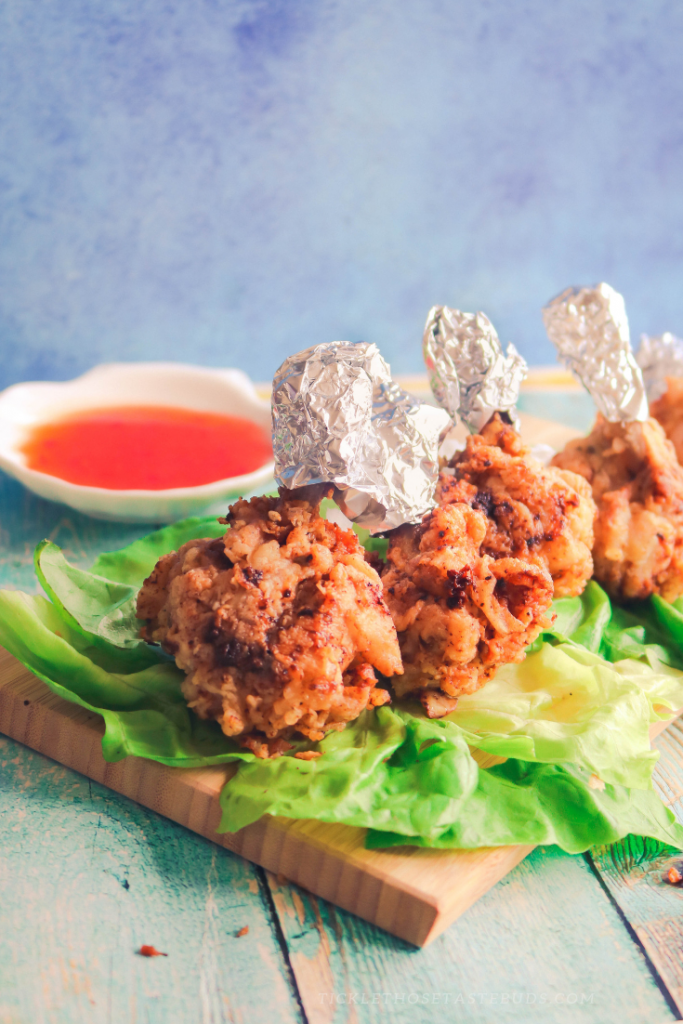 How to Make Chicken Lollipop?
Chicken Lollipop are made using wingettes or drumette part of the chicken wings. Check out this anatomical guide for better understanding. Yes, the delicate little piece of the Chicken – chicken wings can easily be transformed into various appetizers, including these chicken lollipop.
As a chicken only has two wings, you can still make four chicken lollipops out of it. How? Two from the drumettes part of the wings and two from the wingette part. Check these step by step instructions with pictures to make chicken lollipop from chicken wings.
Luckily, the butcher at our local meat shop does it for me. So, if you're in a hurry or don't want to make the lollipops yourself, ask your butcher to do it for you.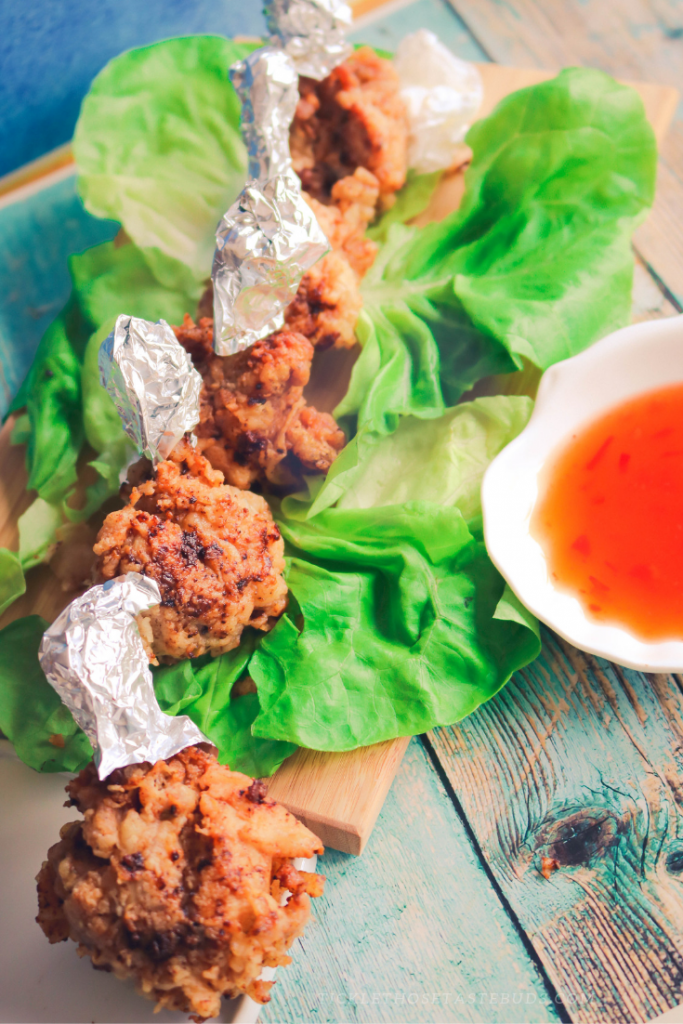 The next steps are easy; you'll need a few simple ingredients like salt, crushed black pepper, white pepper, chopped green chilies, chopped ginger, chopped garlic, soya sauce, vinegar, and chili sauce to marinate the chicken lollipops.
While the chicken lollipops marinate and infuse in all the flavors, prepare the batter by combining all-purpose flour (plain flour), cornflour, salt, crushed black pepper, egg, and water. The batter should be of pouring consistency (like pancake batter) and thick enough to coat the chicken lollipops well.
Here you have the choice to prepare the chicken lollipops the way you like it. Fry them as it is, batter coat or crumb coat before frying or just bake them and enjoy a healthy version.
How to Serve Chicken Lollipop?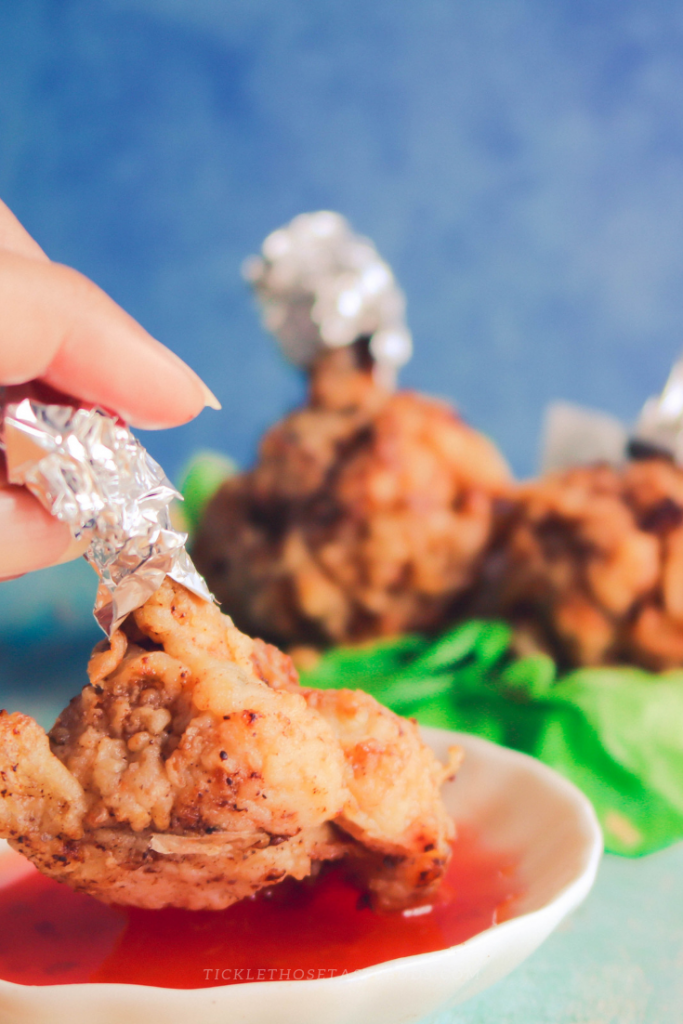 For the authentic Asian flair, serve the chicken lollipops with a dipping sauce. It pairs well with sweet chili sauce ( prepared at home or store-bought) or tomato ketchup, chili garlic sauce or just any sauce you like.
The presentation also matters as they say "we eat with our eyes first," so wrap the bone part of the chicken lollipop with aluminum foil. It looks not only good but also is convenient to hold and keeps the fingers clean.
Serve these delicious Chicken Lollipops as an appetizer, party finger food, or as a side dish. The combination of crispy with sweet and spicy Asian flavors is sure to be a hit at your table!
You'll Also Like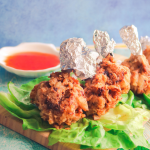 Print Recipe
Chicken Lollipop
Chicken Lollipops are coated in a light batter, crispy on the outside and tender on the inside, infused with Pakistani-Chinese flavors. Serve them as an appetizer or a side dish it's finger-lickingly delicious and sure to be a hit with the crowd!


Ingredients
12

Chicken Drummettes

(cleaned, pat dry and shaped into lollipops)

Oil

(for deep frying)
For the Chicken Lollipop Marinade
1

tbsp

garlic, minced

(garlic paste)

1

tbsp

ginger, minced

(ginger paste)

1

tsp

salt

1

tsp

black pepper, crushed

1

tbsp

green chilies, finely chopped

1

tbsp

Vinegar

1

tbsp

Soy Sauce

1/2

tbsp

Hot Chili Sauce
For the Batter
1/4

cup

All-Purpose Flour

(plain flour)

4

tbsp

Corn Flour

1/2

tsp

Salt

1/2

tsp

Black pepper, crushed

1/4

tsp

White pepper

1

Egg

Chilled Water

(as needed)
Instructions
First, prepare the chicken wings by shaping them into lollipops (if doing yourself). If bought from the butcher, wash, clean and pat dry

In a bowl mix all the ingredients of the marinade. Add the chicken lollipop to the marinade and coat well. Marinate for at least 30 minutes.

Once ready to fry, heat oil in a pan over medium heat

Prepare the batter by mixing together all-purpose flour, cornflour, egg, and all the seasoning. Carefully start adding chilled water, while continuously mixing to achieve a smooth batter. The batter should be of pouring consistency, a little thick like pancake batter.

When the oil is ready, take the marinated chicken lollipop and add them all to the bowl of batter. Give them a mix to coat well in the batter.

Now carefully drop the chicken lollipops in the hot oil, without overcrowding the pan. Cook for about 8-10 minutes or until the lollipops are golden and crisp

Transfer the lollipop to a dish with a paper towel to drain excess oil. Cut out aluminum foil in squares and cover the bones of the chicken lollipop.

Serve hot with sweet chili sauce or your choice of dipping sauce. Enjoy!
By the way, if you enjoy my recipes, I'd love for you to subscribe to my YouTube channel for Video Recipes.
For your Pinning Pleasure