Autumn, the season of change brings with it cool weather which means it's the time of the year for knitted jumpers, cozy scarfs and spiced lattes. But, for makeup enthusiasts this transitional season brings something more exciting – new makeup products and skin care routine! Changing the makeup to the season palette is just like adding a new piece to your wardrobe – preparing for the season and just being on the trend.
The one makeup product that changes for me with the season is the Lipstick. I just love the fact that how one thing (a lipstick) can completely transform your look from drab to fab!
The thing that concerns me the most during this transitional season is how my skin behaves. I have dry skin so I'm mostly looking out for products that keep my skin moistened and hydrated. With the lipstick trends when it comes to pulling off the right shade, matte finish lipstick trend might not be the best one for people like me who get chapped and dry lips in autumn/winter easily.
While lip exfoliation and using lip balm is an option for smooth application of lipsticks but I'm the kind of person who'd rather choose a formula that would keep the lips moisturized and won't enhance any cracks. The best lipsticks that I have found and are my favorite this Autumn are by Estée Lauder from their Pure Envy Sculpting Lipstick Collection.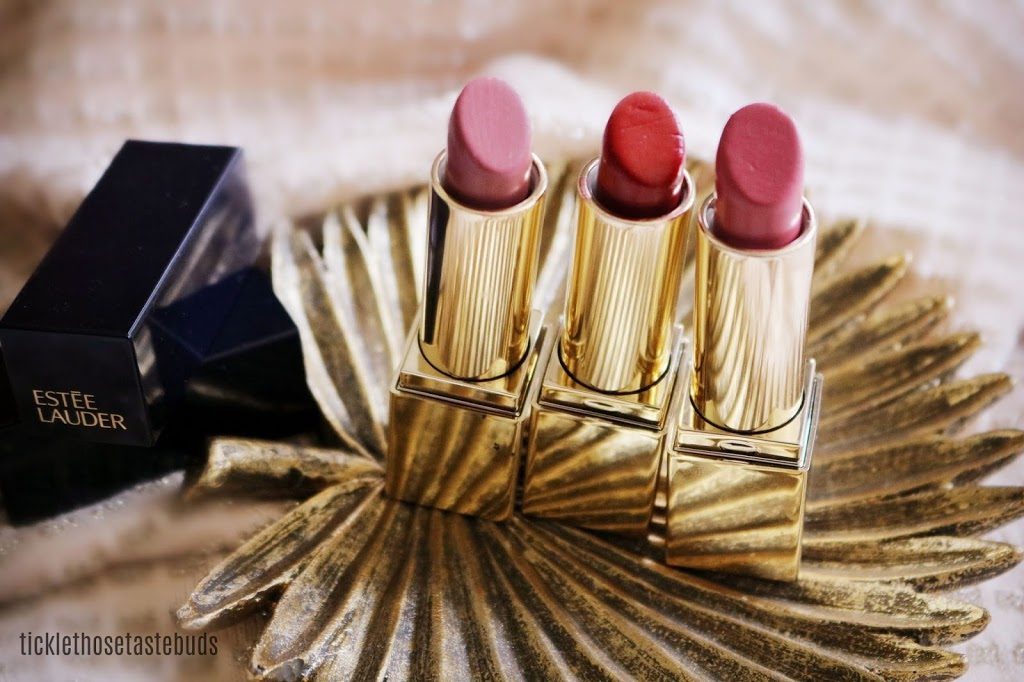 What makes these Pure Color Envy Sculpting Lipsticks my favuorite is the formula. This range of lipsticks is formulated with time-release moisture complex with hyaluronic acid that helps capture and infuse hydration leaving the lips soft and moisturized. Making these lipsticks a must-have for Autumn/Fall season.
The lipsticks are highly pigmented, glides on easily and covers lips fully in just one swipe. The texture is smooth and creamy but light. It has a satin-finish and a very comfortable texture that you won't even know you're wearing something. The shades have a good staying power and can last from 4-6 hours depending on the shade. It is a bit transferable but not like it'll completely come off.
I also really like the shape of the lipstick bullet, the way it is sculpted. It makes the application very easy covering the lips fully. You don't even need a lip pencil with these lipsticks. These have a sweet, vanilla scent and no taste at all and come in a luxurious gold and navy case with magnetic closure.
Pure Color Envy Sculpting Lipsticks are available in 21 shades ranging from nudes to browns, pinks to berries, corals to reds and mauves to plums. My favourites for the Autumn Season are from each category, almost.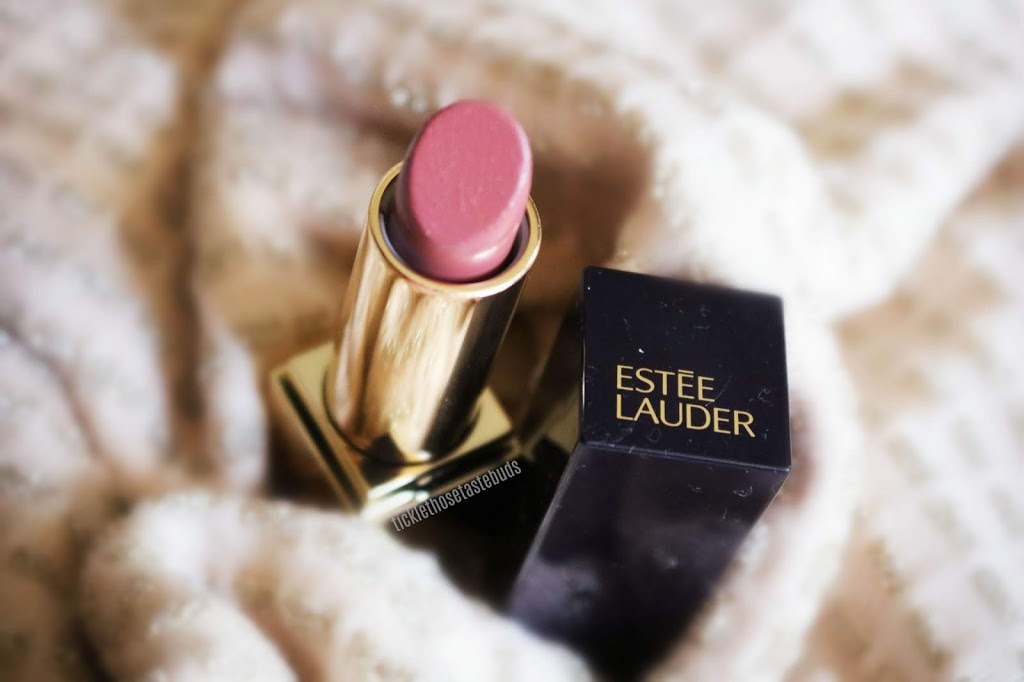 The first shade is Estee Lauder Pure Color Sculpting Lipstick Intense Nude in number 130. This shade is a mid-tone rosy neutral. Comes from the Nudes to Browns category. It has warm undertones but is more on the pink-brown nude side which makes it a perfect nude shade for me. While Nude Shade is very personal to each person, I think this one is the perfect shade for me.
It's a very everyday kind of a shade which you can wear to work or just every day. The texture is light and creamy, it doesn't accentuate any cracks on the lips. With it's luminous finish and rich, opaque coverage this lipstick shade has become my everyday go-to lipstick.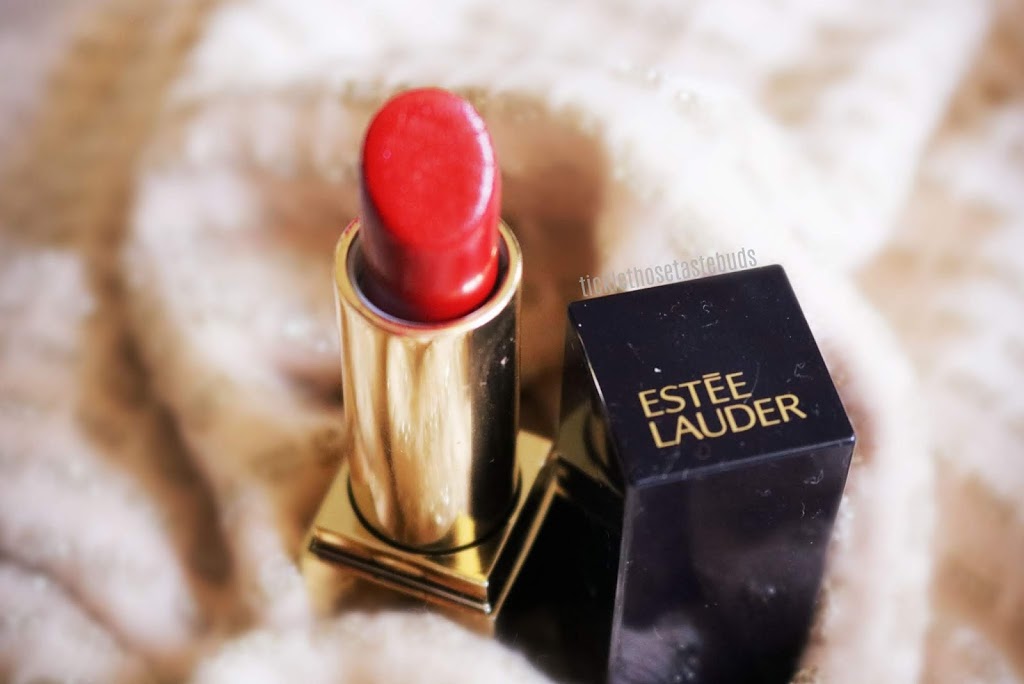 For more dramatic and bold lips we have Vengeful Red in shade 350. It is a perfect crimson red, is vibrant with a luminous sheen just what a red lipstick shade should be like. With it's full opaque coverage the lipstick glides on beautifully giving you fuller lips for a curvious pout.
The colour has a strong staying power and after 4-5 hours it leaves a stain making your lips look tinted and that's what I absolutely love about this shade.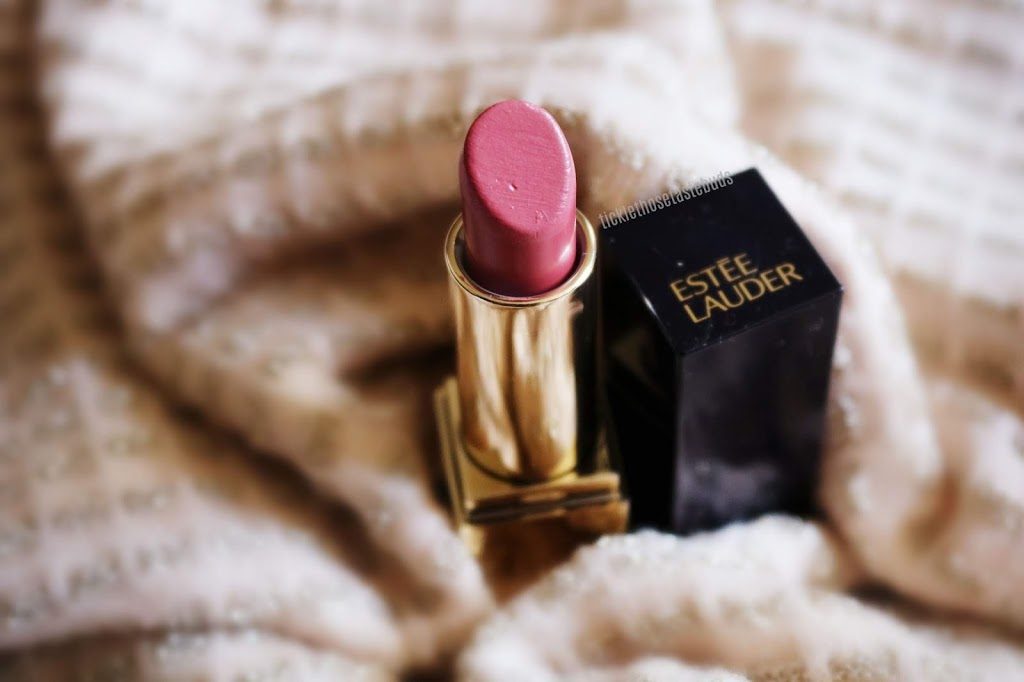 Shade Dynamic in number 410 is from the mauves and plums family but the shade is more on a muted, dusty rose side. It has coral undertone making it more like a mid-tone warm neutral shade. Because it has rosy coral undertones this shade look beautiful when applied.
It's not really nude but gives a kick of colour on your lips making them appear fuller. It's again an everyday kind of a shade and is work appropriate too. You can build up the colour to intensify the shade a bit but it looks very natural as it is too.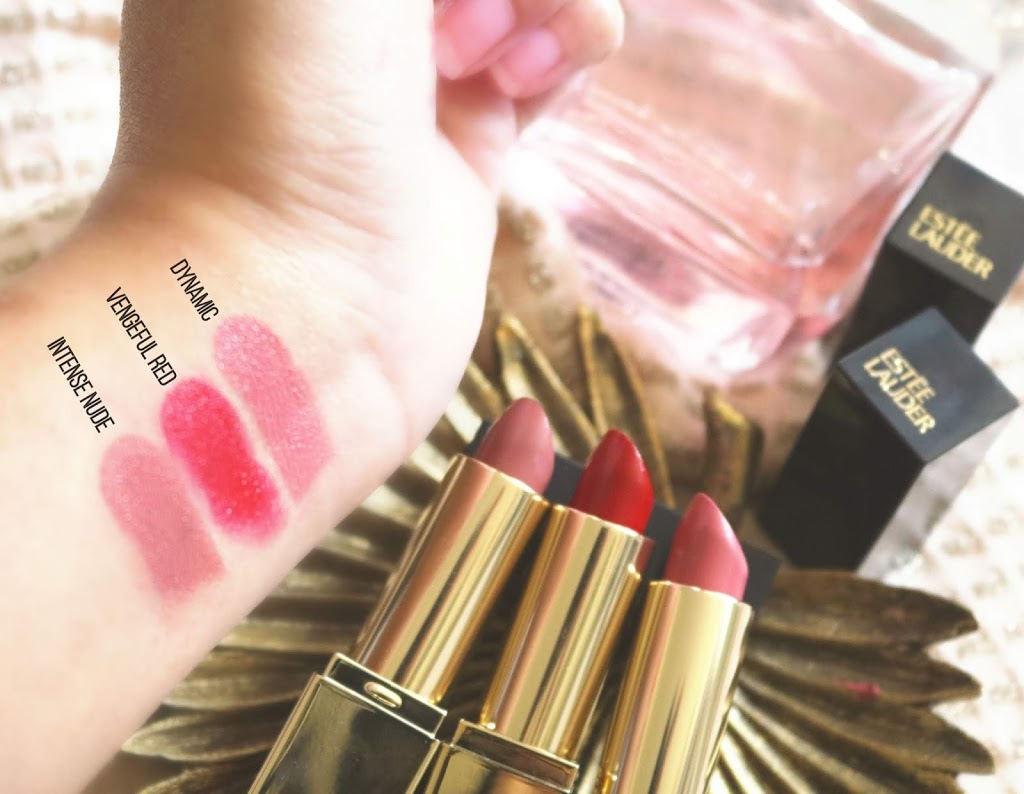 Here are the watches of the all 3 shades from Pure Color Envy Sculpting Lipstick collection. Overall I'm really impressed with the formula and wear-ability of these lipsticks. These are a bit pricey but are so much worth the investment.
These are easy to wear, come in so many shades and keep your lips supple and hydrated.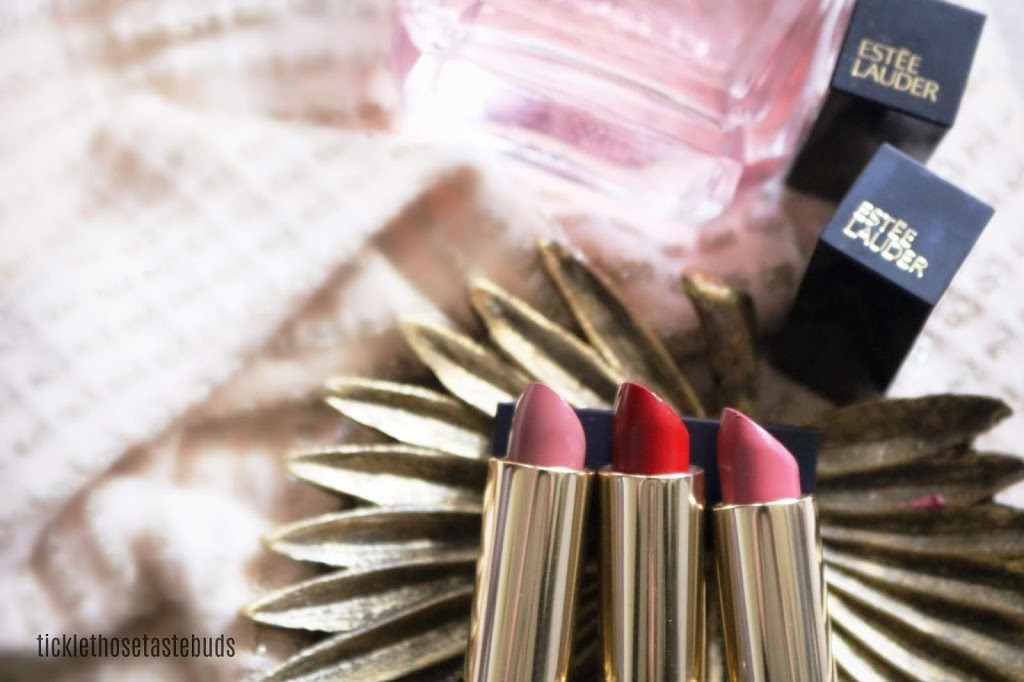 Have you tried any of the Pure Color Envy Sculpting Lipsticks? What is your favorite shade from the collection?
Do you have any Autumn Favorite Lipsticks?
Do give these lipsticks a try this season. You won't be dissapointed, I promise.