Summers were all about Flamingos this year, from clothes to accessories everything had Flamingos on it. This cute pink leggy bird got us all in this year's Flamingo Fever. And how could I keep myself away from such a cute thing, I had to get myself something Flamingo,which obviously was not just one thing but out of all things Flamingo, the one thing I adore the most is this Flamingo Makeup Bag!
I had been looking for a good, spacious makeup bag for sometime now but I couldn't find the one that would fit all my needs. I love carrying my everyday essentials/makeup in my bag so there are quite a few items (read a lot) that I carry with me and I couldn't find that one makeup bag. And then came the Flamingo Season which made me get a Flamingo Makeup bag so badly that I had to order a customized one. Yes, I ordered a customized Makeup Bag from Fray Design Studio
Fray Design Studio offers fabulous Art, Lifestyle and Home Decor products and upon discussing with them my customized order they agreed on it instantly. Not only did they make me choose the print and color of the bag but also gave me two different design options too. They're absolutely creative people making amazing products.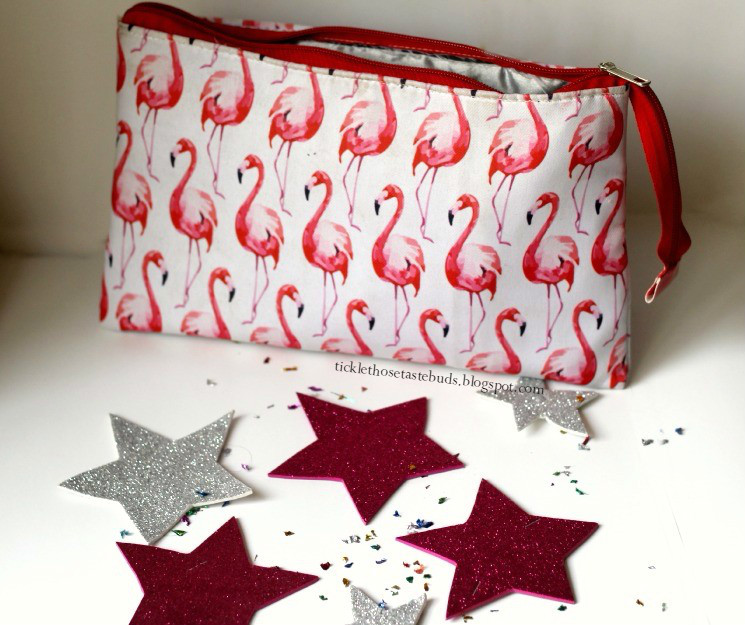 This super cute Flamingo Makeup Bag has an exterior made of Pink Flamingo print on cotton canvas, it is lined with a matching pink color and the interior is lined with polyurethane, it has a zip closure and one main compartment. The dimensions of the bag are 10″ wide x 6″ high x 4″ deep and it's priced at Rs. 1200. You can order this makeup bag from Fray Design Studio's Facebook Page here
This darling flamingo print makeup bag has made carrying my everyday essentials so much easy and in a lot more organized way. I'm loving this bag!