Liquid Matte lipsticks are all the rage these days. It's that trend everyone is obsessed with right now and is definitely here to stay. Every high-end and drugstore brand has launched their version of liquid matte lipsticks in such fabulous shades that you just cant stop yourself from buying one or two or may be all. While we love to own products from our favorite brands, coming across an affordable option is always exciting. If you saw my Insta stories from a few days, you know I came across some really affordable, long-wear liquid lipsticks that dry matte.
Review and Swatches
Packaging:
The lipstick comes in a sturdy bottle similar in size to NYX cosmetics matte lip cream. The bottle is simple with a black cap on the top and the brand name on the front, nothing fancy. The applicator wand has flat edges which makes it so much easier to use and line your lips using the flat side before filling them for that perfect pout.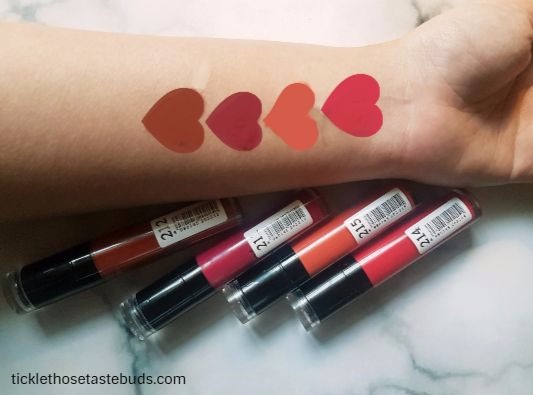 Shades:
I purchased four shades only to try out. There are a lot of shades available in these lipsticks. Because I was thinking more about the winter season so I chose shades according to that.
Shade 212: is a gorgeous brown shade and it gives that winter dark lips feel
Shade 216: it's a really nice maroon-pink shade
Shade 215: this one is a burnt orange shade
Shade 214: is a bright coral-pink shade. This one has become my favorite shade.
Value:
These lipsticks are available at a super affordable rate of Rs. 295. In purchased these from Colour Collection Beauty Store in DHA, Lahore. It was totally an impulse buy when I saw the store staff sorting these lipsticks. Lipsticks are very reasonable compared to other drugstore brands available. I'm happy with the price point.
Scent:
The lipstick has no scent at all which I think is a plus!
Formula:
The formula of these lipsticks is creamy but not mousse or velvet lip creams like. Unlike most matte lipsticks these ones don't make your lips crack or dry at all. It dries out quickly but is slightly transferable but would stay on lips for good 8 hours. It is really easy to apply using the applicator and only one swipe is needed to achieve complete opacity.
Results:
These are really comfortable to wear. Before trying these lipsticks on the lips I did test them on my hand and was satisfied as it did not irritate my skin at all. These liquid lipsticks are quite long-lasting, having them on I have had food and drinks and it does not fade much, it's not noticeable at all.
Verdict:
Pros:
Long-lasting
Non-Drying
Highly Pigmented
Has a lot of shades to choose from
It's super affordable
Cons:
Will I buy it again?
Considering the price and the quality, absolutely YES!
Where to Buy?
I got these lipsticks from Colour Collection in DHA, Lahore. I'm not sure if these are available at other stores.
Have you tried these lipsticks before? Are there other super affordable liquid matte lipsticks that you have tried, tell us about them. We'd love to try them out ?
For Your Pinning Pleasure