Dahi Bhalla Chaat is a popular street food from Pakistan and India. Also known by names like Dahi Vada or Dahi Baray it is an appetizing Chaat dish that is enjoyed by everyone. Here's my take on this popular street food – presenting Square-shaped Dahi Bhalla Chaat!
Traditionally Dahi Bhalla/Dahi Vada is made by fried Urad Dal (lentil) dumplings, that are then are topped with sweetened yogurt, different chutneys and some chaat masala (spices). The Dahi Bhalla chaat is not complete without its condiments that includes papdi for a bit of crunch, salad for some freshness and some masala on the side if you like it a bit spicy.
In Pakistan, Dahi Bhalla Chaat is a popular street-food and is easily available in every area. You can have them as a snack, appetizer or a side dish with the meal. We usually used to have Dahi bhallay as an evening snack with tea. A big bowl of Dahi bhalla Chaat would be set on the table with all its accompanying condiments and you could just build your own Dahi Bhalla plate just the way you like it.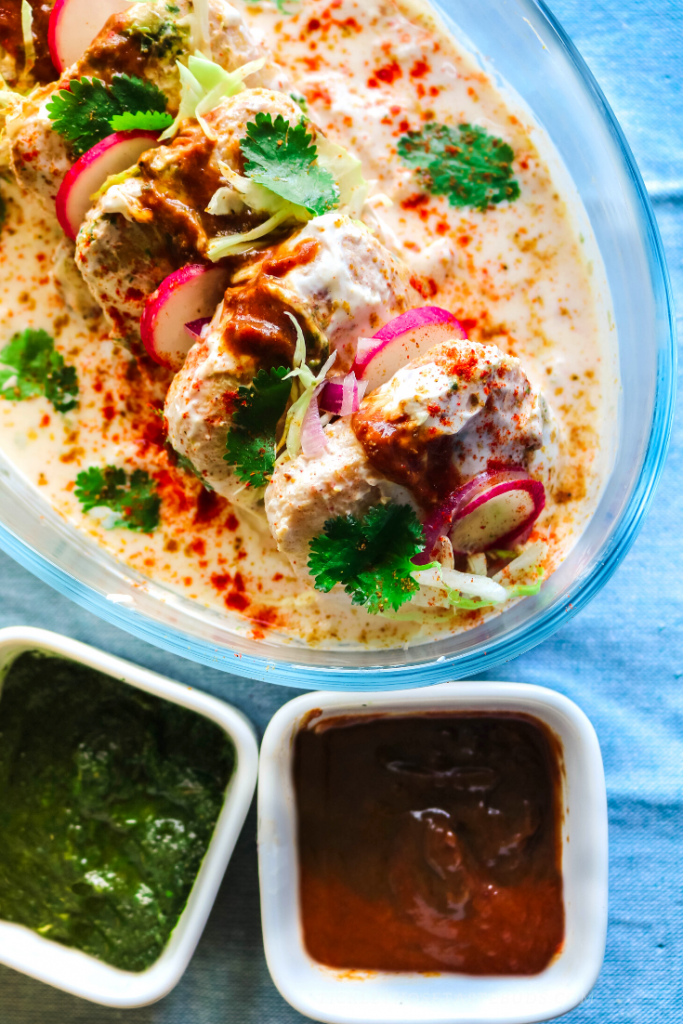 In my house, no celebration was complete without a big bowl or a dish of Dahi Bhalla. We often used to get it from the vendors and assembled it at home, but my mother also used to make Dahi bhalla Chaat at home, especially on every Eid. It was a must item on the Eid table, no Eid was complete without my mother's dish of Dahi Bhallay.
Never had I ever imagined that I would be the one making these one day, all by myself and that too from scratch. Had it not been the cravings for the chatpatta Lahori street food that I immensely miss here in Ireland, I wouldn't have even tried making these – honestly.
But I'm glad I did because these not only turned out delicious but even tasted just like the ones we used to have back home. It was an achievement making it from scratch and as a first attempt, and husband approved as well – achievement unlocked!
How to Make Dahi Bhalla Chaat
Traditionally the Dahi Bhalla or Dahi Vada is deep-fried and is round in shape. The twist in this Dahi Bhalla chaat recipe is that the bhalla are square-shaped and they are steamed and shallow fried, not deep-fried.
To make the Dahi Bhalla Chaat there are 3 main ingredients, chutneys and extra-addons to assemble the dish and for texture and flavor.
Why This Recipe Works
In this recipe, a combination of two lentils Dal Maash and Dal Moong is used for a good flavor and soft bhalla (Baray)
The steaming method to make the bhalla (Baray) is healthy, less oil consumption and tastes exactly the same
In this recipe, bhallas are soaked twice, once in lukewarm water and the second time in flavored yogurt. Soaking in lukewarm water makes the bhallas soft, spongy and double in size. Whereas in the flavored yogurt, the bhallas soak up the flavors and the yogurt so when you serve it doesn't soak extra yogurt.
The Chutneys add a sweet and spicy flavor to the chaat
Potatoes, the salad, phulki, and papdi all together add texture and flavor to the dahi bhalla chaat making it a lip-smacking delight.
Not to forget, the Chaat Masala is a star ingredient of the chaat, with the spicy and smoky flavor it gives the Dahi Bhalla Chaat a kick of spice. It can totally be adjusted to your taste.
Tips to Make Perfect Dahi Bhalla
Lentil Combination: Use a combination of lentils for soft and spongy bhallas
Soaking the Lentils: Make sure to soak the lentils in enough water for 4-6 hours. You can soak it overnight too.
Grinding the Dal: Don't add too much water when grinding the daal. It should be a thick paste
Gritty Batter: Check the batter by taking a little amount and rubbing between your fingers. If it's gritty add a little water and grind. The batter should be smooth
Whisking the Batter: It is important to whisk the batter for 8-10 minutes using a beater, whisk or by hand. This helps in aerating the batter which results in soft and spongy bhalla. Don't forget to add baking soda before whisking.
Test the Batter: drop a small ball of batter in a bowl of water. If it floats, it's ready.
Steaming vs Frying: For a healthier version, you can steam the bhallas as mentioned in the recipe. Alternatively, you can deep fry the bhallas in hot oil.
After steaming or frying let the bhallas cool completely before soaking.
Soaking the Bhallas: Soak the bhallas in lukewarm water. This helps in making the bhallas soft and they will double in size too.
Soaking in Flavoured Yogurt: this would allow the bhallas to soak up the yogurt along with all it's flavors from the yogurt . So when you serve it won't soak up much yogurt then.
Fresh and Crisp Salad: To make the vegetables for the salad fresh and crisp, soak them in ice-cold water after cutting.
Assembling: Assemble the Dahi Bhalla Chaat just before serving. Serve chilled along with all the condiments.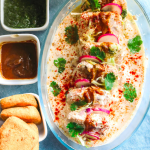 Print Recipe
Pakistani Style Dahi Bhalla (Baray)
Crispy Square Bhalla (lentil fritters) submerged in sweetened yogurt, topped with lip-smacking chutneys, chaat masala, crispy papdi, and fresh salad. Enjoy the burst of flavors in every bite of this delectable Dahi Bhalla Chaat.
Ingredients
To Make Bhalla (Baray)
1

cup

Dal Mash

(Urad Dal dhuli, split & dehusked black gram lentil, soak for 4 to 6 hours)

1/ 2

Cup

Dal Moong

((split & dehusked mung beans ,Split yellow lentils ) soak for 4 to 6 hours)

1

inch

Ginger

1

tsp

Green Chilli Chopped

1

tsp

Salt

1 1/2

tsp

Red Chili crushed

1/2

tsp

white Cumin

1/2

tsp

Baking Soda

1-2

Tbsp

Water or as needed
To Soak Bhalla (Baray)
1

bowl

Lukewarm Water

1/2

tsp

Salt
To Make Flavoured Yogurt
1

Cup

Yogurt

1

tsp

red chili powder

1

tsp

Salt

1/2

tsp

Cumin

(roasted and crushed)

1/2

Cup

Milk
To Make Dahi Bhalla Chaat Yogurt
4

Cups

Yougurt

(1 kilo)

2

Tbsp

Castor Sugar

1/2

tsp

Salt
To Assemble Dahi Bhalla Chaat
Sweet Tamarind Date Chutney

Spicy Mint Corriander Chutney

2

Potatoes

(boiled and cubed)

1/2

Cup

Phulki (mini gramflour dumplings)

1/4

Cup

Cabbage, very thinly sliced

1/4

Cup

Onion, thinly sliced

1/4

Cup

Red Radish, thinly sliced

Pomegranete

(for garnish)

Chaat Masala

Papdi

(for garnish)

Fresh Coriander

(for garnish)
Instructions
To Make Bhalla (Baray) Batter
Soak the Lentils: In a large bowl soak the lentils in enough water for about 4-6 hours.

Make the Batter: Drain the soaked lentils and them to the blender. Add ginger, green chilies, salt, red chilies powder, and water. Blend until smooth.

Transfer the blended batter into a wide bowl. Add baking soda and using your hand, a whisk or a hand beater, beat the batter for about 5-10 minutes until it is light and airy. The batter should be fluffy but thick pouring consistency. It will also double in size.

Pro Tip: The secret to making soft and spongy bhalla is beating the lentil batter to aerate it.

To check if the batter is ready, drop a small ball of batter in a bowl of water. If it floats, the batter is ready.
To Make Square Bhalla (Baray)
Prepare the Steamer: In a big pot add water and bring it to a boil. lower the heat and let it simmer, place the steamer in the pot. Grease the square ramekins with cooking spray or oil.

Steam the Square Bhallas: Now pour the batter (about 2 Tbsp) in the ramekin and place it in the steamer. Let cook for about 5-8 mins, the batter will start rising. Insert a toothpick, if it comes out clean, it is cooked. Repeat until all the batter is used.

Shallow Fry the Bhalla: In a frying pan heat oil on medium heat. Fry the steamed square bhallas until golden on both sides, and crisp. Pro Tip: Drain bhallay on kitchen paper and let them cool completely.
Soaking the Bhalla (Baray)
Now soak the steamed-fried bhallas in lukewarm water for about 15 mins. The square Bhallas will double in size as they soak water.

Prepare Flavoured Yogurt: While the bhallas are soaking in lukewarm water, prepare the flavored Yogurt by mixing together salt, red chilli powder, cumin powder, and milk.

After 15 mins, take out the bhallas from water and genly press it between your plam ti squeeze out excess water.

Now place the square bhallas in the flavoured yogurt and refrigerate for 30 mins.
Assembling the Dahi Bhalla Chaat
Whisk the thick yogurt and the salt and sugar. The yogurt should be thick and of pouring consistency. Add the boiled potatoes and phulki in the yogurt and mix. Pour half the yogurt in the serving dish.

Take out the square bhalla from the refrigerator and place it in the serving dish. Pour the remaining yogurt over it (if needed).

Drizzle some mint coriander chutney, some sweet tamarind chutney (as per taste), sprinkle chaat masala powder.

Garnish with cabbage, onion, red radish, papdi, fresh coriander, and pomegranate seeds. Enjoy!
Notes
Soak the lentils in enough water for atleast 4-6 hours or overnight
If you forget to soak the lentils, soak them in warm water for 2-3 hours
Use a combination of both Dal Maash and Dal Moong for soft Bhallas
Don't add too much water when grinding the daal. It should be a thick paste.
Whisk the batter for 8-10 minutes until it's fluffy and light in color
Steam the Bhallas for healthy version
Store the bhallas in a ziplock back and refrigerate for 2-3 days or freeze for upto 3 months.
How To Store the Dahi Bhalla?
Making Dahi Bhalla or Bhallay (Baray) is time-consuming. It's always ideal to make a big batch and store the remaining bhallas to use some other time.
The best way to store the bhallas is to put them in a ziplock bag or an airtight container and refrigerate if you will be consuming them in the next 2-3 days. They stay good in the refrigerator for 3-4 days.
Alternatively, you can freeze the bhallas in a ziplock bag for up to 2 months. When ready to use, simply thaw them for 2-3 hours at room temperature. Then soak them in lukewarm water and prepare the dahi bhalla chaat as directed in the recipe.
You'll Also Like
By the way, if you enjoy my recipes, I'd love for you to subscribe to my YouTube channel for Video Recipes
For your Pinning Pleasure