Happy INDEPENDENCE WEEK Y'all! I'm back on the blog and what an exciting month it is to start blogging again. Why an exciting month, you ask? Because, it's my birthday month, it's Pakistan's birthday (Azaadi Celebrations) month and I have an exciting FOODIE CHALLENGE for you all, so it means there will be an exciting PRIZE!
Independence day excitement starts from the beginning of the month. There are stalls on road-side with national flags, banners, posters, buntings and everything green and white. The entire country looks so festive and the patriotic spirit is so high, it just feels so good. Every house and buildings goes green and white (in flag colors) and it's so much fun being creative with food in the patriotic spirit.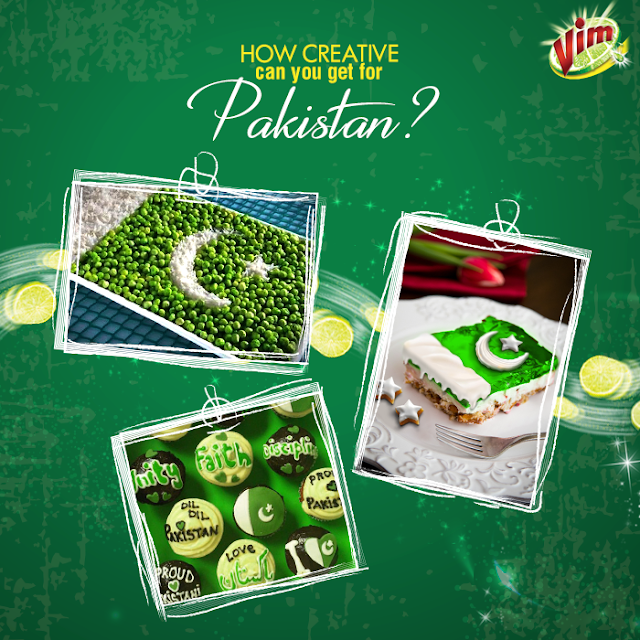 Celebrating the Independence Week, here's your FOODIE CHALLENGE, How creative can you be for Pakistan? It's really simple, here's what you need to do:
Celebrate Independence day and your love for food in a creative way by preparing a patriotic dish with Green and White Ingredients.
Take a picture of your creation and post it on my blog page here
The most creative and best entry will win an exciting Prize!
The contest closes on 19th August, 2016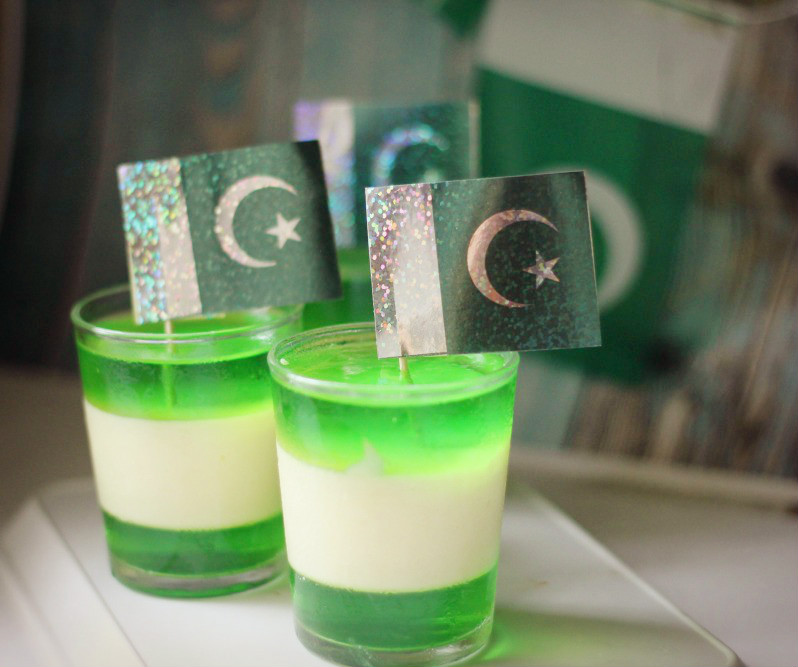 Simple right? To get you started here is what I made to celebrate Independence day and my love for food, Azaadi Jelly-Pudding Shots. This is such an easy dessert, made with only 3 ingredients and served in a creative way – it's an instant hit at holiday parties.
While others enjoy this super easy and delicious dessert, my cleaning buddy Vim Gel helps me get rid of those dirty dishes in no time at all!
Happy Independence Day! Don't forget to participate.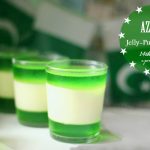 Print Recipe
Azaadi Jelly-Pudding Shots
These green and white, 14th August Jelly-Pudding shots will be a hit at your Independence Day celebrations. Simple layers of Jelly and Pudding to celebrate the patriotic spirit!
Ingredients
1

Packet Pudding Mix

1

Packet Cream

1

Packet Jelly

(Banana favored)
Instructions
Prepare the pudding mix, according to the packet directions

Beat the cream, until smooth and fold it in the pudding mixture.

Prepare the jelly according to packet directions.

For Assembling: pour some jelly liquid at the bottom of your serving glass. Keep in refrigerator until set. Then pour over it pudding mixture, again refrigerate until set. Now add another layer of jelly and again refrigerate until set

Serve Chilled!