It was World Egg Day on October 10th, 2014. This day is celebrated to raise awareness about the many benefits of Eggs. Owing to this day, I thought of making a contribution too with my Cheese Omelet recipe
Here is a quick fact: Did you know that one chicken can lay about 250 to 300 eggs in a year? Thank you lovely chickens, as this ingredient (Egg) has become the hero of the Kitchen and daily meals.
Eggs, without a doubt are superfood as they are rich in proteins, vitamins and minerals. This champion ingredient can truly transform any meal breakfast, lunch or dinner into something special and it's AFFORDABLE too!
So coming back to our Cheese Omelet recipe. As you know by now that I'm a cheese lover. If not yet, read about me and my stories on ShortStoryThursday. This recipe is very simple to make, and with a few ingredients we'll make a fancy omelet and eventually you'll have a fancy breakfast. Now isn't that GREAT?
The best thing I like about this omelet is the melted cheese oozing out, the crispy golden bread to go with it and the right blend of flavors in the egg- it is completely DIVINE! Also, in this recipe the secret omelet making tool is "THE SPATULA".Yes! You read it right, it eases the omelet making process and it's folding too.
Meanwhile you can also learn this great omelet making technique from the Chef- Julia Child herself!
Try it out and let me know in the comments below How do you do your eggs in the morning?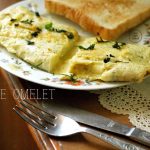 Print Recipe
Cheese Omelet
Oh so Cheesy! Breakfast omelet oozing with cheese-sheer goodness!
Ingredients
2

Eggs

(at room temperature)

2

tsp

Water

a pinch Salt

1/4

tsp

Black pepper

a dash Red chili flakes

(optional)

1/4

tsp

Dried thyme

(optional)

2

tsp

Butter

1/4

cup

Cheddar Cheese
Instructions
Break eggs in a bowl, season and whisk

Now add water and whisk it lightly. (you can even use milk instead of water, but water makes it more fluffier)

Heat a non stick skillet over medium heat. Add the butter. When it starts sizzling and foaming spread it all over the pan

Add the eggs to the pan and shake vigorously. Scramble the egg a bit and keep shaking the pan for about 6 to 8 seconds

When you start seeing some semi-solid curds, just swivel the pan so that the runny eggs spread around the pan

Now let the egg cook for a few seconds. When the egg seems to be set, run the spatula around the edges to free the eggs from the base.

Turn off the heat. Sprinkle the cheese in the center. Fold the omelet from the sides and then slide it on to the serving plate