I wanted to try this recipe for Chinese Orange Chicken from so long and finally I DID IT!! This citrus season I wanted to make the most of these oranges and I'm glad that I made some really delicious and amazing recipes.
Since the beginning of the season I've been in search of a good recipe for Orange Chicken that's according to the taste palate of my family, who generally like things a bit spicier. So after a lot of research and going through a lot of recipes on the internet, I came across one recipe that I thought to give a try and with my additions to it came with this version of Chinese Orange Chicken. It's tangy and spicy, it's sweet and crispy and it's Oh! so citrusy 😀
This dish requires a bit of a preparation but the cooking time is just 10 minutes and there you have an amazing Chinese dish ready to serve. My family loved it so much that I can proudly say that this is a Make-Again kind of a dish and a must addition to Chinese Lunch or Dinner menus. The Orange Sauce prepared is to glaze the chicken pieces however I made the sauce a little more in quantity to go along with the rice – That's how my family likes it 🙂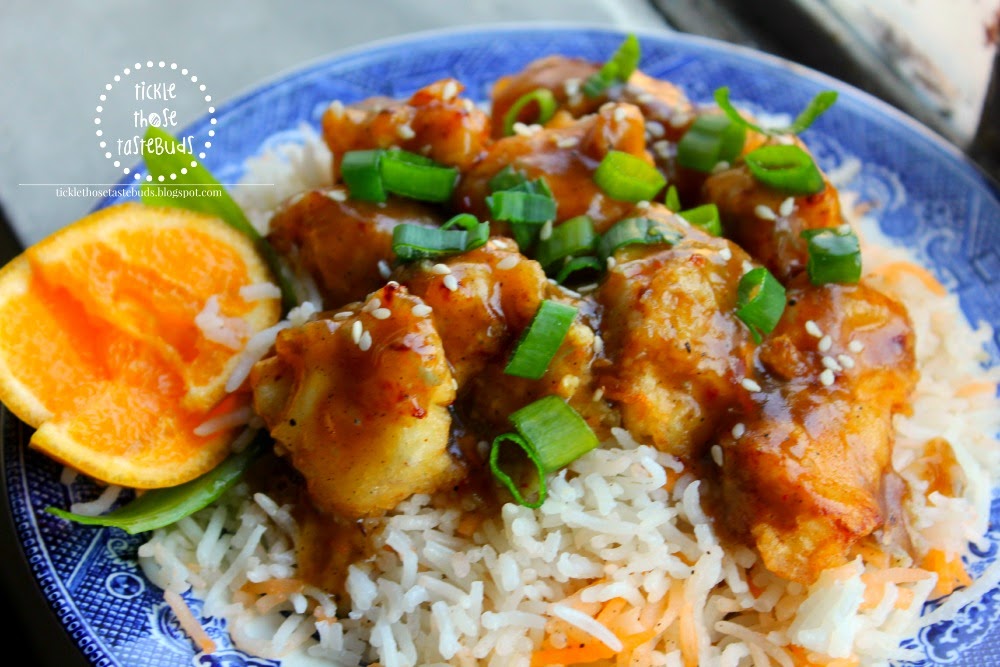 If you've viewed my previous posts, you must have seen how I have used Oranges in different dishes. If not yet, then check out these interesting recipes of Orange Chiffon Cake – a very easy to make cake and Orange Chocolate French Toast Roll-Ups – an exciting and flavorful breakfast.
Do try out this Chinese Orange Chicken recipe, it'll definitely Tickle those Tastebuds and will become your Make-Again dish too 🙂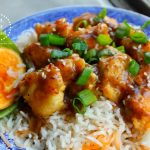 Print Recipe
Chinese Orange Chicken
The Best Orange Chicken Recipe, It's tangy, it's spicy, it's sweet, it's crispy and it's Oh! so citrusy
Ingredients
1/2

Kg

1lb Boneless Chicken, diced into 1 inch pieces

Orange Sauce

1

tsp

Garlic

(minced)

1

tsp

Ginger

(minced)

1

Tbsp

Oil

1

Green Onion

(Stalks thinly sliced, for garnish)

1/2

tsp

Sesame Seeds

(for garnish)
Chicken Batter
1

Egg

1

Cup

Flour

1/2

Cup

Corn-Flour

1

tsp

Baking powder

1/2

Tbsp

Oil

1/4

tsp

Salt

1/4

or 1/2 Cup Water

Oil for deep frying
Orange Sauce
1 1/2

Cup

Chicken Stock

1

Cup

Orange Juice

(Freshly Squeezed)

2/3

Cup

White Vinegar

1/2

Cup

Soy Sauce

1/2

tsp

Garlic

(Minced)

1

Tbsp

Orange Zest

2

Tbsp

Sriracha Hot Sauce

1/2

tsp

Ginger

(Minced)

1/4

tsp

White Pepper powder

1

tsp

Black pepper powder

2/3

Cup

Granulated White Sugar

1

tsp

Salt

1 1/2

tsp

Red Chili Flakes

4

Tbsp

Cornflour + water

(paste)
Instructions
In a prepping bowl, whisk together the ingredients of Orange Sauce

In another bowl combine chicken pieces with 2/3 cup of the prepared Orange Sauce mixture and marinate for 15-20 minutes

In a pan add 1 Tbsp Oil, add minced garlic and ginger. Fry until fragrant. Now add the prepared Orange Sauce in the pan and bring to boil. Stir in the Cornflour+water paste, cook while stirring frequently until the sauce thickens about 1-2 minutes. Taste check, adjust salt, spice or sugar according to taste. Keep warm

Mix together the ingredients of the Chicken Batter in a bowl, drain the chicken from the orange sauce and discard the marinade

In a pan heat oil over medium-high flame. Dredge the chicken piece in the prepared Chicken batter and working in batches fry until crisp, golden and cooked through. Remove from oil and transfer to a paper towel lined plate to drain excess oil

In a pan heat oil over medium-high flame. Dredge the chicken piece in the prepared Chicken batter and working in batches fry until crisp, golden and cooked through. Remove from oil and transfer to a paper towel lined plate to drain excess oil.Toss or drizzle the fried chicken pieces with the Orange Sauce, garnish with sesame seed and green onion and serve immediately

Serve with steamed rice
Recipe adapted from Cooking Classy