Are you the kind of person who likes to have a fancy breakfast? Well, who wouldn't want one, I do! If I tell you that you can make a very fancy, flavorful, hearty breakfast that's super easy and budget-friendly wouldn't you want to try it? I'm sure you do.
With ingredients from your kitchen pantry, eggs, ripe tomatoes, onions and spices, you can prepare a very easy yet fancy dish Shakshuka – breakfast in a skillet, fun name right? I came across this Shakshuka recipe a while ago, its colors and ingredients tempted me so much that I had to try and ever since I've made it, it has become a favorite! Also, this star dish is perfect for brunches, weekend breakfasts or just any time at all.
I'm sure some of you might have heard about or have tasted this dish before but for those who aren't familiar with it, Shakshuka is a traditional Mediterranean dish, known to have Tunisian origin. The word Shakshuka means "a mixture" in Tunisian Arabic. It essentially is a tomato sauce prepared in a cast-iron skillet with spices and poached eggs on the top. This incredibility satisfying meal is a staple of Libyan, Moroccan, Algerian, Tunisian and Egyptian cuisines.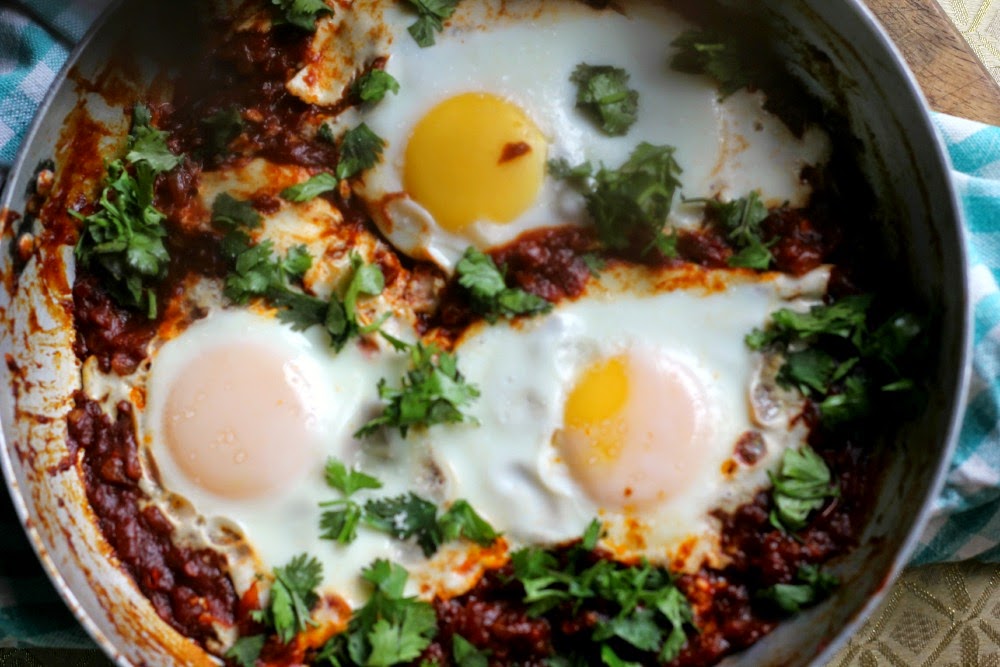 You won't believe how easy it is to prepare and how flavorsome it is. In just one skillet you prepare the sauce, add your eggs directly over it, which gently poach it. As much as its a delicious meal its a treat to look at too. The aroma of tomatoes and garlic combined with subtle heat of the spices, the richness in the sauce balanced with herbs and the golden yolks of the poached eggs perfectly pulls everything together.
In my recipe version I've used three eggs, you can add in as many as you like. You can also be creative and add bell peppers in the tomato sauce or sprinkle some crumbled feta cheese on the top. This can be served with warm pita bread, toasted and buttered bread slices or just any type of bread you like.
Have you tried this before? Do let me know by commenting below and if you haven't give it a try this weekend and savor the mediterranean flavors.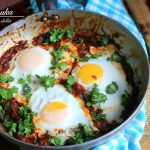 Print Recipe
Shakshuka – Breakfast in a Skillet
Shakshuka! poached eggs nestled in a peppery and flavorful tomato sauce in a skillet.
Ingredients
2

Tbsp

Extra Virgin Olive Oil

1

Big Onion

(chopped)

4

Cloves

Garlic

(roughly chopped)

4

Large ripe Tomatoes

(chopped)

1/4

Cup

Tomato Puree

(canned or home made)

1

tsp

Cumin Powder

1

tsp

Red Chili Flakes

1

tsp

Coriander Powder

1/4

tsp

Dried Basil

1

tsp

Salt

(or to taste)

1

tsp

Black pepper Powder

(or to taste)

3

Eggs

Fresh Coriander

(chopped for garnish)
Instructions
In a medium skillet, heat olive oil, add the onions and saute until translucent then add the Garlic and saute until fragrant

Stir in the tomatoes and cook for 5 minutes on medium heat until soft. Now add the tomato puree, all the spices and mix well. continue to cook, stirring occasionally till its all well combined and sauce starts to thicken. Taste check and adjust seasoning according to taste.

Make wells in the tomato sauce and crack in the eggs making sure the yolk doesn't break. Put the lid on, and turn down heat to low. Cook for 15 minutes on a low flame(or how you want your yolk to be, runny or hard ).

Uncover and remove from heat, sprinkle some salt and pepper on the eggs, garnish with chopped coriander and serve with your favorite bread
Notes
If the tomato sauce is too dry and sticking to pan, pour in some water and mix well. Shakshuka is supposed to be dry, not watery liquid. You can bell peppers, jalapenos to the sauce and sprinkle some crumbled feta cheese on the top This dish can be prepared on the stove or can be baked. Once the tomato sauce is prepared, crack in the eggs, put it in the oven and bake