This recipe is inspired by Indian street food, this makes an excellent breakfast or you can even have these served on a brunch, children's lunch or which ever way you like. Easy to make, Delicious to eat!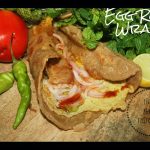 Print Recipe
Egg Roll Wrap
Ingredients
Egg – 1

Paratha – 1

Onion – 1/2

(thinly sliced)

Green Chili – 1

(thinly sliced)

Salt – 1/2 teaspoon

Red Chili powder – 1/2 teaspoon

Turmeric powder – a pinch

Chaat Masala – 1/2 teaspoon

Lemon Juice – from 1 lemon

Mustard Sauce

Tomato Ketchup

Oil/Ghee
Instructions
Prepare your paratha (like a normal everyday paratha) and keep aside

Prepare your sliced onions and green chilies with some salt, chaat masala and lemon juice.

In a seperate bowl, whisk egg, add salt, red chili powder turmeric powder. Mix well.

Heat an omelette pan over medium heat, add some oil, pour the whisked egg into the pan and swirl so that it goes till its edges

Before the egg starts cooking, put the paratha on top of it, pressing it gently so that it sticks onto it.

When the egg is cooked, flip the paratha and cook from the other side for about 1-2 minutes

Put the egg paratha on a plate, with egg side facing up. Place the onion mixture in the centre

Drizzle some mustard sauce and tomato sauce and roll it to make a wrap.

Use butter paper to wrap it so that it stays in place.

Serve hot!