This Spicy Chicken Tenders recipe is one of those that has everything you crave for in a fried chicken tender but this one's Healthy!
Healthy How?
These days you must be hearing a lot about Super foods, some seeds that are healthy and should be used in our daily meals. Well, this recipe uses one of those Super foods, Flax seeds. I know you have more questions like what are flax seeds, where can one find it, how to use it in meals?
What are Flax seeds?
Flax seeds come from a fiber crop Flax that is grown in cooler regions. They are rich in Omega-3 and are also a rich source of micro nutrients, dietary fiber, Vitamin B1 and magnesium
What are Super Foods?
Super foods are nutrient rich food items that are beneficial for health. These are mostly plant based but also come from fish and dairy. So these foods are nutrient powerhouses that are packed with vitamins, minerals, antioxidants and polyphenols that leave you feeling healthy inside out! So Yes, Flax seeds are super.
Where can I find it?
Linwoods Pakistanhas introduced these Super Foods to the Pakistani market and is available at Al-Fatah, Jalal Sons, Green Valley, The Global Store, Essajee's in Lahore and at all leading stores in Karachi. Linwoods combines all the good-for-you foods in nutritious blends that are flavorful and are ground so that its easy to use and absorbed by the body. Since these Super foods are ground they can be used in a variety of ways and can easily become a part of your everyday-healthy-lifestyle. You can use them as a topping on salads, include in smoothies, add in soups or sandwiches, pasta and so many other ways.
You can find more about Linwoods Super Foods on their Facebook Page here
I'm sharing with you another wonderful recipe prepared with Linwoods Flax seeds, it's spiced perfectly, its moist from the inside and has a delicate crisp crust. It quick, easy, delicious and really really healthy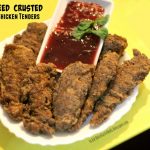 Print Recipe
Flax seed Crusted Spicy Chicken Tenders
Flax seed crusted Spicy tenders! Super healthy, moist from the inside, delicately crisp crust and perfectly spiced is definitely a finger-licking good
Ingredients
For Chicken Tenders
2

Boneless chicken breasts

(cut into strips)

1

tsp

Garlic powder

1

tsp

Paprika

2

Tbsp

Hot Chili Sauce

(I used Sriracha)

1/2

tsp

Black pepper powder

1

tsp

Worcestershire Sauce
For Flax seeds crust
1

Cup

Ground Flax seeds

(I used Linwoods)

1

tsp

Salt

1

tsp

Black pepper

1

tsp

Garlic powder

1

tsp

Paprika

1/2

tsp

Oregano

(dried)
For Egg Mix
1-2

Eggs

1

Tbsp

Mustard paste

1

Tbsp

Hot chili Sauce

1/2

tsp

Salt

1/2

tsp

Black pepper

1/2

tsp

Paprika
Instructions
For Chicken Tenders: In a prep bowl add chicken along with all the Chicken tender ingredients mentioned and marinate for 15 minutes

Mix the Flax seeds crust ingredients together in a wide bowl and Egg mix ingredients in another bowl.

Heat a pan with 2 tbsp oil, Place chicken tenders in Flax seeds crust, shake away any excess from each piece and then coat it with the Egg Mix

Before frying dredge the tenders once again in Flax seed crust mix and place in the pan. Fry for 5 minutes or until golden and cooked through

Drain the fried chicken tenders on kitchen paper

Serve hot with your choice of sauce. I served it with home-made fresh plums chutney
Notes
Alternatively, you can bake these Chicken Tenders. Preheat oven at 350 degrees, once the tenders are coated place on a baking tray sprayed with cooking oil. Brush some oil on the tenders as well and bake for 15 minutes or until golden and cooked through
Surprise Surprise!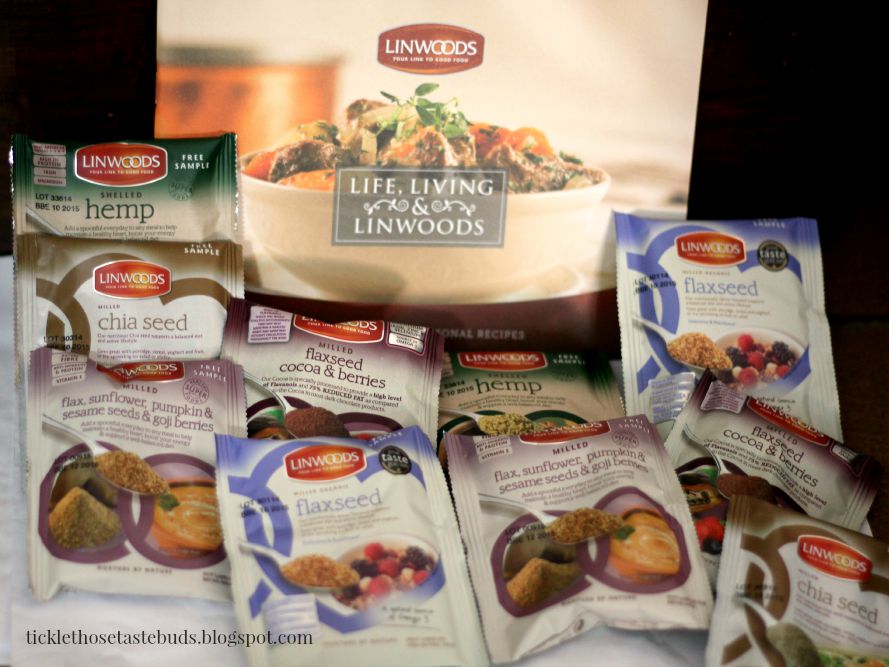 You'll be getting a good variety of Super foods by Linwoods Pakistan. All you have to do is:
Visit and Like them on Facebook here
For more recipes and information on Super Foods visit their website here
TTTB First Anniversary Giveaway is still Open! It's worth Rs. 45000 and includes fabulous items. If you haven't participated yet, click here and Enter Now. I'm sure you don't want to miss all the amazing stuff we've got for you. The giveaway will close on July 22nd. Participate and Win Win Win!
Disclosure: I was not financially compensated for this post. I received a sample of the product for review purposes. The opinions are my own, based on my personal experience with the product