Sometimes all you need is a hearty, quick fix meal that satisfies all your cravings. And my idea of these easy quick fix meals somehow is always Chinese food. Be it at a restaurant or homemade it's always satisfying and you get everything in one – the protein, vegetables and nuts! Coincidentally my favourite Chinese food includes dishes with nuts be it the Kung Pao Chicken or this Almond Chicken
I make sure to include a Chinese dish or a stir-fry on the weekly menu. It is to add variety and more veggies in our meals. I had some left-over blanched almonds at hand and decided to used them for this Chinese Almond Chicken recipe. It turned out to be a delicious decision.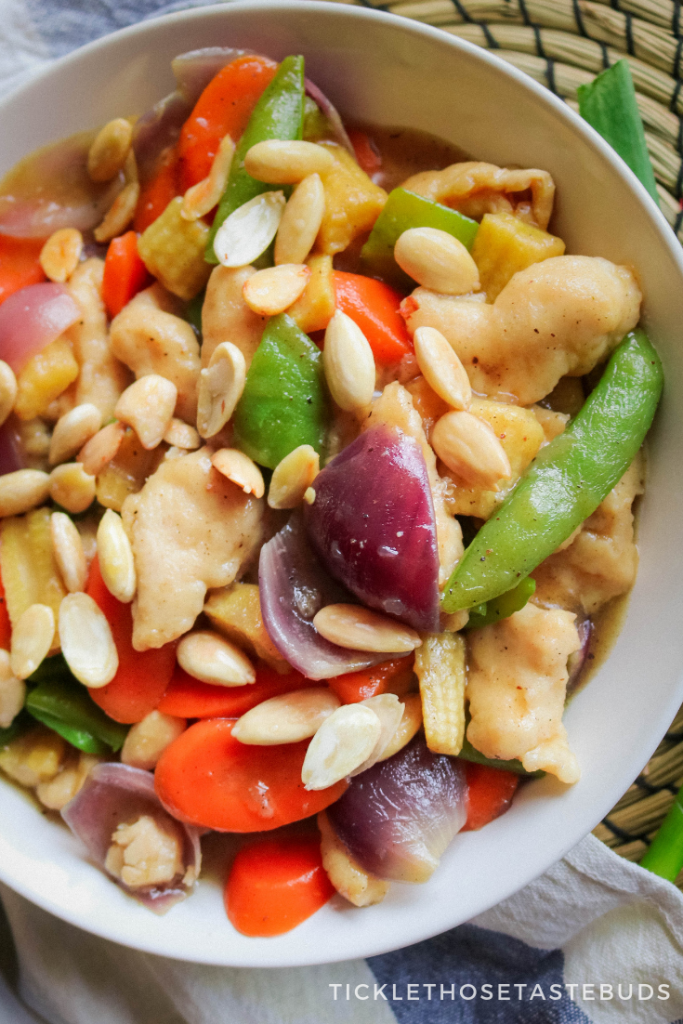 Almond Chicken is a favourite dish of most. I remember as a family whenever we went out for dinner to a Chinese restaurant we always ordered Almond Chicken along with Chicken Manchurian of course.
Chinese Almond Chicken Recipe
Chicken and nuts are just perfect together, whether its Kung Pao Chicken or Chicken with cashew nuts, no other type of protein pairs so well with different types of nuts like chicken. Almond Chicken is another winner recipe that pairs the two ingredients and the addition of vegetables takes it to another level.
The flavours and textures in this dish are deliciously amazing. Stir-fry chicken with loads of colourful vegetables and toasted almond, all in a light savoury sauce, is what makes it addictively delicious – and it comes together in just 30 minutes!
The best thing about this dish is that you can use any vegetables of choice. I used the ones I had – carrots, onion, bell pepper, sweet corn and snow peas. So use any vegetables your family likes.
You can even add your choice of protein. I prefer it with chicken and used chicken breast in this recipe, you can use thighs too. The toasted almonds give a nice texture and crunch to the dish. Every bite is accompanied by chicken, vegetables and crunchy almonds. The sauce is prepared with a few ingredients that you probably have in your pantry.
Almond Chicken Ingredients
As this recipe is a quick stir fry, the ingredients are simple and the recipe is easily customizable. Detailed instructions and measurements are in the recipe card below.
Meat: Chicken is my preferred meat for this recipe. I used chicken breast, you can also use chicken thighs. This recipe can easily be made with beef too.
Veggies: Anything you have at hand can go in the recipe. I used carrots, onions, bell peppers, sweet corn and snow peas.
Nuts: Blanched and toasted almonds add a perfect crunch to the dish
The Sauce: the light savoury sauce is made with chicken broth (stock), soy sauce, oyster sauce, salt, crushed black pepper and thickened with cornflour.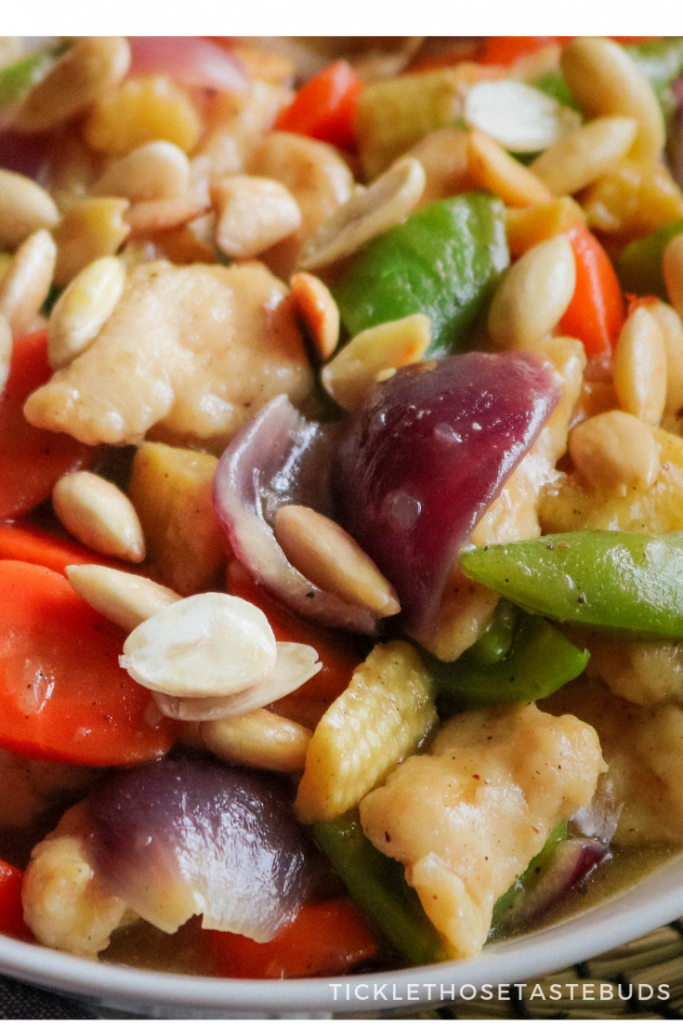 It is a great dish for a weeknight dinner as it involves less cooking time so you can easily relax and do other things. It so filling and delicious, a winning crowd-pleaser dish to serve at lunch or dinner.
Serve it with steamed rice, garlic rice or any rice you like. Weight-watchers can have it with quinoa, brown rice or even cauliflower rice – it tastes equally amazing.
Try this recipe for Chinese Almond Chicken tonight and I promise you'd love it and your kids would love it too. And if you're into leftover meals as lunch, it tastes even better the next day.
More Chinese Recipes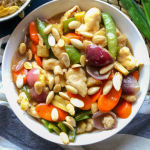 Print Recipe
Chinese Almond Chicken
Almond Chicken is packed with delicious flavours. This stir fry of tender chicken, bright and colourful vegetables and crispy almonds in a light savoury sauce, is addictively delicious.
Ingredients
For the Chicken
2

Chicken Breast Fillet

(cut into 1-inch pieces)

1/2

tsp

Salt

1/2

tsp

White Pepper

1/2

tbsp

Sesame Oil

1

Egg White

2

tbsp

Cornflour

3

tbsp

Oil

(for stir frying)
For the Vegetables
1/2

cup

Carrots

(sliced)

1/2

cup

Baby Corn

(cut into bite-size pieces)

1

medium

Onion

(diced)

1/2

Bell pepper

(diced)

1/2

cup

Snow peas

1 Tbsp

Garlic

(finely chopped)

1 Tbsp

Oil

2

Green Chilies

1/3

cup

Almonds

(blanched )
For the Sauce
1 1/2

cup

Chicken Broth

1/2

tbsp

White Pepper

1/2

tbsp

Black Pepper

(crushed)

2

tbsp

Soy Sauce

1

tbsp

Oyster Sauce

1

tsp

Salt

(or to taste)

1

tsp

Sugar

2

tbsp

Cornflour
Instructions
In a bowl add chicken, salt, white pepper, sesame oil, egg white and corn flour. Mix together so that chicken is well coated. Set aside

In a bowl mix together all the ingredients for the sauce. Set aside

In a small pan add 1 tbsp oil and fry the almonds. Keep stirring not to burn. Keep aside.

In a pan or wok heat oil on medium-high heat. Add the chicken and stir fry until it turns white. Don't overcrowd the wok. Remove chicken from pan onto on a plate.

In the same pan or wok add 1 tbsp oil (if needed) add in the garlic and stir-fry until fragrant. Now add all the vegetables and stir fry until crisp and tender.

Now add chicken to the pan along with the sauce. Mix it all together and bring it to a boil. Let simmer until the sauce thickens.

To thicken the sauce add cornflour slurry (2 tbsp cornflour mixed with water) to the pan to desired consistency.

As soon as the sauce thickens, dish and add toasted almonds.

Serve immediately with steamed or garlic rice
Notes
If the sauce gets too thick add a bit water to achieve desired consistency
For Weight Watcher: for chicken skip the cornflour and egg white and stir fry chicken seasoned with salt and white pepper
To thicken the gravy replace cornflour with oatmeal
Watch the Video
By the way, if you enjoy my recipes, I'd love for you to subscribe to my YouTube channel for Video Recipes.
For Your Pinning Pleasure