Pakistani desserts are the star of every meal. They are rich in taste, texture and flavors. I love desserts of all kinds but our Desi Desserts are my favorite. From Gur walay Chawal (Jagger Rice) to Zarda (sweet rice), Ras Malai to Rass Gullah, Suji Halwa to Gajar Halwa, Firni to Rabri, Seviyan (roasted vermicelli) to Mithai (sweets) each dessert dish is unique and tastes delicious. Out of all the desi desserts my favorites are Shahi Tukda and Firni.
Firni or Phirni is a rice pudding made with ground rice. It's infused with the flavors of cardamom and saffron. The creamy and smooth texture, speckled with slivered nuts, is what makes it an enticing dish. Firni however is different from Kheer (another rice dish) as kheer is made used whole Basmati rice whereas for Firni ground rice is used. In Pakistan, Firni is both an every day and a festive dish and is traditionally served in un-glazed terracotta bowls called "thoothi" which gives it a subtle earthy flavour.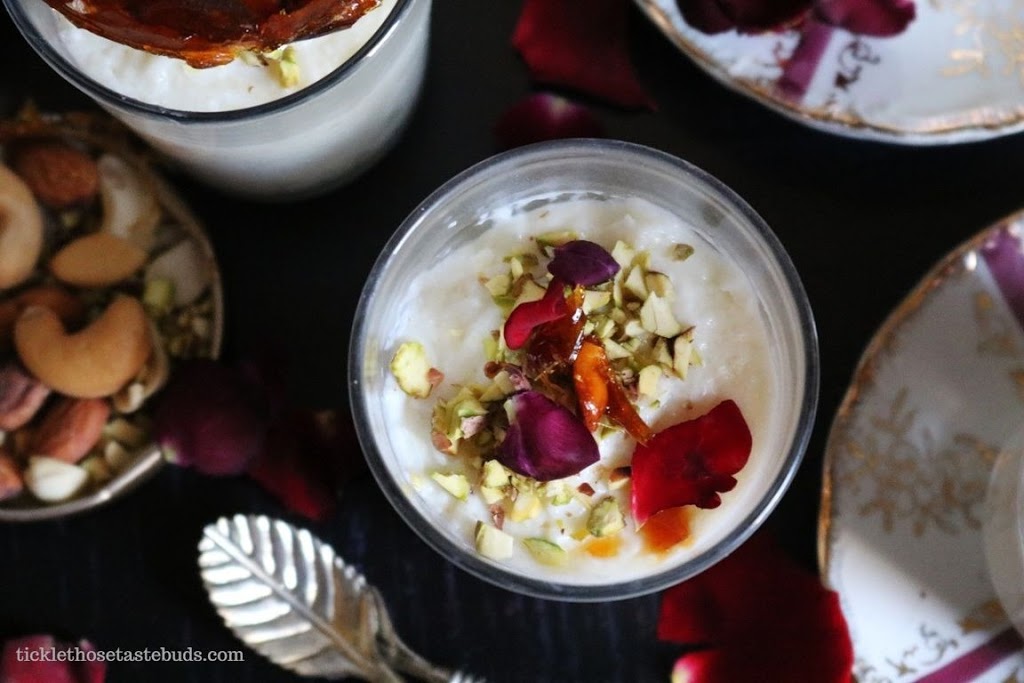 I remember, whenever my mother used to ask what we'd like for dessert, my reply was either Shahi Tukda or Firni – I love it that much. So contuning with the Fun, Creative and Delicious Rice Recipes, this recipe was prepared using Reem ka Steam Basmati Rice. I have been really impressed with the quality of the rice. It's long grain and fragrant rice, the quality everyone looks for in good quality rice. My family has already switched to Reem ka Steam Rice.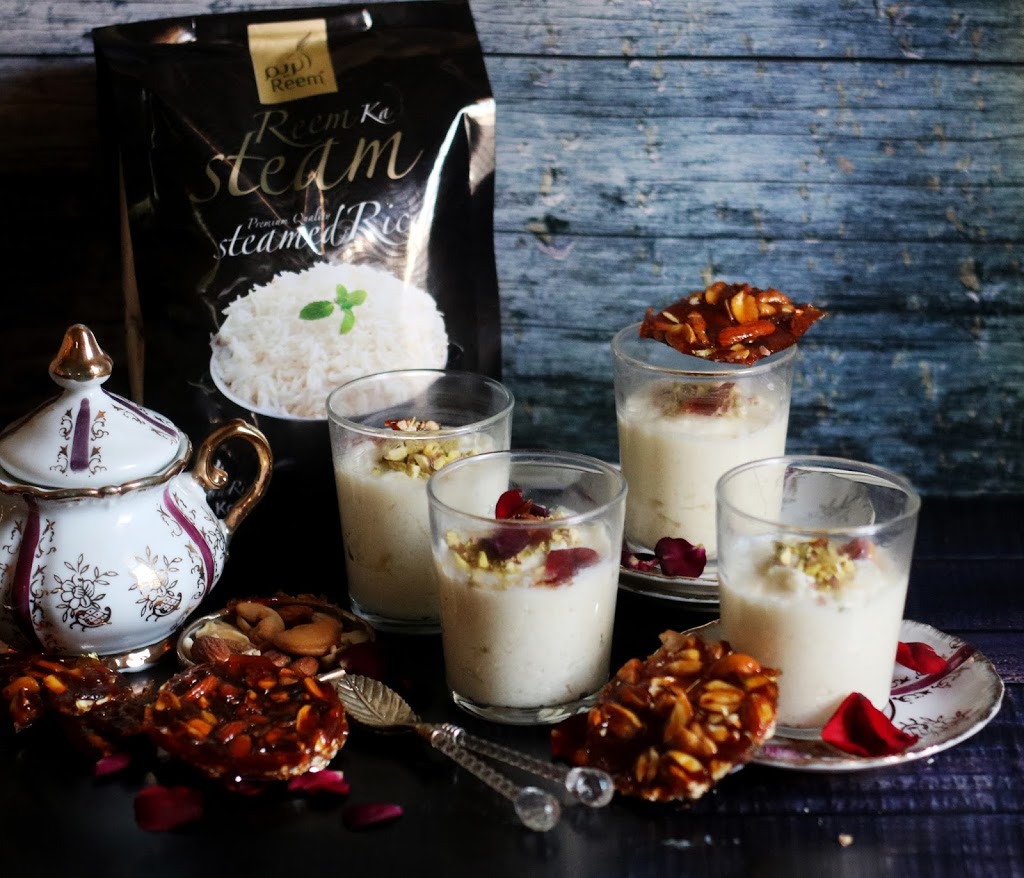 To make it look a bit fancy, I added Nutty Caramel Discs to top this delicacy. The caramel discs are made of nuts (cashews, almonds, pistachio) and caramelized sugar. It's rich with nuts and adds a crunchy texture to the rich and creamy Firni. Everyone loved the addition of Nutty Caramel Discs to the traditional Firni, a great way to impress everyone with your culinary skills. It also made Firni look more festive and even more delicious.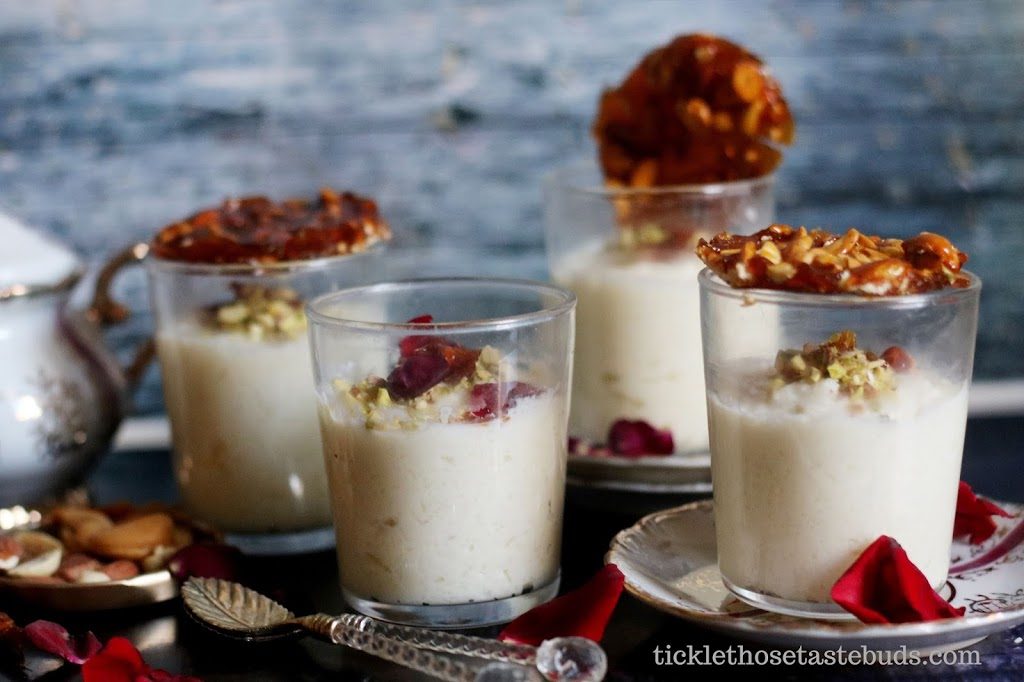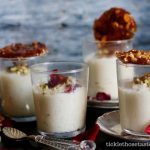 Print Recipe
Firni-Pkaistani Rice Pudding with Nutty Caramel Discs
Firni- Creamy and smooth rice pudding infused with flavors of cardamom, topped with slivered nuts and served with nutty caramel discs
Ingredients
Firni
1

Cup

Reem ka Steam Rice

(soaked and ground)

2.5

litres

(10 cups Milk)

1 1/2

tsp

Green Cardamom powder

Pinch

of Saffron

(optional)

3-4

Tbsp

Cream

1/2

Cup

Sugar

(or to taste)
Nutty Caramel Discs
1

Cup

Castor Sugar

1

Cup

Mixed Nuts

(unsalted (Almond, Pistachio, Cashew, Peanuts))

1

tsp

Poppy seeds

(optional)

Cookie cutter
Instructions
Soak Reem ka Steam Basmati Rice for 15 minutes. Then grind to very smooth paste

In a heavy bottom pan add milk, bring to a boil and let simmer for 10 minutes. Add ground rice to it stirring constantly to avoid any lumps. Reduce heat and let simmer for another 10 minutes. When it starts to thicken add cream, sugar, cardamom powder and saffron strands (if using)

The mixture will start to thicken. Taste check and adjust sweetness (sugar) according to your liking. The consistency of Firni shouldn't be too thick or too runny. Take out Firni in serving bowls and chill refrigerator for 1-2 hours

In another pan, caramelize castor sugar (be careful not to burn it). Add chopped nuts and mix until well coated

Now pour the nutty caramel mixture on a silicon sheet and spread evenly. If you don't have a silicon sheet, grease a baking tray with clarified butter and spread the nutty mixture on it. While the mixture is still hot, using a cookie cutter make round impressions on it so that it's easier to shape the discs. Let it cool completely on room temperature and then take out the discs.

To Serve – Top Firni with Nutty Caramel Disc and serve