If you love pizza as much as I do, you will love this easy, homemade pizza sauce. In the past, we have used store-bought pizza sauce but I always wanted to make my own because then we could easily balance the flavour, make it rich, saucy, and thick the way we enjoy it.
How to Make Pizza Sauce from Scratch
To make this pizza sauce from scratch you need only six ingredients, which are pantry staples. The rest is just 10 minutes cooking time and you have your homemade pizza sauce ready.
This can easily be made ahead of time. You can store it in the fridge until you're ready to make your pizza or can even freeze a batch so that you don;t have to make it fresh, the next time you are making a pizza.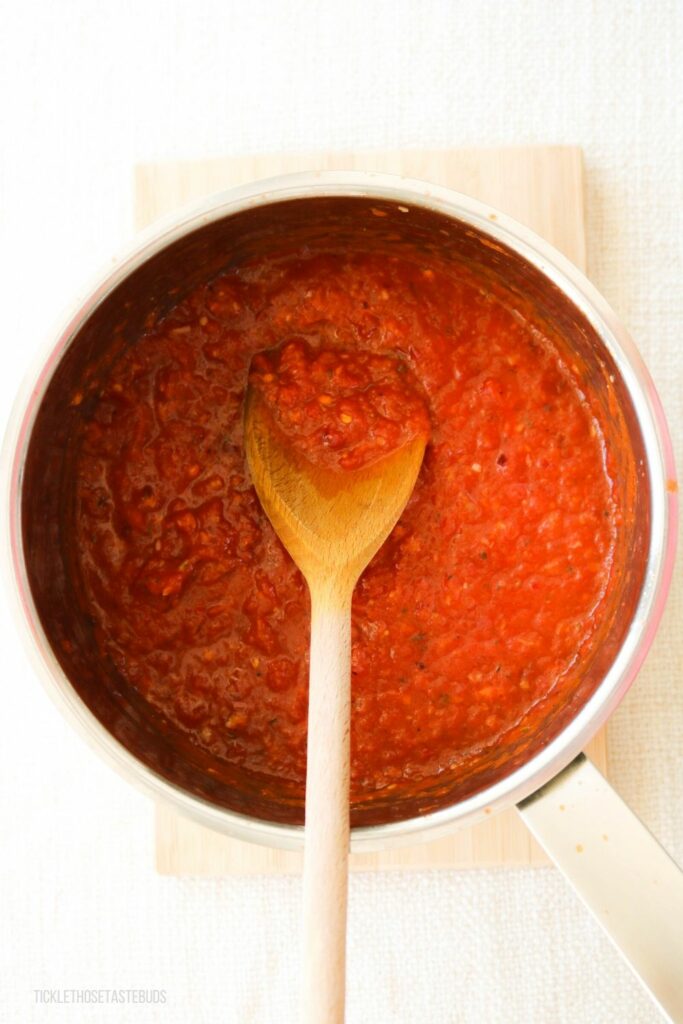 Ingredients to make Homemade Pizza Sauce
Detailed measurements and instructions can be found below in the printable recipe card.
Olive Oil – gives a rich flavour to the pizza sauce and paired with seasoning it brings out the aromatics.
Garlic – pizza sauce is incomplete without garlic. I use minced garlic for the sauce. I just love this garlic press, it's quite handy for this job.
Tomatoes – For the sauce, I have realized using canned tomatoes bring out the best flavour. I used these organic chopped tomatoes. You can use fresh tomatoes too, see recipe notes.
Seasoning – salt, pepper and red chilli flakes enhance the flavour of the sauce. Sugar is also added because canned tomatoes are acidic, sugar helps balance it.
Oregano – dried oregano adds a piquant flavour to the sauce whereas dried basil gives it a fragrant sweetness.
How to make Pizza Sauce from Fresh Tomatoes
You can easily swap canned tomatoes for fresh tomatoes. To make pizza sauce from fresh tomatoes you will need 5-6 fresh tomatoes. Prep the tomatoes by scoring an "x" at the bottom of each tomato. Now add these tomatoes to the pot of boiling water and allow to boil for about 2 minutes. Now carefully peel the skin on the tomatoes using kitchen tongs or allow them to cool and then peel off the skin. Chop the tomatoes and follow the recipe or puree the tomatoes using a blender.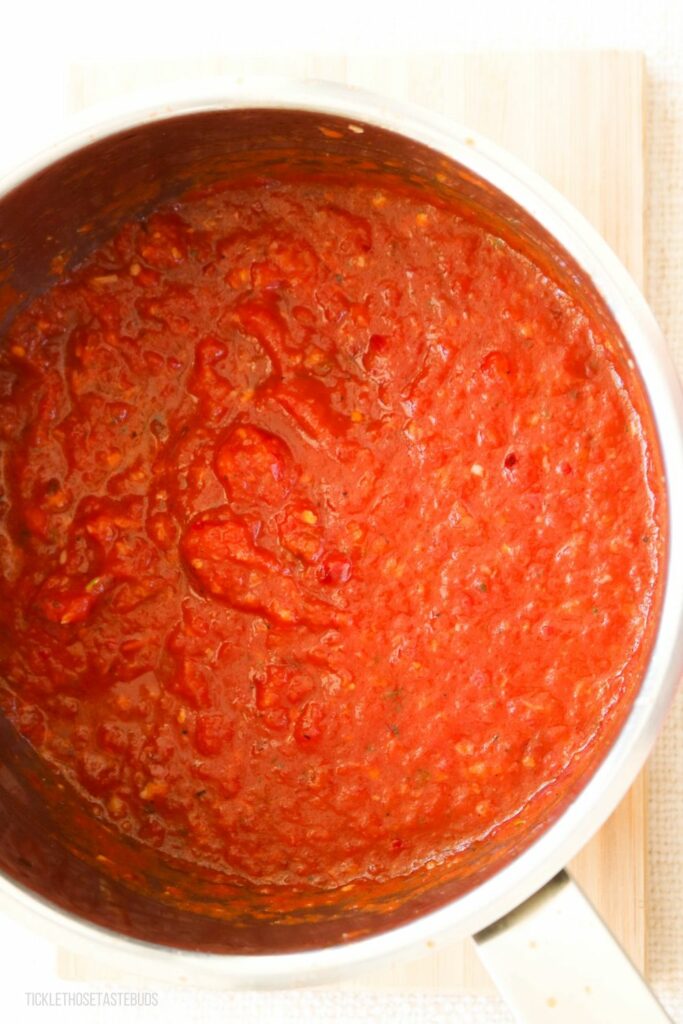 Easy Homemade Pizza Sauce Recipe
Cook the aromatics: In a pan add oil and garlic. Let it sweat a little in the oil, don't let it brown.
Tomatoes: Add the chopped tomatoes to the pan, cover the pan and allow to cook for 5 minutes. When the tomatoes soften mash them lightly using the back of the spoon or a potato masher.
Season, season, season: Season the sauce with salt, pepper, red chilli flakes, dried oregano and dried basil
Simmer the sauce: Bring the sauce to a boil, then lower the heat and let it simmer for about 15-20 minutes until you have the desired consistency.
Why this Recipe Works?
It is a versatile sauce recipe. You can use it as a red sauce for meatballs, to make shakshuka or as a dipping sauce.
You can easily double it up or even triple it. Use it for salads or making individual pizza with different toppings – could be a fun activity for the kids
This is pizza sauce recipe is freezer-friendly. Make a batch, store in glass jars or zip-lock bag. It can last up to 3 months in the freezer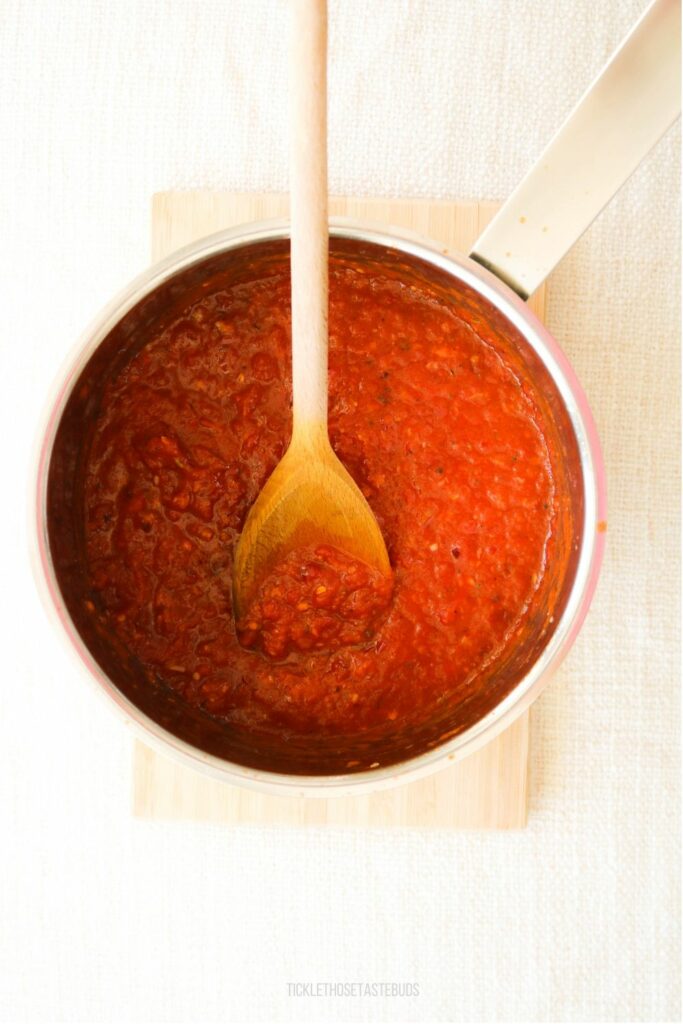 More Recipes to Try
If you enjoy my recipes, I'd love for you to subscribe to my YouTube channel for Video Recipes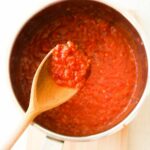 Print Recipe
Homemade Pizza Sauce
The best homemade pizza sauce recipe from scratch. Few simple ingredients come together for this flavourful, rich and chunky pizza sauce. Use it now or freeze for later, enjoy in your favourite pizza recipe.
Ingredients
2

tbsp

Olive Oil

3

cloves

Garlic, minced

1

400g Can

Chopped Tomatoes

1

tsp

Salt

1/2

tsp

Black pepper crushed

1/2

tsp

Red chilli flakes

1

tsp

Sugar

1/2

tsp

dried oregano

1

tsp

dried basil
Instructions
Add the olive oil and garlic to a saucepan. Cook for about 1-2 minutes on medium heat until garlic is fragrant. Don't let the garlic turn brown.

Add the chopped tomatoes to the pan. give it a stir then cover and let cook for about 5 minutes. Then using the back of the spoon or a potato masher, lightly mash the tomatoes.

Now add the salt, crushed black pepper, red chilli flakes and sugar. Stir to combine.

Bring it to a boil. Cover the pot and let simmer for 15-20 minutes on low heat. Check the consistency of the adjust, taste check and adjust seasoning if needed.

Use this easy homemade pizza sauce in your favourite pizza recipe.
Notes
To Store: This sauce can easily be stored in the fridge for up to 1 week.
To Freeze: Freeze a batch of the pizza sauce in the freezer. It can last in the freezer for up to 3 months.
To use Fresh Tomatoes: easily swap canned tomatoes for fresh tomatoes. score an "x" on the bottom of the tomatoes. Add to a pot of boiling water for 2 minutes. Let cool, peel off the skin. Chop or blend the tomatoes and follow the recipe.