In Pakistan it's the start of winter season, which by far is the most awaited season. Here we all wait for the nice and chilly breeze, the ultimate coffee season (although it's all year round but in winters it's different) the oranges, warm cakes and cookies and so much more.
Pakistan is known for its rich and juicy oranges, being the sixth largest producer of mandarin (kinnow) in the world. – WoW! A Proud moment. It's November and so is the start of the Kinnow season, the orange trees in our garden have started to look like jewels hanging, their taste is tangy and they're so juicy.
Since winters and oranges have their own charm so to welcome both winters and oranges today I share with you all the recipe of Orange Chiffon Cake. As we are talking about winters and oranges, we cannot ignore the season's flower marigold which again has orange and yellow color that brightens the garden in winter season.
Coming to back our recipe, this cake recipe is perfect with a hot mug of tea, coffee or hot chocolate on a cold evening or you can have it with whipped cream, ice cream and fresh berries – PERFECT!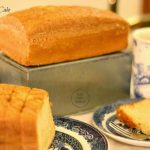 Print Recipe
Orange Chiffon Cake
Orange Chiffon Cake, light, airy, spongy, fluffy and filled with hint of orange tanginess
Ingredients
7

Eggs

(Separated)

2 1/4

Cups

All-purpose flour

(sifted)

1 1/2

Cups

Caster Sugar

1

Tbsp

Baking powder

1/2

tsp

Salt

2

Tbsp

Orange zest

(grated)

1/2

Cup

Vegetable Oil

3/4

Cup

Orange Juice

(freshly squeezed)

1

tsp

Vanilla Essence
Instructions
Preheat oven to 170 degree C. Have ready 9-inch tube pan, ungreased ( I used 9-inch loaf pan)

In a large bowl separate egg yolks from whites. Keep egg yolks and egg whites in different bowls till further use

Using a hand mixer or electric mixer, mix together sifted flour, sugar (minus 1/4 cup – keep that for using with egg whites), baking powder, salt and orange zest. Mix until combined

Now make a well in the center of the flour mixture and add to it egg yolks, oil, orange juice and vanilla essence. Beat until smooth

In a separate bowl beat the egg whites, when soft peaks start to form, gradually add the 1/4 cup sugar and continue beating until stiff peaks form.

Using a spatula or a wire whisk gently fold the egg whites to the prepared batter in 3 additions (don't over mix or deflate the batter)

Pour the batter in the ungreased pan and bake for 50 to 60 minutes or until a skewer inserted comes out clean.

On removing from the oven, immediately invert the pan on a flat surface so that it is suspended over the counter, let it cool.

Now with the help of a metal spatula loosen the sides of the cake to remove from pan. Invert on a greased wire rack, dust with caster sugar and serve with whipped cream, ice cream or fresh berries
Notes
This can be stored in a air-tight container for a few days at room temperature This cake can be stored for about a week in refrigerator or can be frozen for a month a